A Grave Situation
Tim Norton with music and lyrics by Ned Bennett
The Young Pleasance
Pleasance Courtyard
–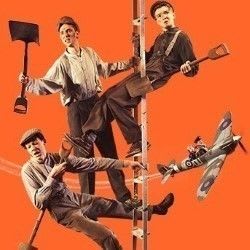 The effervescent Young Pleasance has become a Fringe tradition having performed in Edinburgh for the past 24 years. They have established a richly deserved reputation in producing high quality original work that showcases the talents of the young people aged 16 to 21 who each year rehearse a brand new show in London for two weeks before bringing it to the Pleasance. A remarkable achievement.
This year, as we commemorate the end of the World War II, they reprise a refreshed version of their 2009 production of A Grave Situation writen by Tim Norton with music and lyrics by Ned Bennett and it's an absolute comic joy.
The 25 multi-talented cast perform with energy, enthusiasm and embrace this wartime story with spirit and vigour and sharp ensemble work. The Wilberforce family are grave diggers from Huddersfield who are called up by the War Office to go to Dunkirk to help with the war effort. Chippy Wilberforce has fallen in love with librarian Ethel and promises to return his Greek myth library book before Christmas; we hope he makes it.
It's all very much tongue-in-cheek humour with stereotypical characters but in the hands of these young performers it shines. We meet the overworked staff in the War Office, the women back in Blighty, a sozzled Colonel and his aide Susie but will he ever remember her name?
Back in Biggin Hill airfield, the boys in blue are waiting for their next sortie against the Germans and the pipe-smoking characters are spiffing caricatures. Meanwhile, the Wilberforce brothers are enjoying the French hospitality with chorus girls and many drinks of the green absinthe leaving them in a state of utter confusion.
When a stick of dynamite explodes, our intrepid brothers are transported to Hell and then, through the ingenious use of a parachute as a cloud, arrive in Heaven before being rescued by the gallant RAF.
It's all zany, wonderful fun with some impressive choreography by Catherine Ibbotson and an ingenious set. Inventively directed by Tim Norton and Kathryn Norton-Smith, the Young Pleasance leaves you wanting more!
Reviewer: Robin Strapp