A Grimm Christmas
From the folk tales of the Brothers Grimm
The Wheel and Barbican Theatre
Barbican Theatre, Plymouth
–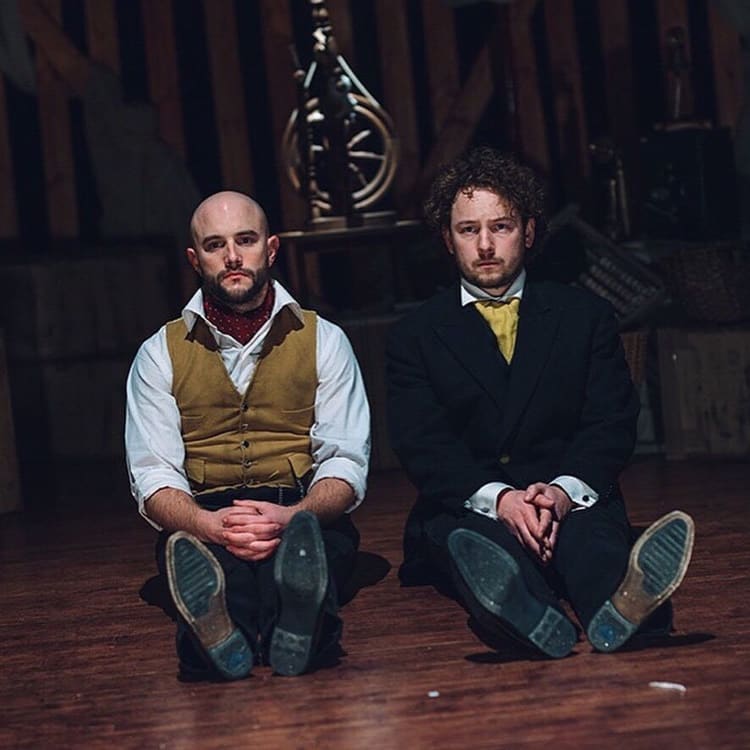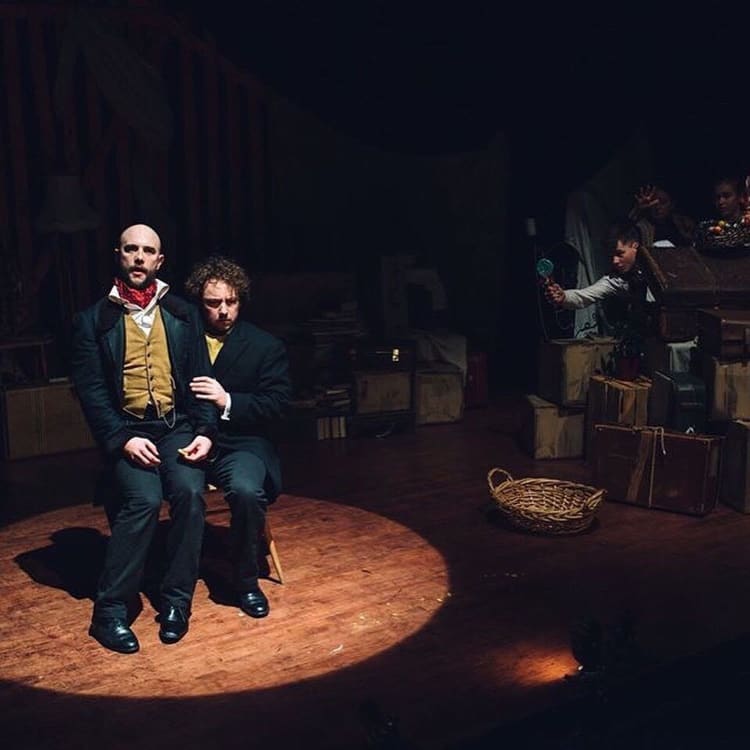 Resurrected by popular demand every Christmas, the Grimm brothers are awake (even if a bit paler) and, fuelled by ginger nuts, ready to tell their tales.
But these are the gruesome and gory stories before Disney added merchandise, bluebirds and happily ever after.
With witches, woodcutters, much sharp steel, wicked stepmothers a-plotting, wolves a-prowling and oh so many shoes, the magical and mystical is drenched in blood, severed limbs and godless acts.
Dancing princesses are encased in hot iron boots; Cinderella is a slave in the cellar whose sisters are willing to mutilate their bodies to be desired by a man; the drugged Sleeping Beauty is raped while unconscious, and the luscious-haired Rapunzel is sold to the evil paedophile pixie by her starving, desperate dad.
Children play slaughter the pig, the toddler's throat is slit as babies drown; abandoned children earn parental love by killing a crone and looting her gingerbread house as seven small men grieve even as baubles, Michael Bublé and tinsel twinkle with festive cheer.
Well cast, Henry Regan (Blood Brothers) is the charismatic family man Wilhelm and Lucian Vienna Award-winner Greg Shewring the 'uptight man with a pot plant' Jacob tasked with delivering the grisly and ghastly tales.
It's a tough gig but director Kevin Johnson rings the changes in pace by mixing straight storytelling with live music, frantic mash-up of stories with sole(s), a clever ventriloquist dummy routine and a flexible ensemble including singing bowl aficionado Premi Tamang scary and sexy despite maroon knee socks.
Interesting, austere, adult-only and oh so dark.
Reviewer: Karen Bussell