A Haggis Queen Abroad
Written and performed by Eilidh Talman
Tartan Socks Theatre
Alphabetti Theatre, Newcastle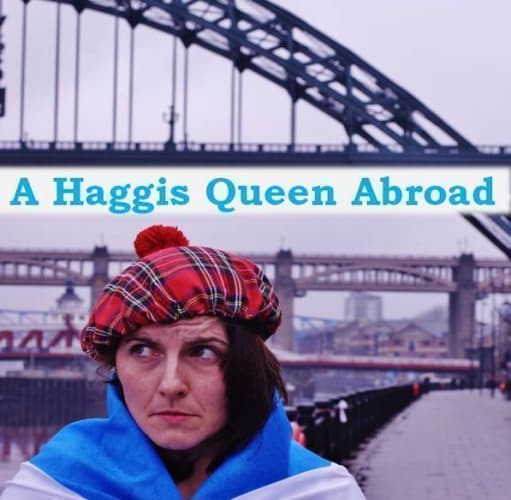 Inspired—or perhaps provoked—by the experience of being a Scot living in Newcastle at the time of the Independence Referendum, Eilidh Talman explores what it means to be Scottish.
You could say—if you wanted to be really pretentious, which would definitely amuse her—that she deconstructs the meaning of Scottishness in this one-woman show which she previewed at Alphabetti prior to five days at the Edinburgh Fringe.
She does it by mixing together a bit of sword dancing, singing, fiddle-playing, mini-quizzes for the audience, the sort of silly bonnet with ginger hair that seems to be sold in every second shop around the Royal Mile in Edinburgh, reminiscence—and just a wee bit of soul searching.
She touches on Burns, the Scottish diaspora, Rab C Nesbitt, Scots' engineering and technological genius, deep-fried Mars Bars, bagpipes, whisky, Andy Murray, Lallans, the referendum, tartan, Irn Bru and almost every Scotland-related thing you can think of, including—obviously—haggis (and, equally obviously, Burns's poem to the haggis). But no reference to porridge. Unless I missed it, of course.
And I could have missed it, for idea follows idea and thought follows thought so thick and fast that we are swept along by the stream, amused and ultimately thoughtful, for Talman does actually deconstruct the Scottish stereotype and leaves… Well, that would be a spoiler, wouldn't it?
A Haggis Queen Abroad is an engaging, amusing and thought-provoking hour for Scot and Sassanach alike. You'd have to be a glaikit eejit not to find it an enjoyable piece of theatre.
"A Haggis Queen Abroad" runs at the Edinburgh Fringe 2015 at theSpace on the Mile (Space 1) at 10:05 from 18 to 22 August.
Reviewer: Peter Lathan