A Hard Rain
Jon Bradfield and Martin Hooper
Above the Stag Theatre Company
Above the Stag Theatre
–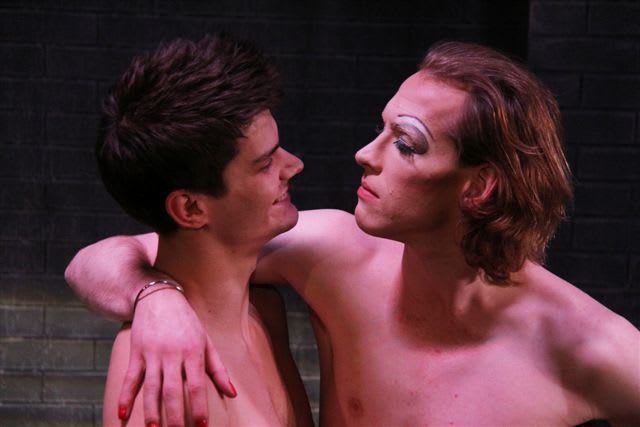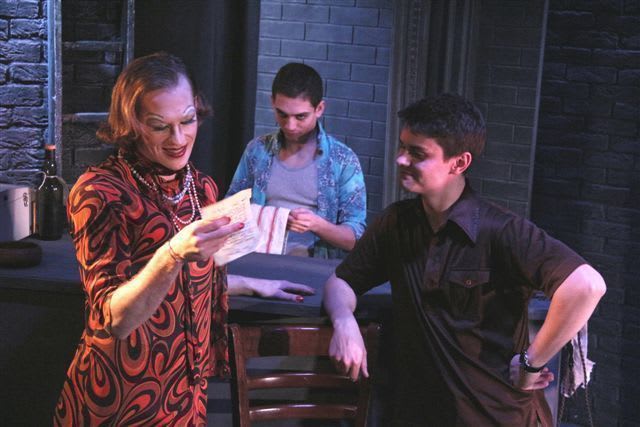 Dramatists Bradfield and Hooper have for several years been the writers of Above the Stag's gay-oriented pantomimes, but their new play, which takes its title from Bob Dylan's protest song "A Hard Rain's A-Gonna Fall", is a much more serious matter, though not without its laughs.
It is set in a newly-opened illegal gay bar in New York in 1969, shortly before the police raid on the Stonewall Inn which sparked the riot that fuelled the gay liberation movement. The bar is run by Frank, a man with a dark past, though Nigel Barber plays him to suggest he might have a kindly side were he not controlled by the mafia and paying protection to the police.
His staff are barmaid Angie and occasional help Ruby, an ex-soldier transvestite who does a drag act. Customers seem thin on the ground; the only ones we meet are a kohl-eyed teenager Jimmy, very streetwise, who insists on being called Miss Jimmy and Ruby's lover Josh, an attractive young Wall Street banker. Well, it is a new joint and there is at least one reference to a guy Jimmy has picked up in a back room, even if they never come through to buy a drink.
Michael Edwards gives sharp-tongued Ruby a big personality and a tough façade. A flashback scene shows that he is no weakling, however outrageous his manner. Oliver Lynes's city-suited Josh and he make a rather unlikely pairing but they seem a devoted love match, though neither it turns out has been entirely faithful while Josh has been in London on business and its clear that Ruby will never be compatible with Josh's corporate life.
Their relationship and the mixture of innocence and savvy that is James El-Sharawy's Jimmy are at the centre of the piece but there is also a parallel story of a burgeoning relationship between Angie and cop Danny (Stephanie Wilson and Rhys Jennings).
Ruby's refusal to stay in the shadows and be pushed around is the Stonewall reaction in microcosm but the action sees all of their attitudes changing and developing with the removal of Jimmy forming part of the catalyst.
The play is perhaps too contrived but Tricia Thorns's direction draws passionate and committed performances from all the cast that carry it through and drew a warm response from the all-male audience with whom I saw it.
It is simply set by designer David Shields to accommodate scene changes between the bar and Frank's, Angie's and Ruby's bedrooms but, rather than exert so much effort on carefully choreographed furniture changes, it would have run even smoother if he credited the audience with a little more imagination. Too often designers too elaborately try to vary small spaces with physical changes when just a token alteration would speed on performance.
It is to the credit of the company and James El-Sharawy's sound design that they carry the show's energy through these hiatuses.
Reviewer: Howard Loxton