A History of Falling Things
James Graham
New Vic Theatre Company
New Vic Theatre, Newcastle-under-Lyme
–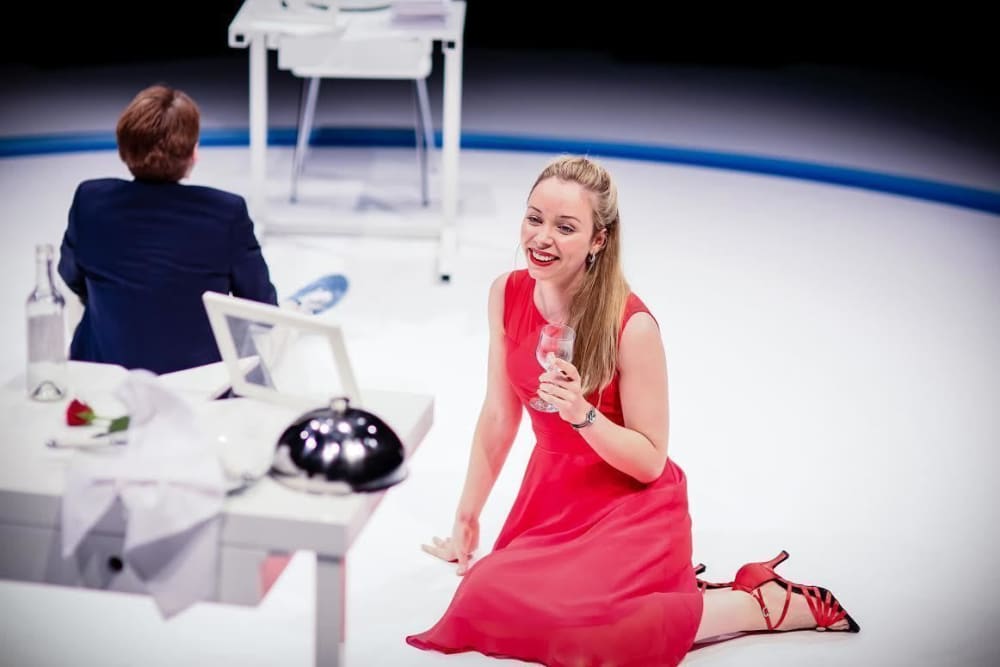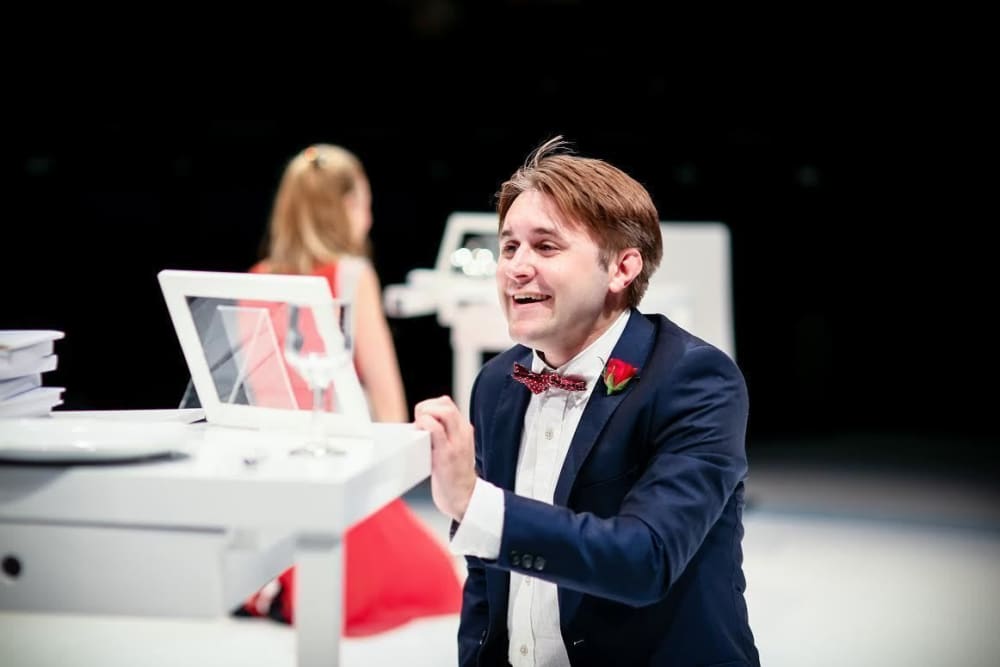 The subject matter writers choose for their plays can be astounding. James Graham's 2009 work, which premièred at Clwyd Theatre Cymru, A History of Falling Things, is all about keraunothnetophobia—the fear of being struck by man-made satellites falling back to earth.
Graham got the idea from a book of crazy facts, given to him one Christmas by his mother, which contained a page on phobias.
He came up with two keraunothnetophobia sufferers who live quite close and connect over the Internet. They get on really well but the obstacle to their getting together is that neither dares to leave the safety of their home.
Problems had begun for Robin when he was waiting to do his cycling proficiency test and a shoe hit him on the head. Everyone he saw was wearing two shoes and he developed an all-consuming fear about being hit by other objects. Being a children's writer means he can work from his flat.
Jacqui had a good job at Canary Wharf. But one day, when she was on the underground, her train stopped, the lights went out and she imagined the tunnel collapsing. She withdrew into herself, was allowed to work from home and eventually moved back to her father's house.
James Graham wanted to write a romantic story with a difference and in that he has succeeded. The concept of two people meeting through their tablet computers with very little chance of actually seeing each other in the flesh is an appealing one.
A History of Falling Things features five actors on stage and a sixth, a psychiatrist, who has conversations with Robin via a video screen.
Tom Hurley and Antonia Kinlay are superb as Robin and Jacqui, totally getting to grips with their characters' fears and intricacies.
Hurley prowls around the stage and is prone to panic attacks whenever he faces being taken out of his comfort zone. He shows the irrationality of the character who puts on a mask to hand over a package to a courier and hides under a table to try to combat his anxiety.
Kinlay is just as impressive in a different way. Whereas Robin is content to put up with his condition, Jacqui wants to get better; Kinlay charmingly portrays her character's hope for a return to a normal life.
Pamela Merrick and Llion Reece give excellent support as Robin's mother Lesley and Jacqui's father Reece. The parts are not particularly big but both touchingly show love and concern for their offspring even though they do not understand their condition. There is tenderness towards the keraunothnetophobia sufferers rather than a "snap out of it" attitude.
There is also a clever cameo from Keiron Self as Jimmy the courier whose deliveries kindle the couple's relationship.
The only drawback I found with Emma Lucia's production is that there is very little tension; I expected an emotional rollercoaster, but voices are raised only when Robin and Jacqui clash about their possible future together and when Jacqui shouts at Robin's fussy mother when she tries to lure Jacqui out of her house.
Mark Bailey's white set has a starkness which increases the feeling of one-dimensionality. However, the main characters are portrayed with compassion and sensitivity which ensures the audience is sympathetic towards them. This is enough to outweigh any lack of sparkle in the staging.
Reviewer: Steve Orme