A Hunger Artist (Kafka Adaptation)
Adaptation by Josh Luxenberg based upon a story by Franz Kafka
Sinking Ship Productions
ZOO
–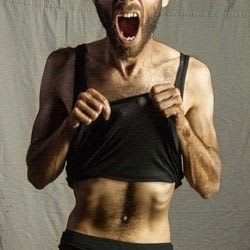 In a shabby coat and ancient top hat, a tired but grimly enthusiastic and magnificently corpulescent impressario greets the audience and wearily tells us the sad story of how the fashion for Hunger Artists has long gone out of style.
As with the Kafka story, the practice of a hunger artist, would be to sit in a cage for 40 days, observed by paying passers by, until finally released and fed a spoon of watery gruel.
Jonathan Levin, crammed into a padded costume of near ridiculous proportions, waxes lyrically and frenetically but with a welcoming deprecation, and his portrayal of the lamenting manager, who wants to put on a show to the audience, and hilariously so with their help, is both entertaining and charming.
The masterstroke of the play is the reversal, at the point where we begin to see the story from the point of view of the Hunger Artist himself, the commitment to the artistry of his craft and growing frustration at never being allowed to starve beyond the set 40 days, is captivating. As is Levin's performance, which shifts gears into deft physical theatre, and manages to bring the whole to a conclusion that is both grimly tragic and genuinely funny by turns.
It's a magnificent performance and one that manages to enthrall and transport the crowd far from the Fringe and into a whimsical existence that cannot fail to warm your heart.
Reviewer: Graeme Strachan