A Joke
Don Freeman
Universal Arts Production and Scene Change Productions
Assembly Rooms
–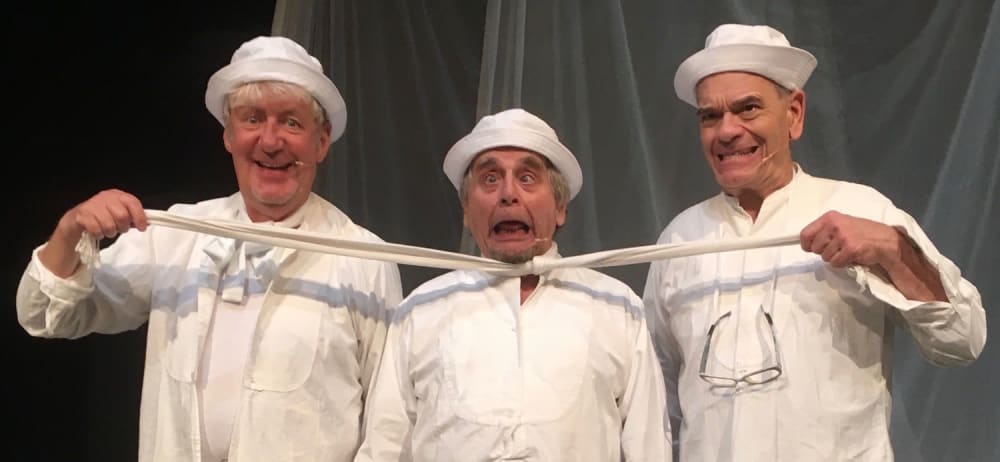 A Joke is about, well, a joke. Jokes. How they work and why they work. "There's an Englishman, an Irishman, and a Scotsman…"
Before even one of the actors enters, we get the feeling that this is an homage to Samuel Beckett, who, sadly, could not be here. I'm sure he would be would be pleased (if not a little envious). Vladimir and Estragon were never this funny.
Freeman deftly, admirably and gently leads us into the world of the joke: the concept, the utility. "Why did you say that?" "If I just thought it, you wouldn't hear it." We don't know that this is what Freeman's world is but we know by the end. But it is so much more.
Freeman has manage to intellectualized "the joke" in a real world with a real plot and a climax and all those other dramatic requirements. It's your veggies piled up with lovely cheese.
And to his credit, he has enlisted actors who fit snuggly into his characters with no wiggle room. The absolutely perfect "why" English curmudgeon, John Bett (Shallow Grave, Tess). The whimsical Irish Sylvester McCoy (Dr Who, Hobbit) embodies the "why not". "May I ask you something?" "You mean something else?" And Robert Picardo (Star Trek Voyager, Stargate Atlantis) is the definition of the foil with his "cool". ("You set the bar so low." "Wait, I have a bar?") He's American but there's some Scot in there somewhere.
So we have these three characters who are not sure who they are or where they are but feel certain they are meant to find out. They need to find out. Life is like that.
They are waiting at a bus stop. I likely premise. "So, are we in a joke?" Freeman has mastered the joke-drama ratio. We're caught from the outset.
We are privy to the best of theatre with these four. Make that five. The set is precisely superb. No, make that six or seven: the lighting and sound are perfect. They aid and never get in the way.
This is the Gold Standard. We are honoured and privileged to be in the presence of giants at their gigantic best. Chances are, it will be moving into the West End and, if we're lucky, Broadway. I can't imagine another cast or director but there they will be, lining up to participate.
This is a "don't miss this" if there ever was one.
Reviewer: Catherine Lamm