A Joke
Dan Freeman
Radio Static
theSpace on Niddry St
–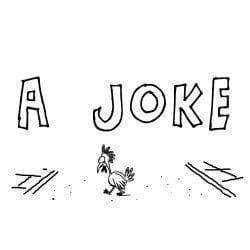 Knock, knock. Who's there? A bare stage, a massage table, two spoons and 3 bewildered characters.
A show about a quest for meaning, the naïvety of storytelling and the human need to make the best of a bad situation, the characters desperately try to find their purpose—they think they might be part of a joke but they have no idea of the punchline.
Richard Oliver plays a highly strung, frustrated and rude Englishman bringing intellect and conflict to the table. The first to appear on the scene and the only one to feel caged, he is not exactly a sympathetic character.
Next to appear is the affable Irish (very -ish) man brought to life with a twinkle by Sylvester McCoy. Optimistic, quick-witted and fidgety, his humour masks his nerves as he hypothesises about their strange situation.
Finally, Robert Picardo's Scotsman (or at least distant relative of a Scottish person) completes the trio. Wide-eyed, peppy, easily led and keen to please, he is the perfect counterpoint to the moody Englishman.
As the characters are conforming to broad stereotypes, it's appropriate that the acting style is expansive, each movement slightly exaggerated and each argument reaching fever pitch. It's not overdone, but the cast have fun walking along the tightrope.
Cleverly paced, the general absurdity is explored from different angles; they set up imaginary joke settings (bar, desert island, cliff edge) to see how the others react, they stride around the space theorising and deconstruct comic routines until they start to find despair.
Dan Freeman's writing is tight with not a single word wasted. Whilst the circular conversations are reminiscent of Beckett, the script also draws on Pinter and even a smidge of Brecht whilst including a cheeky nod to the 'Doctor' fame of McCoy and Picardo.
A Joke is an absorbing piece with precise direction and charming performances. Suitably silly and intriguingly intellectual, there are laughs on many levels, plenty of one-liners and even some musical numbers reminiscent of Morecambe and Wise.
Whatever the joke may be, the investigation of it is definitely in safe hands.
Reviewer: Amy Yorston