A Judgement In Stone
Novel by Ruth Rendell, adapted by Simon Brett and Antony Lampard
The Classic Thriller Theatre Company
Malvern Theatres
–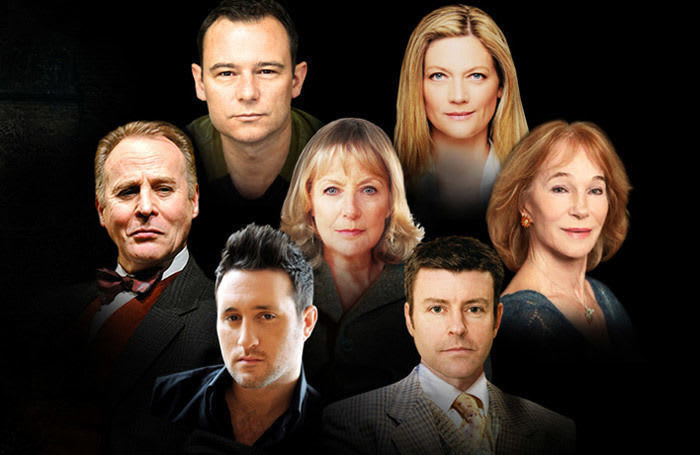 Brett and Lampard's adaptation of a Ruth Rendall classic thrusts us into the world of an upper-middle class family where spontaneous operatic duets and black tie soirees are the norm.
The Coverdale family swan about their country estate with effortless superiority, their plummy tones bouncing around Julie Godfrey's plush set, a spacious oak panelled drawing room so realistic and inviting you feel the urge to move in. Set during the 1970s, a stately old-world grandeur pervades the production.
The family's menial concerns are dealt with by a patronized underclass of gardeners and housekeepers, one of whom is invited to live with them. Eunice Parchman (Sophie Ward) is a dowdy, drab, dullard of a woman—the last of a dying breed of solid, working-class drones who know their place in the world—or so Mrs Coverdale would believe.
The Coverdales, their wealth and privilege notwithstanding, are fated to die in rather grisly circumstances, peppered with gunshot in their own home. Their bodies lie off-stage while Detective Superintendent Vetch (Andrew Lancel) and Detective Sergeant Challoner (Ben Nealon) sleuth it out. The script neatly intersperses interrogations of the self-effacing Parchman, the ex-convict gardener (Antony Costa) and embittered cleaner Eva (Shirley Anne Field) with the family drama that leads up to the Valentine's day murder.
Mark Wynter offers us a sprightly bounder in George Coverdale, an old school charmer married to a strident home counties wife (Rosie Thomson), who boings around her estate with all the assurance of one who knows everything about self-interest and nothing about suffering. Daughter Mary (Jennifer Sims), plump with privilege, flits between manor house and varsity like the rare songbird she is, while her psychologically untethered brother Giles, played by Joshua Price, wafts around the house like a bad smell.
Sophie Ward is at first almost unrecognizable as the hunched and humble house servant, a status poles apart from the patrician hauteur one has come to associate with her television work. Her character, awkwardly lurching and lobsided, makes for compulsive viewing, whether she is scuttling across the stage or scrubbing away at some invisible stain ('Out, damned spot! Out I say!'), huddling away into herself for shame or else lashing out in terrified rage.
Ultimately, however, the strength of the role lies in its duality: a pathetic figure at core, there are moments where we are provoked to sudden, unexpected laughter. There is no doubting Sophie Ward gives the production its piquant, tragicomic edge.
There are some knobbly bits which would benefit from being planed down. The lighting, for example, which effectively alternates between a clinical grey and a homely haze, is sometimes too slow in the transition. And while the adaptation possesses a certain elegance there are obvious flaws. Parchment's illiteracy, a crucial plot-point, is made too obvious too soon while, perversely, the Coverdales are idiotically slow in uncovering it. And the class theme, always clangingly present, might have been more subtly and searchingly probed.
Nevertheless, Brett and Lampard do a mighty good job of pruning a popular novel into a work for the stage. I have read a couple of niggardly, early reviews of this production and, frankly, they puzzle me. Perhaps the performance has ripened over time, perhaps director Roy Marsden has done some nifty rejigging, perhaps the reviewers concerned are touched with the same intellectual malady that afflicts Giles Coverdale.
Whatever the explanation this excellent, highly engaging, adaptation goes to show that not every critical judgement need be set in stone.
Reviewer: G. Mills