A Lad in Soho
Simon Gross
SG Productions
Karma Sanctum Hotel
–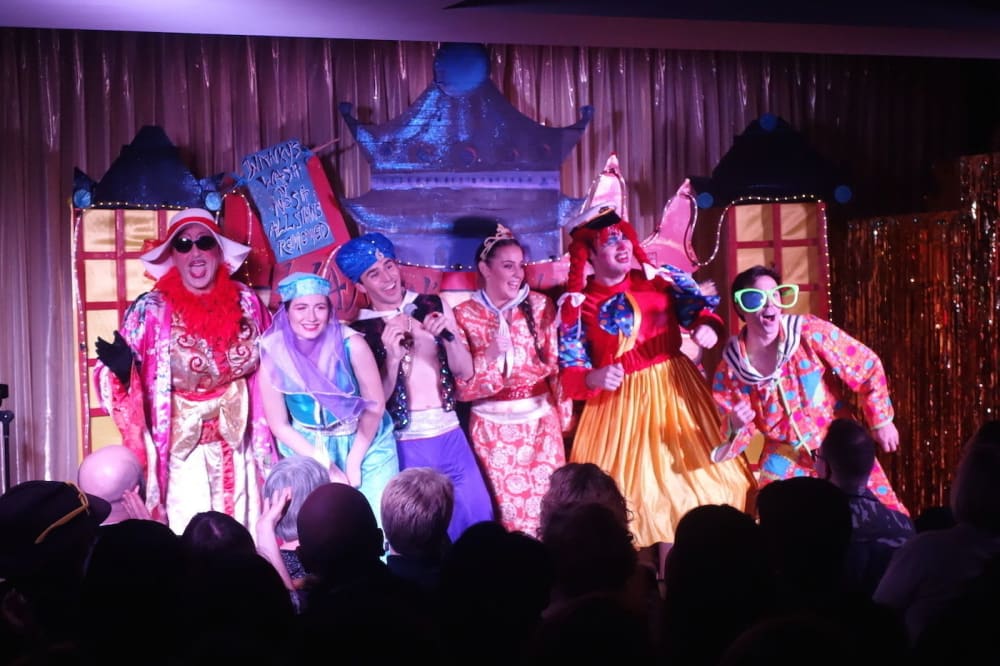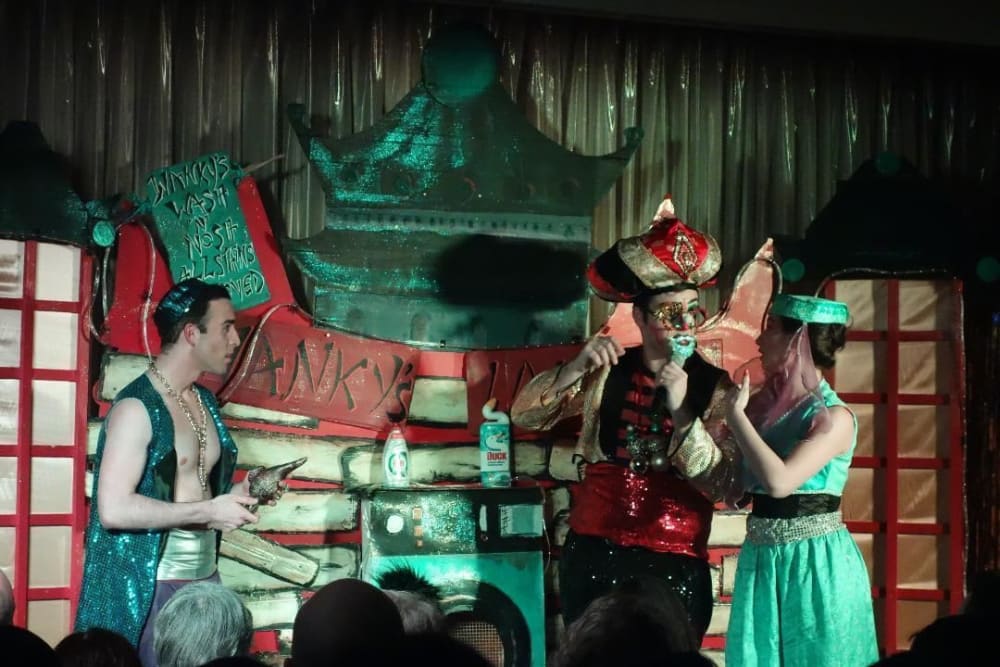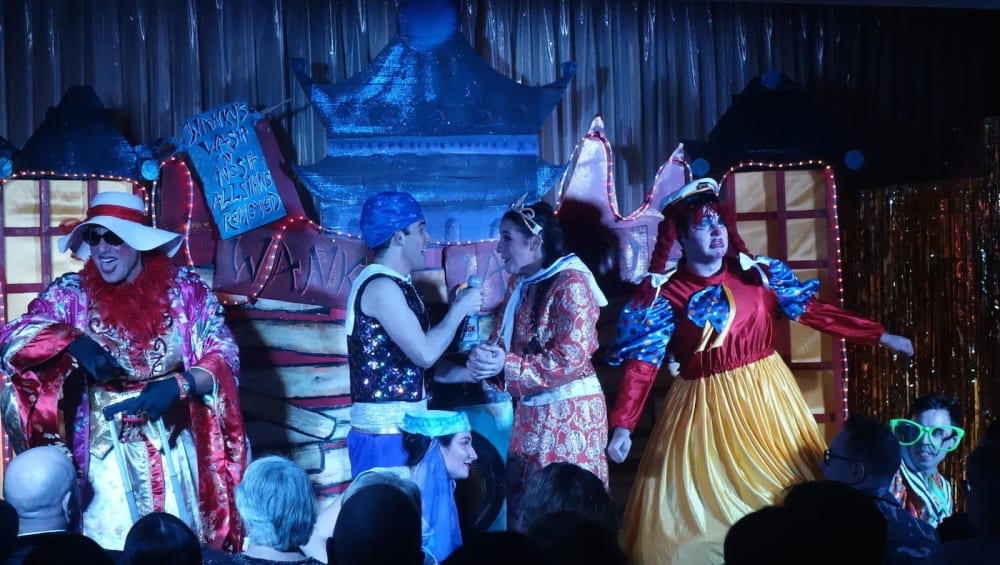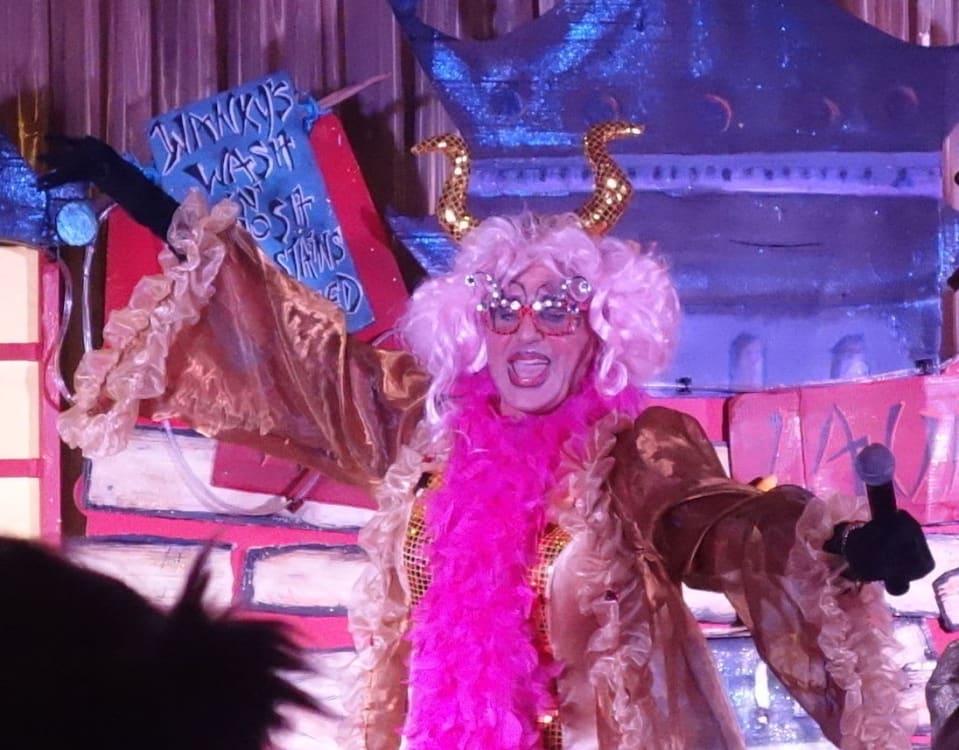 The lad in is, of course, Aladdin but though the theatre is in Soho this boutique adult panto is set in Old Peking and Morocco. The invitation to review came with a warning that it was drag and rude didn't mind its language but I've seen shows much more outrageous and the drag here is entirely in the panto dame tradition with the bonus of getting two dames. It is angled towards an LGBT audience so warns prudes away but straight people should still get (most of) the jokes.
Laundry-owning Widow Twankey is the usual Aladdin dame; Campbell Glazier (stand-up comedian and mad magician) plays her in a very traditional manner, though sadly no tricks here, only multiple quick changes for he doubles the lamp's Genie.
The other dame is the lamp-hunting villain who now becomes Lady Abanazar. She is played by the show's writer, producer and director Simon Gross. He's far too warm and friendly to be convincingly evil but the audience clearly love to boo him her.
Gross's energy and enthusiasm are infectious, the whole cast have caught it and it soon spreads through the intimate audience as he does the evenings warm up. He's determined everyone is going to have a good time and that involves singing your heart out and shouting your head off whether in the traditional pantomime exchanges or singing along with songs that are given more prominence than the plot.
With numbers that range from "Jingle Bells" to "Material Girl" and "Waterloo", Village People to One Direction with gay anthem "I Will Survive" naturally included, the audience seemed to be word perfect, though the songs crossed generations. Did Gross have a former life as a Butlin's Redcoat? Is this what it was like on holiday in the 1950s before Benidorm was invented?
The tiny cabaret stage has space for only token scenery: the budget's been blown on lots of costumes, sequined and glittering with gold and silver. It doesn't leave much room for a chorus line, but there is one, and there is even a magic carpet. Eren Arken's Aladdin and Ellie Makewell's Jasmine make a rather giggly romantic pairing and Angus Dustagheer is a lively Wishee Washee, with perhaps the best voice in the show when not dashing off to sort out the sound system.
This isn't an evening about acting or polished performance and glimpses of vocal or dancing talent tend to be submerged in the overall mayhem but it's all splendid teamwork. A Lad in Soho is about getting together and pretending to be a little naughty. I found the extended sing-alongs that top and tail the three-hour show went on a little too long but you do get your money's worth if that's your thing.
Reviewer: Howard Loxton