A Little History of the World
Toby Hulse based on the work by E H Gombrich
Reading Rep in association with The Watermill Theatre
Watermill Theatre Newbury
–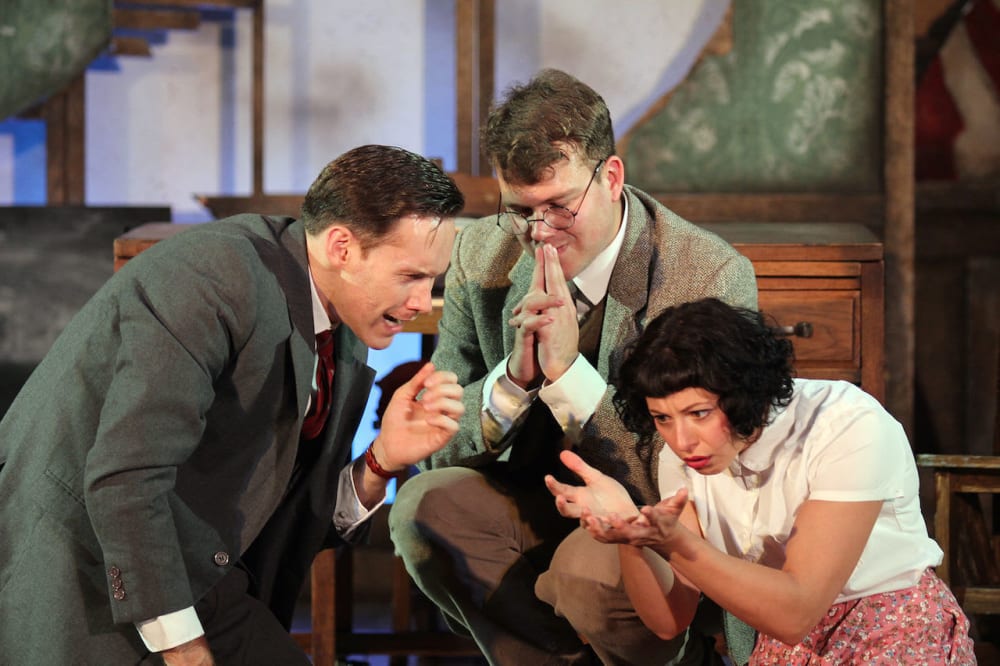 Reading Rep is an innovative professional theatre company that recently became an associate company of The Watermill. Its debut performance at the theatre is a wonderful inventive adaption of E H Gombrich's A Little History of the World skilfully adapted by Toby Hulse.
This world première is a sheer joy, an absolute gem, performed by a highly talented cast who revel in the playfulness of creating characters and are consummate storytellers.
The play begins in Vienna in 1935 in the study of Ernst, outstandingly portrayed by Alasdair Buchan, who is a penniless writer desperate for a new commission. His publisher Otto, superbly played by Richard Ede offers Ernst the opportunity to translate a book into German.
Instead Ernst proposes to write a new book, "the history of the world" in a mere six weeks, putting himself under immense pressure to meet the deadline.
Jess Mabel Jones impressively captures the character of Ilse who encourages Ernst in his endeavours by weekly visits and eventually becomes his wife.
Every story begins with, "once upon a time" and as this is "our story, the story of what we call the history of the world" the cast stop the action and ask, "where, how and when did this happen?"
And so we get whistle stop adventures describing the evolution of the world from the Neanderthals through to the contribution that the Greeks made and then the Romans—I loved the reference to "straight thinking" which is really funny.
We swiftly move through the Renaissance and the Age of Enlightenment to the French revolution.
Reaching the Industrial Revolution, we experience a beautifully choreographed piece of physical theatre that was pure pantomime and had the audience applauding at the cast's dexterity.
There is a classic hilarious shadow "hospital operation" that makes you laugh out loud which contrasts with the horrors of the First World War in a poignant, emotive scene complete with falling poppies.
The state of the economy is brilliantly explored but with hope for a better future.
Designer Victoria Spearing's detailed set with cut-away timbered frames in the background and littered with objects d'art and a desk that doubles as many locations works exceedingly well.
Max Pappenheim's tantalising sound design, together with Simeon Miller's atmospheric lighting, perfectly compliments the action.
Paul Stacey's inspired direction keeps the piece moving at a cracking pace. This is a highly enjoyable production that deserves a longer run and perhaps a London transfer. Highly recommended.
Reviewer: Robin Strapp