A Little Night Music
Stephen Sondheim
Buxton International Festival
Buxton Opera House
–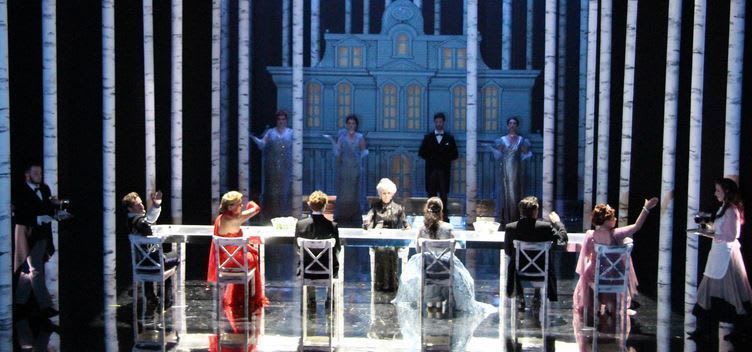 It might have been written as a little in-joke, especially for the Buxton Festival. A grand piano and five singers each belting out their practice scales in turn.
For those suffering long-term opera deprivation, the decision to launch the festival's opera programme with a piece of musical theatre may have seemed unexciting, even a bit of a let-down.
Stephen Sondheim's show is certainly no opera, despite that ironic opening, and contains more spoken dialogue even than your average operetta. But this is musical theatre of the highest order—inventively tuneful, poignant and constantly witty. Goodbye lockdown blues, it seemed to say.
The piece is based on the Ingmar Bergman film Smiles on a Summer Night about a weekend of very Scandinavian sexual intrigue circa 1900 prompted by the reappearance of a stage star, the appropriately named Desiree, in the life of her ex-lover Fredrik, for 11 months married to the teenage, still virginal Anne.
The dramatic and musical structure is based on threes—three smiles for the young, the foolish and the old, a score written mostly in waltz and triple time, and three couples, of whom Sondheim's primary interest and rueful affection is for these former lovers, and for whom he wrote the show-stopping "Send in the Clowns".
The composer explained that the number was composed of short, conversational phrases because the original Desiree, Glynis Johns, couldn't hold a note. That is certainly not true of Janie Dee, but she does not so much sing the words as exhale them, filling the theatre with sad melancholy of a highly infectious strain. The effect is shattering.
This dazzling diva in a gown of radioactive red casts such a spell that one can almost forgive Fredrik, played by David Leonard, for being so ready to cheat on his young wife.
Leonard is a fine performer, with a chestnut-coloured voice, and the leading pair are well supported by a cast of singing actors, including Matthew McKinney, whose attractive light tenor sound was well to the fore as Fredrik's son Henrik, and Daniella Sicari as Anne.
Tim Walton cuts a comic figure as the raffish Count Carl-Magnus, Fredrik's rival, all bombast and tight trousers, with the wonderful Sarah Ingram as his long-suffering wife. At first, she is in controlled despair, then in uncontrolled, drunken loquacity setting off a banquet scene that is perfect in concentrated hilarity.
One does not want to miss a word in these tortuous, witty lines. I wished there had been surtitles for the opening chorus, but all the actors speak and sing with such clarity that few of the pearls fell ungathered to the floor. Some of the best lines fall to Gabrielle Drake as Desiree's aged mother, remembering—perhaps with a little, forgivable, exaggeration—past days of being patronised by the crowned heads of Europe and lamenting current times "when kings are employers, and the princes are all lawyers."
The music is a pastiche, but never a parody, of many styles. Fredrik's ironic "You Must Meet My Wife" might have been written by Oscar Wilde and set by Noël Coward; the elegance of an old-fashioned waltz could have come from Lerner and Loewe; Molly Lynch's enthusiastic rendition of the maid Petra's song of rugged independence of action reminded me of "Pirate Jenny" from Kurt Weill.
But the duet "If only she'd been ugly" for Fredrik and the Count, with its perverse cynicism, could only be Sondheim, whose brilliance elevates even those more derivative passages to something greater than their models.
The chorus, three female at times posing like the Three Graces, and two male, offer commentary on the action present and past.
The set by Phil Daniels and Charles Smith replicates the feeling of Bergmann's film, with towering birch trees surrounding what serves as a dance floor, a frozen lake and a mirror, with the dusky scene at the opening of the second act brilliantly lit by Ben Pickersgill. The Northern Chamber Orchestra, under Wyn Davies, with prominent woodwinds, maintains perfect balance with the singers.
The musical, billed to last 120 minutes, runs to something like 150, plus an interval. But thanks to the pacy direction of Paul Kerryson and the ever-interesting dialogue, it never drags.
Reviewer: Colin Davison