A Little Night Music
Music and lyrics by Stephen Sondheim, book by Hugh Wheeler
Storyhouse
Storyhouse Chester
–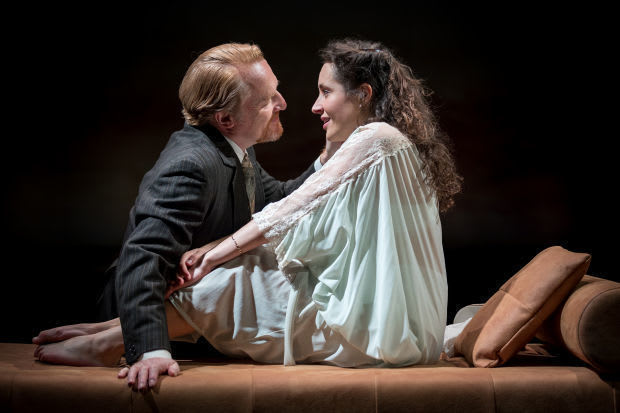 Stephen Sondheim's masterpiece is a complex mixture of razor-sharp wit, sexual politics, deceit, brutal honesty and, ultimately, an uncomfortable perspective of the social habits of the 1970s, even if they are presented through early twentieth century Swedish socialites.
However, alongside that is a score of music that, while utterly beguiling, is also complex and requiring of pitch-perfect delivery. Plenty for director Alex Clifton to get his teeth into then as the Storyhouse summer season gets underway and typically he delivers with aplomb and presents an exquisite version of his favourite musical.
Designer Jess Curtis presents an understated, yet very effective, set of a golden hue to evoke the endless summer days in Scandinavia and the decision to place the story in the 1970s is a masterstroke as the narrative veers from the false 'dinner party' snobbery of Margot and Jerry in The Good Life to the Sid James school of Carry On 'slap and tickle' as the complexities of the characters' private lives are laid bare.
Essentially, the story revolves around Frederik Egerman, a middle-aged lawyer, who has recently married a flighty, and still virginal, 18-year-old Anne, and Desiree Armfeldt, a fading actress and his long-lost-love. Egerman is played by Daniel Flynn who delivers a delightful cocktail of lust, bluster and vulnerability while Serena Evans is equally excellent as the worldly-wise Desiree.
Complications abound as Henrik, Frederik's son, is a year older than Anne and also in love with her while Desiree is also prone to "swoon for a dragoon" in the shape of Kayi-Ushe's lusting, thrusting Count Carl-Magnus. The Count is jealously protective of his relationship with Desiree and responds by challenging Frederik to a duel, despite the fact that he is actually married to Mary Doherty's incessantly inebriated but wonderfully acerbic Charlotte Malcolm.
There is also a striking harmony between youth and seniority on display with the vastly experienced Gay Soper as Madam Armfeldt whose wistful musings are as moving as any moments tonight. Then there is Richard Lounds who warms the heart as young Henrik Egerman and an eye-catching debut from Megan-Hollie Robertson of Bitesize Youth Theatre Wrexham and now a trainee at Storyhouse as Frederika Armfeldt.
However, while the plot works well, what really enables the cast to shine is the music. All complicated timings, key changes and harmonies, it is certainly a challenging score but it is delivered tonight with aplomb by the cast and an outstanding orchestra under the musical direction of Alex Beetschen. While "Send in the Clowns" is the most well-known, each song is given life by the respective artist who delivers it and a special mention should be made of Yukiko Masui for some superb choreography.
The complexities of love, both returned and unrequited, are laid bare in this wonderful revival of a show that gradually reveals a number of layers. Alex Clifton truly has delivered a beguiling smorgasbord of delights and a superb start to the summer.
Reviewer: Dave Jennings