A Machine They're Secretly Building
Andrew Westerside and Proto-type Theater
Proto-type Theater
Aldridge Studio at The Lowry, Salford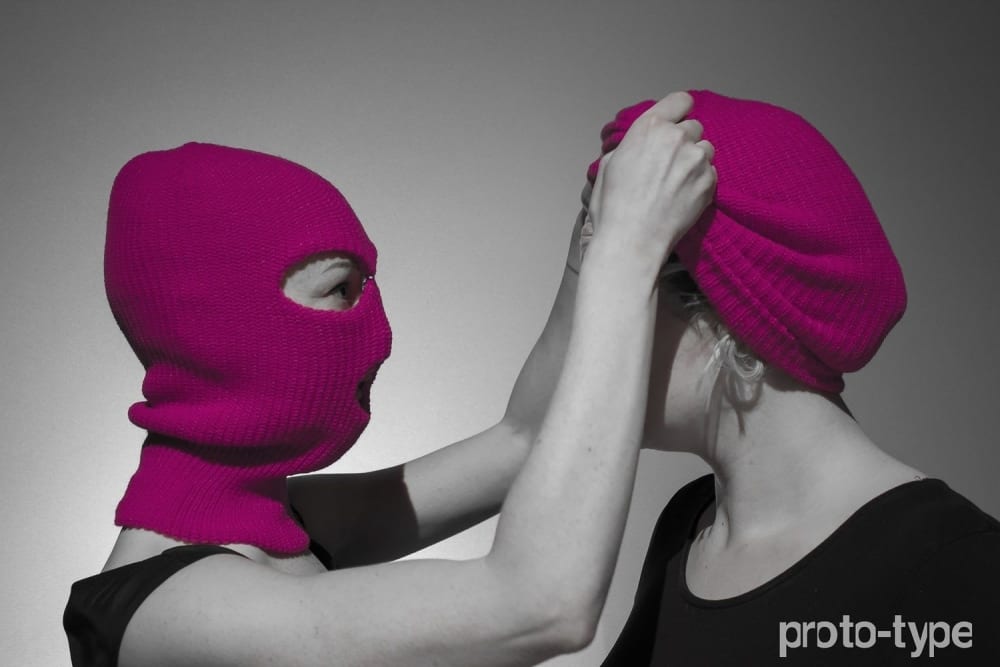 You are being watched. Every UK resident is recorded on CCTV camera an average of 70 times a day. Proto-type Theater's show reminds us of this for starters, before moving through a range of more mind-boggling research.
The form of the evening is simple. Performer-devisers Rachel Baynton and Gillian Lees sit behind a trestle table like a pair of straitlaced newsreaders, sharing narratorial duties as they take us on a journey which begins in 1943: an agreement to pool signals intelligence (SIGINT) between Allied forces in support of the unquestionable good of defeating the Axis powers.
Writer-director Andrew Westerside's text takes this moment as the starting point in the ever-closer monitoring of civilian populations, with ever-more fuzzy rationales. The piece's early emphasis on "home" versus "other"—the Allies united against the Axis—is astute: A Machine… pinpoints the insidious erosion hidden behind narratives of protection and belonging. In the name of "security", fear is exploited and indeed incited, in support of increasingly extensive and intrusive surveillance.
At certain points in the tale, these myths of the dangers of modern life are wittily punctured: statistically, you're more likely to be killed by deer than by terrorist attack, they point out. More subtly, there were more terrorist attacks in the 1990s than since but, as indicated by a piece of projected text, "we didn't have rolling news then, so perhaps you didn't notice…"
For there is a third aspect to the telling of the story: Proto-type's imaginative and engaging use of video projection. Through live and archive video, text titles, and image manipulation, Adam York Gregory's video design acts as a third narrator, opening with a simple yet striking live overlay addressing us as 'DEAR FRIEND', drawing us in. Later, the imagery takes the form of computer chess, of machine code, HTML and even Microsoft's dreaded Blue Screen Of Death, finding era-relevant visual metaphors for the events narrated.
The music and sound design by Paul J Rogers is subtle and fitting, too, with numbers stations and tapping typewriters jostling up against cheesy disco music. That the production takes on such a range of styles and eras while feeling entirely well-balanced is a credit to the team. It is superbly crafted.
This is, then, an assured performance all round. Both Baynton and Lees have a strong presence and chemistry, which is mostly (intentionally) muted but occasionally unleashed in more comic and exuberant moments. The production as a whole maintains one's interest well despite a strong focus on the factual content of the text, through its series of slight and well-controlled shifts of tone.
It's confident, absorbing storytelling. There are also reminders throughout that, while we might all be generally aware of the facts, rhetorics and forces at play here (hint: security is big business), we've somehow collectively shrugged and moved on. The piece offers moments at which its performers question themselves: what is the alternative to living in this data-driven society? Going "off the grid"? Donning our collective tin-foil hats? Organising, collectivising, rioting? Well, things are generally good, and Google's quite useful. The weather's fine. Perhaps we'll riot tomorrow.
Like so many of the other recent politically-minded shows I've seen, this feels more like a sharing of disbelief, an articulate wail of anger and powerlessness, than a rallying cry or polemic towards a better future. It's the shaking of a head, rather than a fist.
The company does offer a list of links to further information and resources, and the opportunity to get in touch on Twitter or Facebook. But then, isn't that what they want you to do…?
Reviewer: Mark Smith