A Mad World My Masters
Thomas Middleton, edited by Sean Foley & Phil Porter
English Touring Theatre & Royal Shakespeare Company
Grand Theatre, Blackpool
–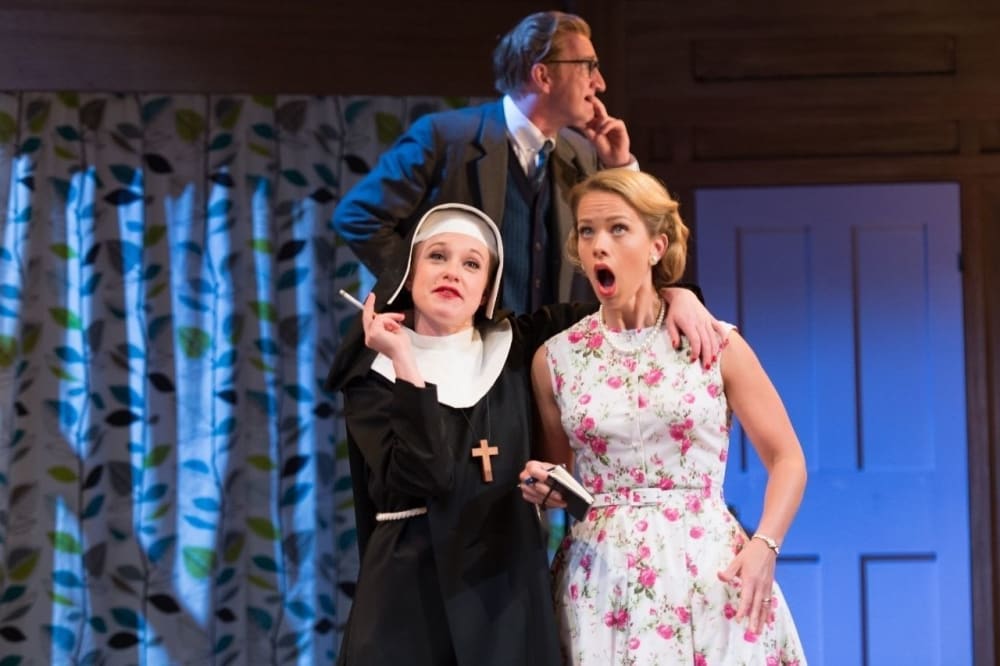 Imagine one of those old hand-cranked What The Butler Saw machines in a seaside amusement hall, and you have something of the style—and in this case even the setting—for a joyful re-working of this Jacobean comedy.
Director Sean Foley has come up with the fast-moving effect of watching a series of smutty postcards that magically remains faithful to the play's 17th century origins; its 20th century Soho setting; at the same time as rudely tickling the funny bone of modern-day audiences.
If your sense of humour isn't broad enough to cover 400 years of timeless filth then this is not your World.
In a touring version of a hit Stratford production from 2013, presented by English Touring Theatre and the Royal Shakespeare Company, it even comes fitted with scrolling sur-title machines that illuminate the script for the hard of hearing. Time and again, you suspect, everyone in the audience checks them over to confirm their ears are not deceiving them about what they have just heard!
Look away for a moment though and you risk missing some moment of physical comedy overlaid on a story about a dissolute nephew intent on depriving his even more dissolute uncle of his wealth.
Characters come loaded with names that leave little doubt as to their particular strengths, or shortcomings—meet Messrs Follywit, Brothel, Peersucker, Prospect, Sponger and Littledick.
Forget about characters chasing honourable intentions such as love and fortune, this is all about sex and money. Double meaning does not begin to describe the layers of language as cross-dressing and crass-joking tumble over each other in a riot of comedy, besides half a dozen suitably blue songs.
Several key members of the original cast travel with the show.
The original thrust staging translates reasonably well to 'end stage' presentation but with a resulting loss of movement. And the brick walling background seems to have more to do with re-creating the Stratford stage surrounds than anything more creative.
But these are minor details amidst nearly three hours of entertainment that's mad, bad and masterful.
Reviewer: David Upton