A Midsummer Night's Dream
William Shakespeare
RIFT and Kaleidoscope Festival
Alexandra Palace
–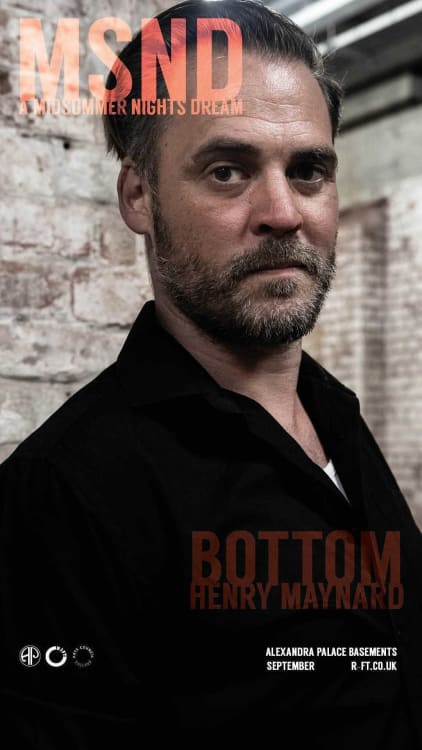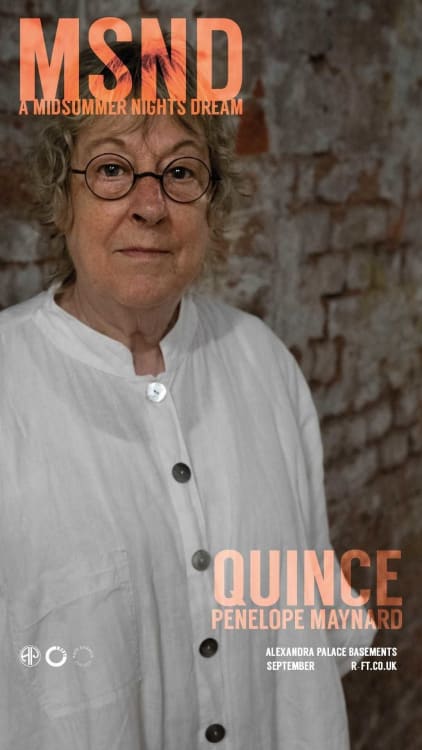 William Shakespeare's A Midsummer Night's Dream plays with time as May Day celebrations are mapped onto late 16th century Midsummer festivities, an apt theme for this production at Alexandra Palace with basements opened up to the public for the first time in the venue's 150-year history, one that enabled the first public television broadcast in 1936.
Felix Mortimer and Joshua Nawras of RIFT use this historical fact as a framing devise for this modern-day production. We, the audience, enter the venue, descend and walk through dark, dusty, disused vaults and—to the accompaniment of 1930s / 40s popular songs—are welcomed to an imagined first TV broadcast of Dream.
An extremely hardworking cast often double-up roles in a nice touch that mirrors the play's duality of real and fairy world events that begin with the impending marriage of Theseus (Mike Adams) and Hippolyta (Lowri James). Egeus (Rob Myles) insists that daughter Hermia (Dewi Sarginson, feisty and fierce) wed besotted Demetrius (Sam Ducane); but Hermia is mutually enamoured with Lysander (Ben Teare) and they flee to the safety of the woods. They are followed by Phoebe Naughton's Helena in a fine personation that balances the agony of the spurned suitor (she loves Demetrius, who doesn't love her) with a comic timing that keeps to the right side of shrill.
Meanwhile, Shakespeare's 'rude mechanicals', or artisans—here doubling as stage directors, sound recordists and boom operators that help to chivvy the audience from room to room—are rehearsing a play to be performed at the wedding's climax. In a the fairy world, King Oberon (Mike Adams), angry with his Queen Titania (Lowri James), instructs his little helper Puck (an intense and athletic Rob Myles) to obtain the flowery sleeping potion that, when spread on the eyes, causes love-at-first-sight on waking and leads a spellbound Titania to briefly love an ass in the unfortunately transformed Bottom the Weaver (Henry Maynard, brilliant)—an event that never fails to please audiences.
With the same potion placed and misplaced on the eyes of Lysander and Demetrius, the course of true love fails to run smoothly (but settles, eventually) and resolution is sealed as the mechanicals perform their play in the production's best moments, with Daniel Booroff (Snug / Cobwebb) leading on guitar and Stanton Plummer-Cambridge providing belly-laughs as Flute / Thisbe. Special mention goes to Penelope Maynard, whose Quince brings a constant feeling of security and gravitas to proceedings.
The audience moves roughly four times (sensible shoes are recommended) and is occasionally asked to join in en masse, such as for a TV audience being warmed-up—but there is no singled-out participation for those who hate it. Each locus is well chosen: for example, in a cavernous space filled with upturned illuminated buckets for seats, Shakespeare's moonlit woods are recreated using modern technology (screens and images) bringing 21st century effects to a play written over half a century ago. This unique setting, too, affords unique access for those interested in the history of sound and vision. It may not be midsummer now, but, on leaving the performance, one can stop to gaze at London's breathtaking skyline and take home a little summer's nostalgia in these early days of autumn.
Reviewer: Anita-Marguerite Butler