A Midsummer Night's Dream
William Shakespeare
Curve Young Company and Community production
Curve Theatre, Leicester
–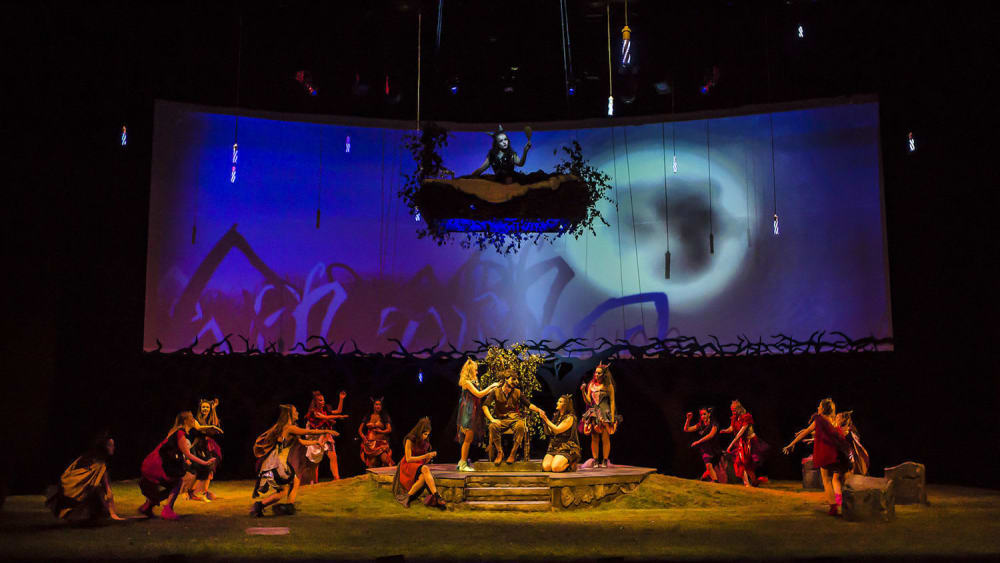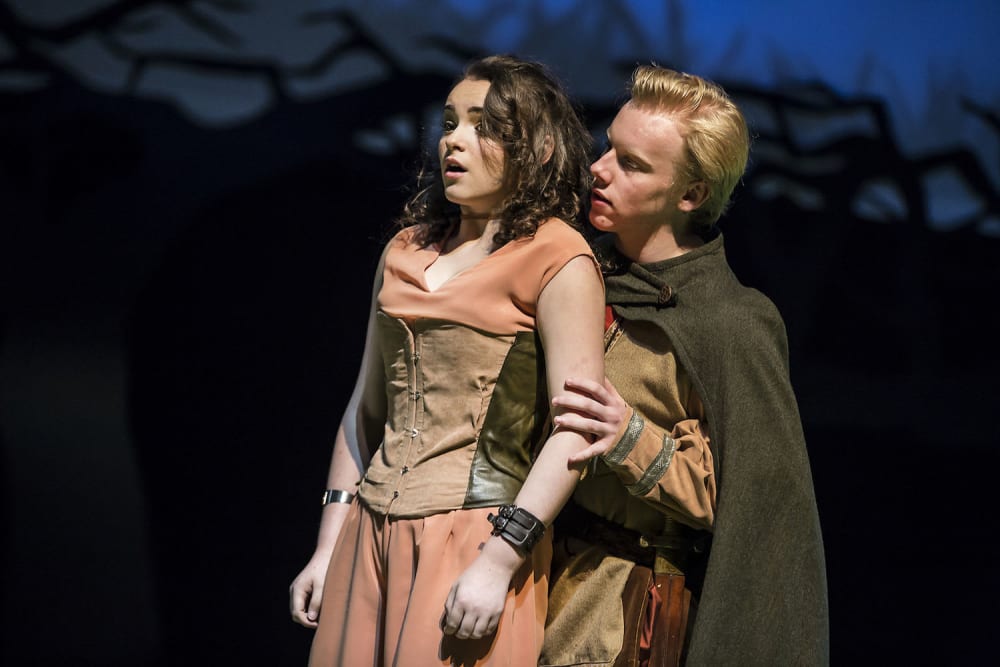 We're all still dreaming of summer, and so, here in mid-August, trying to conjure up warmer days via Curve Young Company and Curve Community's joint production of A Midsummer Night's Dream seems worth a try.
One of Shakespeare's most well-known, well-loved and most frequently performed plays, Midsummer Night's Dream has also inspired classical scores, ballets, book, TV and film adaptations, and been re-interpreted in many styles (Victorian steampunk and Swinging Sixties two examples in 2017 alone).
Somewhere just outside Athens, four young lovers (Demetrius and Helena, Lysander and Hermia) of the court of soon-to-be-wed Theseus and Hippolyta are entertained by the "mechanicals", a group of six men staging a play within a play—the story of doomed lovers Pyramus and Thisbe.
All the above are unwittingly controlled by meddling fairy king Oberon and his mischievous merry servant Puck. With sprinklings of magic fairy dust on unsuspecting sleeping eyelids, true loves are mistaken then re-found, often with proverbial "hilarious consequences", and most notably Nick Bottom and Oberon's queen Titania.
Director Nick Winston has gone with the original fairies and forest setting and the impressive design team of Kevin Jenkins (set), Metro-Boulot-Dodo (video), Edd Lindley (costume) and Preema Mehta (lighting) has created what is described in the programme notes as a "mythpunk aesthetic". I felt more of a medieval goth vibe but either way, this is next-generation Shakespeare, aided by Dougal Irvine's musical direction including rap, hip hop, The Carpenters and Norah Jones.
Curve's community cast and Young Company have been honed by the collective might of professional theatre makers at one of the UK's most well-equipped and distinctive venues. Interplay between Lysander (Chris Brookes) and Hermia (Megan Marston) and Demetrius (Harvey Thorpe) and Helena (Lauren Jones) is assured and amusing, with the catfight between Marston and Jones particularly enjoyable.
Boasting two Pucks for your buck (Mahesh Parmar and Joel Fossard-Jones), this double trouble of fairies works well in stereo. Most of the comedy comes courtesy of the mechanicals, and their "play that goes wrong" performance of Pyranus and Thisbe is joyfully inept. Making a wonderful ass of himself, Alexander Clifford is a glorious Bottom, displaying expert timing and physical comedy.
Aside from entertaining, a worthy objective of this production is to provide an introduction to Shakespeare and the theatre for the uninitiated.
Accessible and visually engaging, this production of A Midsummer Night's Dream is indeed a dream in many ways: a welcome opportunity to luxuriate in Shakespeare's rich, earthy language, chances for many to achieve dreams of performing on Curve's main stage and, in the midst of the dark troubles of 2017, an escape to the magic of midsummer.
Reviewer: Sally Jack