A Midsummer Night's Dream
William Shakespeare
Guildford Shakespeare Company
Guildford College of Law Gardens
–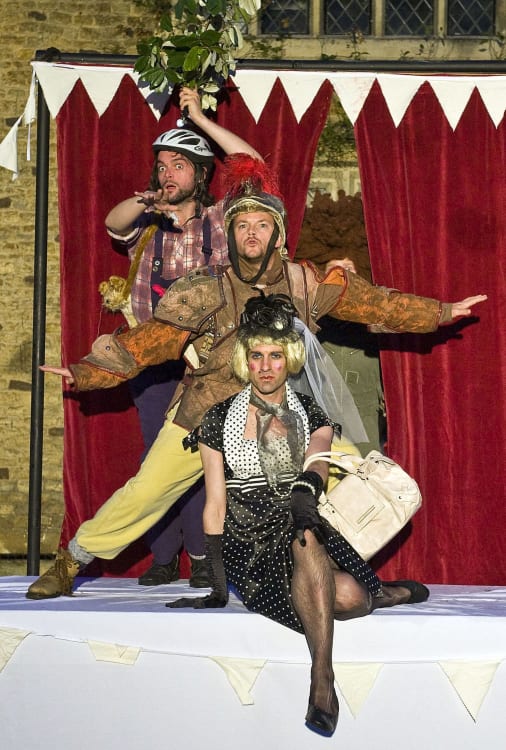 The evening sun was still warm as the performance began, and we made our way over to the imposing entrance of the College of Law where the Court of the Duke of Athens had taken up residence.
Duke Theseus and his betrothed, the warrior queen Hippolyta, are preparing for their wedding and here young Hermia is pleading to be allowed to marry Lysander instead of Demetrius, the one chosen by her father, Egeus. A military man accustomed to instant obedience, if she won't do as he wishes, according to the law of the land, death or life in a convent awaits her. She and Lysander decide to elope. Meanwhile her best friend Helena is in love with Demetrius who wants nothing to do with her and all four find themselves lost in the forest.
This is the basis of the story, but the fairies have a hand in the activities and nothing quite goes according to plan.
No need for a complicated stage set here. The college's manor house is a very Imposing backdrop to the Duke's court and a short distance away grassy banks and surrounding trees create the perfect setting for the forest and the fairy glade. This inventive company has decided that they are Cornish and Irish Gypsies;their encampment among the trees boasts a worn sofa, television and numerous cans of beer while a very houseproud First Fairy, hung about with rubber gloves and dusters, swishes around with a Hoover and polishes everything in sight, hilariously incongruous as First Fairy is a tall, thin and very male Alex Scott Fairley, although he does make a very excellent and entertaining woman, particularly as Thisbe in the "play within a play".
Oberon (Morgan Philpott) lounges on the sofa knocking back the beer while watching TV, and decides to give the young lovers a helping hand. Magical juice dripped into the eyes of the sleepers will make them fall in love with the first thing they see on awakening, only this mischievous Puck delights in smearing the purple dye all over each of them, making me wonder if their washing machines would cope. Costumes are modern dress, hopefully stain-resistant and drip dry.
The play continued at a terrific pace until—well 'we are such stuff as dreams are made on'—and with that thought the Dream turned into The Tempest. The heavens opened and the weather decided to let us know who was boss.
Not daunted, this intrepid company, after a short break, carried on regardless getting soaked to the skin, mud, grass and dirt mixing with the purple and running down their arms and legs, but blithely behaving as if it was a warm and sunny evening. What else could we do but stay with them right to the end, appreciating their dedication and thoroughly enjoying the show in spite of the rain?
Johanne Murdock is a terrific impish Puck, sporting bandanna or hoody, devilment emanating from every pore as she dashes about, her supermarket trolley full of a weird assortment of objects 'acquired' on her travels, and is convulsed with wicked laughter watching the results of her trickery.
Matt Pinches is, as always, a joy to watch—a comical human dynamo seeming to be everywhere at once, and very suited to the role of Bottom who enthusiastically wants to play every part at once. Sarah Gobran is a besotted Titania waking to find him as a donkey and is also a very lovely and elegant Hippolyta, see-through poncho over her beautiful wedding dress.
The two girls, Hermia and Helena, are perfectly represented by two recent graduates (Katy Phipps and Louise Best), drenched to the skin in their flimsy dresses their thoughts much have been "so this is show business", but they performed like real troupers, as did the whole company.
The fact that we enjoyed the show so much in this adverse weather says a lot for the quality, enthusiasm and dedication of this remarkable company—a real triumph on all levels, and a privilege to have shared the weather with them.
Box Office: 01483 304384 or www.guildford-shakespeare-company.co.uk
Reviewer: Sheila Connor