A Midsummer Night's Dream
William Shakespeare
Grassroots Shakespeare London
Lion and Unicorn Theatre
–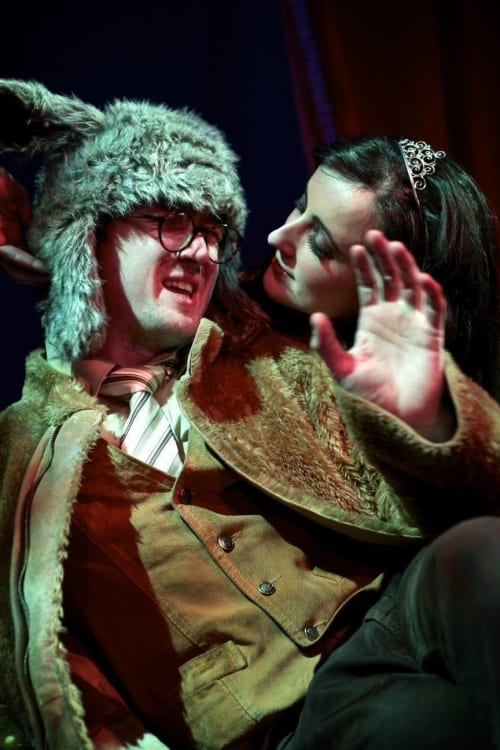 Grassroots Shakespeare London describes itself as "an original practices company". It explains what that means by saying that "in Elizabethan theatre they didn't have a director [and] had very short rehearsal periods ".
Following the Elizabethan practice of a male-only cast, it adopts the modern equivalent of being gender blind, which means people are fitted to role irrespective of gender. They open this production with a company chorus which sort of says this, though it feels a bit like a (totally unnecessary) apology for the simplicity of what follows. It may have its oddities but it is delivered with originality, enthusiasm and commitment.
With this prologue addressed to the audience—and it is in a long theatrical tradition of prologues and epilogues (though modern writers rarely use them) and with the play itself opening with Hippolyta entering and shaking hands with the audience, it is a little surprising that the company thereafter rarely acknowledges the audience's presence (and thereafter Hippolyta hardly projects her performance as far as the front row). Even for Shakespeare's own epilogue, when Puck asks the audience's applause and indulgence, the actress is busy removing her headdress and false eyelashes and barely glances at them.
If there really isn't a director who made the decisions for these three idiosyncrasies? There is no credit for a designer either, so who chose the costumes, decided on the simple setting of red drapes and wooden crates? A lighting director, Ciarán Cunningham, is credited, but no one for scenery or costumes; no director but an assistant director (Boris Mitkov).
Could it be that artistic director and producer Siobhán Daly made such decisions? Presumably she was responsible for assembling the company but how did they decide casting? If there was no one decision maker then I'd like to know more about the process for, despite what they imply is a very brief rehearsal period, they seem to have reached an effective consensus on the way this innovative production is fashioned. It seems they could teach the rest of us a thing or two about democratic co-operation.
This is a light-hearted production, cut to speed through Shakespeare's magical comedy in not much more than his "two hours' traffic". Its dress is modern with some period influences. Apart from Hippolyta (Siobhán Daly), in a blue evening gown with an extra layer pleated across one breast perhaps as a reminder that she is an Amazon, the court are dressed simply. The men, mainly in flat caps and wellington boots, could have just come in from a shoot. It is a domestic rather than a formal occasion when Egeus (Tom Ziebell) asks Max Wilson's Theseus to make his daughter Hermia obey him and marry his choice Demetrius although she is in love with Lysander.
The working men we meet next, rehearsing a play to put on for Duke Theseus's wedding to Hippolyta, don't look so very different, though less well turned out. Their producer, Benjamin Bonar's Peter Quince, isn't bossy. It is tempting to imagine Grassroots Shakespeare's own rehearsals as being like these ones.
Despite his nickname, their leading man Bottom is no bully. Matthew Walker makes him an enthusiastic northerner. It is he who wears glasses, not Quince. Could it be that he offers his option so often because he reads a lot? Snug, cast in the non-speaking part of the lion, is clearly a newcomer to their am dram. Theo Affail makes him very eager, always watchful and making notes.
Titania and Oberon are doubled with the feuding rulers of the fairy world. Titania is in a long gown and Oberon looking a more romantic Byronic version of Theseus. Oberon has no fairy band in attendance, just Puck, who is made female, while Titania has only male attendants, a set of bodyguards in heavy coats and woollen beanie hats doubled by the working men. The fairies, incidentally, are marked out from the mortals by all being barefoot.
Puck is the nearest to looking like a fairytale fairy in a rainbow-striped beanie hat and a skirt of layered taffeta. Emily Jane Kerr plays her like a naughty plump puppy, not surprising perhaps since Oberon rewards her with sweeties or biscuits as she fawns at his feet, especially when she gets things right. It is an intriguing characterisation and she plays it with an appropriate rush to please but is so busy with her gestures and business that words tumble out without much thought behind them. Doubling as Philostrate (who stays male) she is, in contrast, gently bumbling.
It appears that there was no consensus on how to handle the verse. One actor seems to have newly discovered the caesura and emphasises it so that it breaks up the sense, there seems a deliberately different pronunciation of classical names from another character (no, it's a courtier not a following on from the Ninny's tomb gag).
Adam Blampied's Helena handles the verse most effectively, partly because he is not afraid to take things more slowly. Cross-gender casting (the character stays female) this is a delightful performance that, like the Globe Theatre's Twelfth Night suggests just how effective boy actors could be: able to play sexuality without inviting prurience. They present girls and women at a slight remove, much as older actors in dame roles can do things that could be offensive if played by a woman. He is able to fling himself into a snog that is right for the feeling of character and situation but might seem coarse with a female actor.
As Hermia and Lysander, Daisy Ward and Kane Surry make a delightful pairing: they feel like real lovers. He handles verse well and both give their lines a freshness that feels spontaneous. Christian Kinde's Demetrius makes up the foursome, nicely contrasted as a more formal young gentleman.
The mechanicals of course stick to prose, except in their play of "Pyramus and Thisbe". This is played fairly gently, the deaths of course exaggerated and funny, but it is the comedy of the lovers that gets the most laughs. The production picks up on the text's hint and has Helena literally holding on to Demetrius leg when he tries to get away from her but avoids that other sometimes seen gag of placing the two men together so that the love juice squeezed by the fairies nearly sets up a gay romance. Instead they have found an entirely justified moment when both seeking to demonstrate their love for Helena they end up giving each other a great smackeroo.
This A Midsummer Night's Dream could be better but it is a play that has pleasure built into it and Grassroots Shakespeare London presents an enjoyable evening with original touches that make it far from a routine production. It is a pity that they throw away some of Shakespeare's most lyrical poetry instead of allowing it to work its magic.
Nominated last year for the 2012 Offies for both Best Ensemble and Best Production, this ambitious young company, founded only last year, has gone a long way in a short time. It has already been part of the RSC's World Shakespeare Festival, played outdoors at the Scoop and in Hyde Park and Embankment Gardens and indoors at the New Red Lion.
It offers this production in repertoire with The Tempest and will be back at the Lion and Unicorn in April with a new production of Othello.
Reviewer: Howard Loxton