A Midsummer Night's Dream
William Shakespeare
Antic Disposition
Middle Temple Hall
–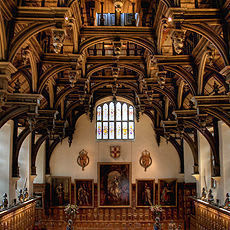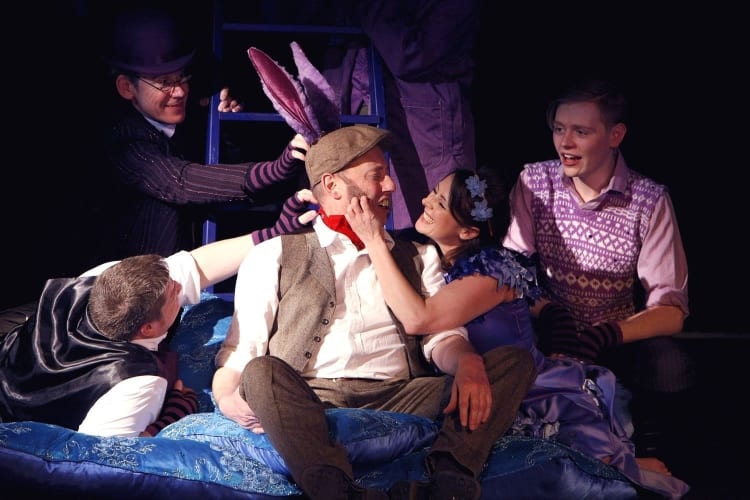 Antic Disposition mount their production of Shakespeare's comedy of fairies and mortal lovers using the full length of the Tudor hall of Middle Temple as their playing space, the audience ranged down the sides.
They stage it with the minimal scenic elements but to great effect. John Risebero's design, dominated by a crescent moon shining atop a set of lilac ladders at the dais end of the hall, stepladders used as forest trees, a trunk, cushions and for the play within the play which the Athens artisans perform before their prince, a bright yellow curtain embellished with its title. Night-time purples and blues predominate, with Oberon distinctive in reds; it is not just the Pyramus and Thisbe play that brings "moonlight into a chamber" but this whole production in the dark vastness of Middle Temple Hall, whether it be Oberon and Titania, fairy king and queen "ill met by moonlight" or Peter Quince rehearsing his am dram actors in moonlit glade.
This must be one of Shakespeare's best-known plays and to regular theatregoers is so familiar that once started you can complete almost every speech and it is great credit to this cast that they succeed in making it seem fresh and new, making the lines theirs as though they've thought them. They don't rush their delivery, which helps cope with being heard the length of this long room and if occasionally the verse lines are a little too heavily end-stopped they are not afraid to relish rich-worded poetry.
Don't think that means that things are slow, even when something has to be extended to snatch time for a costume change, an additional entry (a pair of lovers hurrying into the woods laden with luggage for instance) or a snatch of James Burrow's attractive score helps keep Ben Horslen and John Risebero's production fast paced and smooth running. They have come up with some new bits of business too, just when you thought that you'd seen everything this play could offer.
There is a strong Oberon and Titania in Tony Austin and Helen Evans (doubling human rulers Theseus and Hippolyta) and a spring-heeled, clear spoken Irish Puck in Dylan Kennedy. Short, dark Ami Sayers is a fiery Hermia, nicely contrasted with Joanna Nutall's tall fair Helena, especially in confrontation, and Edward Lewis French and Robert Welling as Lysander and Demetrius match them well.
James Pallow is a delightfully earnest Peter Quince rehearsing Chris David Stoner's gormless Snug, Chris Waplington's sometimes petulant Tom Snout, Chris Courtney as tailor Starveling (doubling a stern Egeus) and Christopher Rowland's Flute, reluctant to play a woman when he "has a beard coming" relishes a newly awakened talent. Nicholas White's "Bully" Bottom is more enthusiast than bully and a likeably itchy ass in his animal transformation, excess hilarity would not match this production's Moonshine, and though it milks a couple of physical gags in the amateurs' performance, most laughs in this Dream come from human foibles.
Some will find the idea of the Athens amateurs, chatting with the audience even before the routine request to turn off mobile phones, a delightfully informal touch, a counter perhaps to the formality of the venue. I thought it awkward—it is not they who perform this play, they are part of it and since the space is already dimly lit and dominated by that crescent moon it disrupts an already pregnant atmosphere.
The dimness diminishes the audience's ability to see the soaring architecture with its double hammer-beam roof but, though the play does not make a feature of the historic setting, with its gallery and entrance doors through which Shakespeare's own company probably made their entrances when they played here, audience have the opportunity before performance and in the interval to explore the adjoining rooms at this ancient hub of British law with their panelling, paintings and armorial escutcheons.
Reviewer: Howard Loxton