A Midsummer Night's Dream
William Shakespeare
The Watermill Theatre's Watermill Ensemble
Northern Stage, Newcastle
–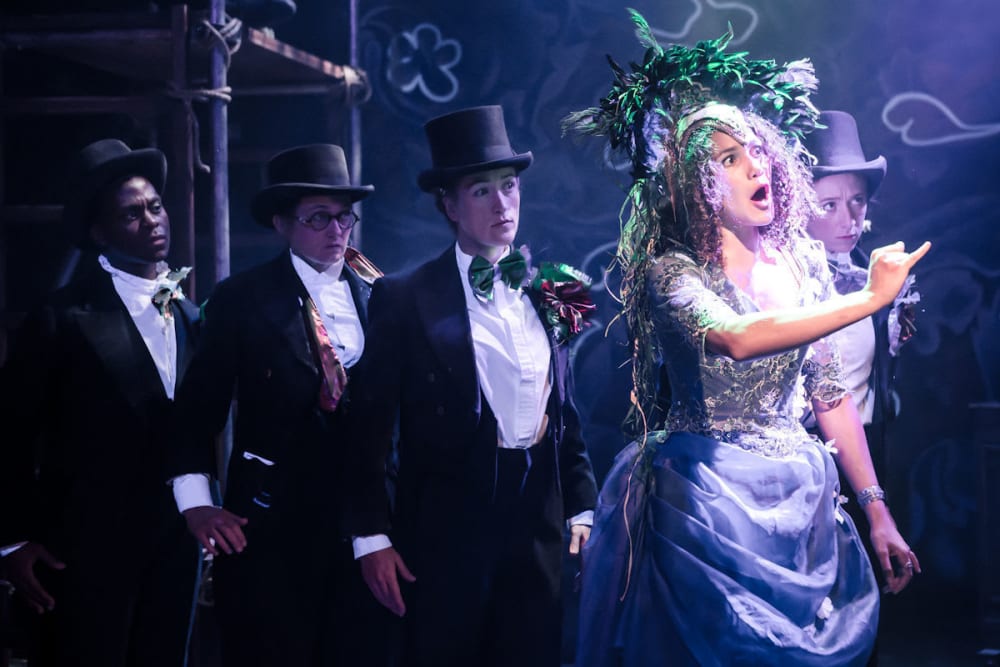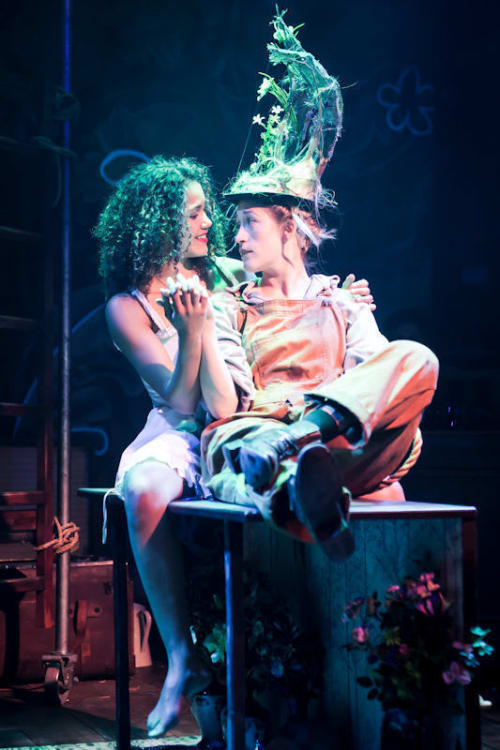 The Watermill is a 200-seater theatre, converted from an actual watermill, in a village near to Newbury, Berkshire, which has a reach well beyond its size and location. At one time, it was the home of Edward Hall's Propeller all-male theatre company and, under the dual leadership of Artistic Director John Doyle and Music Supervisor Sarah Travis, was hugely influential in the development of the actor-musician genre in which the actors are essentially their own accompanying band. Its shows regularly tour and transfer to the West End and one, Sondheim's Sweeny Todd, even transferred to Broadway's 1,000-seater Eugene O'Neill Theatre in 2006.
Coals to Newcastle, perhaps?
Now the newly formed (2018) resident Shakespeare company, the Watermill Ensemble, begins a tour of its 2018 production of A Midsummer Night's Dream at Northern Stage. The ensemble consists of ten talented actor-musicians, five men and five women, so the casting is not only colour-blind (which is something we've accepted and appreciated over recent years) but gender-blind too, which means we have not only a female Puck (Molly Chesworth) but also—wait for it!—a female Bottom. I'm sure that dreadful pun did not escape director Paul Hart's attention when he did the casting, for it is a perfect example of the irreverent humour which permeates this production.
After all, as Shakespeare himself wrote of Bottom's ideas of a song based on his (her) experiences, "It shall be called Bottom's Dream because it hath no bottom."
Actually, Emma Barclay makes a great Bottom: all the humour, the bombast and the pathos are there in her performance and, like the rest of the cast, she's got an excellent singing voice.
We have actor-musicians (and singers who are so good at close harmony as well as backing vocals or solos), so where does the music come in? Perhaps you'd like to work it out for yourself? Amongst the songs are "Cupid, Draw Back Your Bow", "I Put A Spell On You", "Blue Moon" and "My Baby Just Cares For Me".
Appropriate, of course, but humorously so, and that's the key to the entire production—Hart and his cast find all the humour in Shakespeare's text and we laugh from beginning to end. A lot more laughs are added, of course, sight gags which are not in the text—and some perhaps not really that funny but, because we're so used to laughing, they just set us off again.
It's an ensemble piece and everybody gets to play more than one part. There's the almost traditional doubling of Hippolyta (this one definitely more than an equal to the man who wooed her with his sword!) and Titania (Emma McDonald), although here Theseus (Offue Okegbe) and Oberon (Jamie Satterthwaite) are separated.
Everyone is kept busy all the time. Puck, for example, doesn't meet just one fairy who wanders "Over hill, over dale, Thorough bush, thorough brier, Over park, over pale, Thorough flood, thorough fire" but a whole group of them, and their movement (by Tom Jackson Greaves) gives the whole scene a magical, swirling pattern.
It would be invidious to single out individual cast members. It's an ensemble; they work as an ensemble; they each make an equal contribution to the success of the production.
For a success it is. It really is an absolute delight. There are some incongruities which add to the humour: the Victorian costume quite suits the nobility of Athens and the Mechanicals, but fairies in top hat and tails and a fairy queen who sleeps in her Victorian underwear?
Well, why not? It is, after all, nothing but a "weak and idle theme," a true midsummer night's dream.
Reviewer: Peter Lathan