A Midsummer Night's Dream
William Shakespeare
Guildford Shakespeare Company
Racks Close, Guildford
–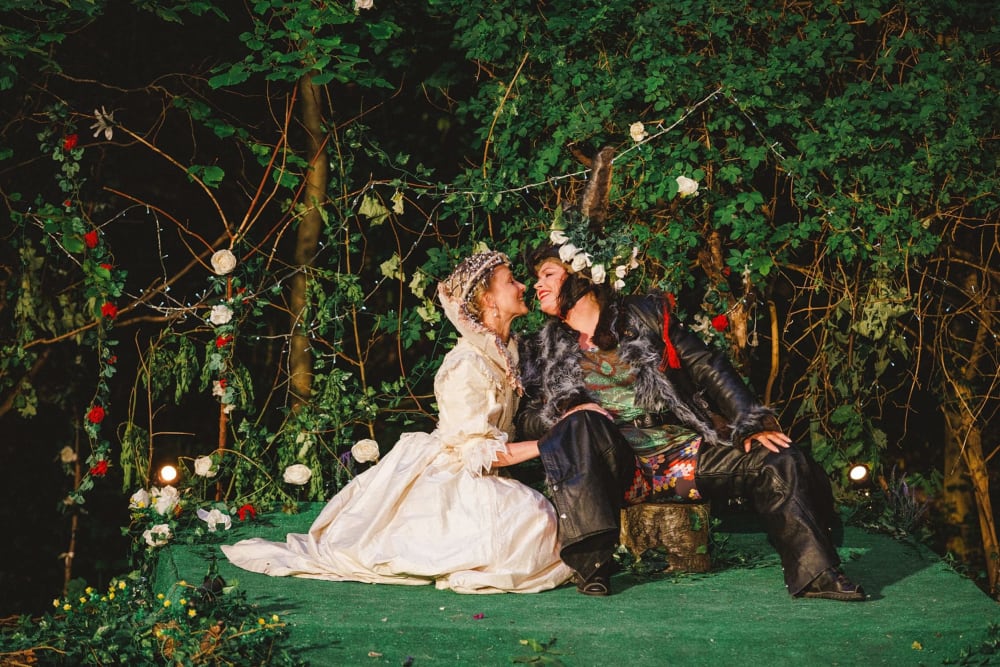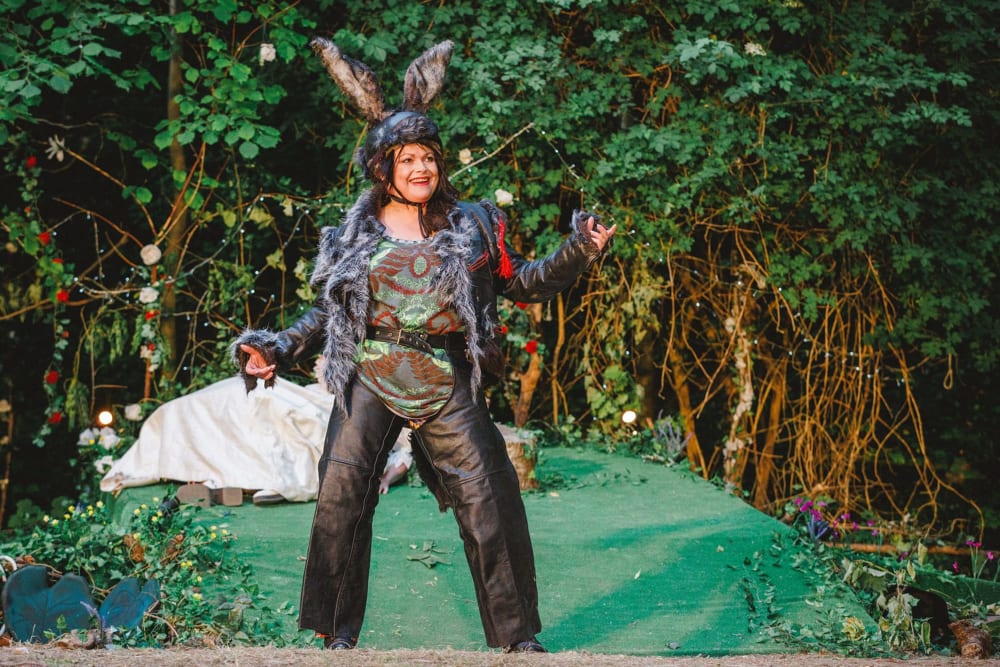 The first part of Guildford Shakespeare Company's (GSC) open-air double bill is the 'enduring summer favourite' A Midsummer Night's Dream. With lovers, fairies, magic, mayhem and of course rude mechanicals, it's a play with such in-built humour that it generally works regardless of setting, time period or indeed combinations of casting. Familiarity is a blessing and curse in theatrical terms, but in the safe hands of GSC, audiences are guaranteed to leave with a smile on their face.
For this production, the company returns to Rack's Close, a former chalk quarry that is now a 'wooded oasis' only a short walk from Guildford's historic high street. Those who choose to bring a picnic can continue to happily munch on goodies as the cast introduce the court of Theseus and the plight of Hermia. The action later moves further into the woodland as the lovers leave the Court and begin their exciting adventure. Matt Eaton's skilful sound design mingles with the real evening birdsong, perfectly matching the natural backdrop—at times serene but increasingly frantic with dust and leaves becoming part of the action.
Director Abigail Anderson has created a world that's both magical and recognisable but sets a pace that means the stakes are always high. Like a steam train pulling away from a station, the journey continues to grow in excitement, particularly once the action moves to the shady glade. The cheeky presentation of the fairies is a great example of how this dream creates fresh laughs alongside the highly anticipated set pieces—genuinely offering something for everyone.
With some returning faces and others brand new, this is a well-matched, strong cast who excel in their main roles as well as fully relishing their other characters. The lovers support Bottom as mechanicals and Titania and Oberon double as the equally regal Hippolyta and Theseus. Annabelle Terry particularly shines as the frustrated Helena (as well as laddish Tom the Tinker) and Johanne Murdock brings a playful aspect to a powerful but graceful Titania. With unicycle and white evening jacket, Daniel Krikler certainly fits the bill of mischievous Puck with added faint shades of Cabaret's Emcee.
As Nic Bottom, Rosalind Blessed is a crocheted wonder with her cocky swagger, humour and diva-like tendencies visible from the outset. She strides into the performance area with a people-pleasing Peta Quince (a delightfully quivering performance from GSC co-founder Sarah Gobran) immediately establishing a good-natured dominance and happily enjoying a few ad libs with the attentive crowd. There's bluster, bravado, ham acting in all the right places and of course a marvellous death scene (spoiler!) in the tale of Pyramus and Thisbe. We've all met a Nic Bottom like this: absolutely infuriating but ultimately endearing.
This isn't a radical reinvention of the text but doesn't need to be—with such a focus on language and movement, this is a production that doesn't need to rely on gimmicks to deliver the goods. There's a general lightness of touch sprinkled across all of the performances, topped off (of course) with a dance routine as part of the final bows. With all the stress and strain of the current world, GSC provides a perfect evening of escapism delivering a classic comedy in a fresh and lively way.
Reviewer: Amy Yorston