A Midsummer Night's Dream
William Shakespeare
Filter and Lyric Hammersmith
Royal Exchange Theatre, Manchester
–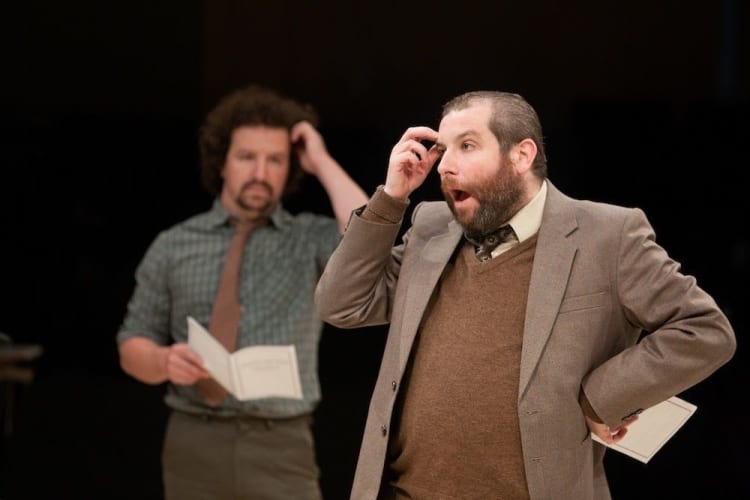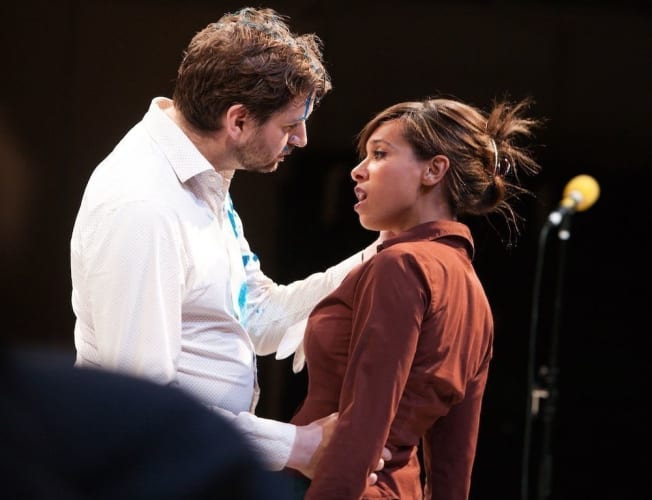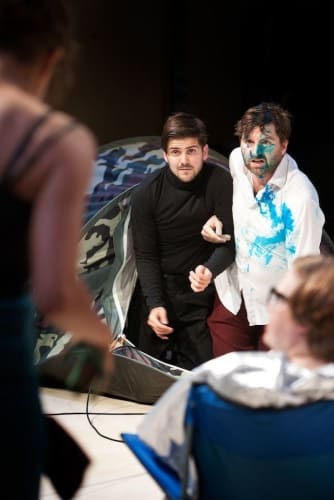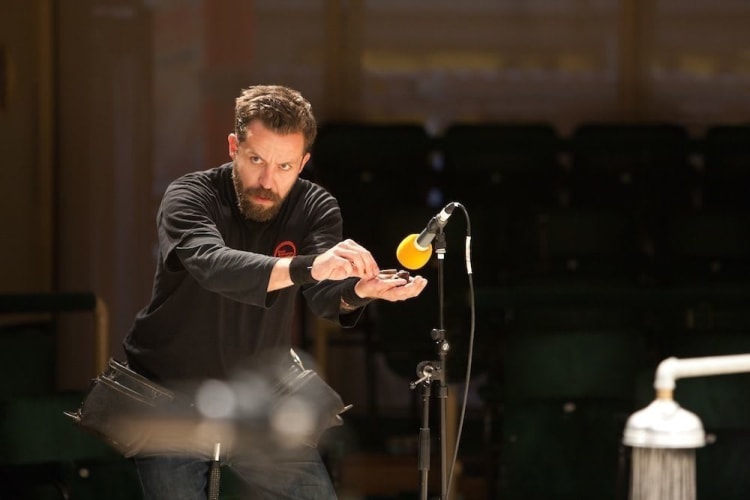 It isn't unusual for the Royal Exchange to finish its spring and summer season on a lighter note—even on a lighter Shakespearean note—but it is unusual for it to put an already-existing production from another company into its main house programme.
The company is Filter and the production, which began life at the Latitude Festival in 2010 and had a run at the Lyric Hammersmith last year, is its very distinctive treatment of Shakespeare's A Midsummer Night's Dream. Filter mixes up elements of Shakespeare's text with modern language, music and stand-up comedy, all focussed around the characters of the mechanicals. In Shakespeare's play, these are a group of manual workers who become amateur actors led by their director Peter Quince, but here Quince is an Irish night club comic-cum-compère and his hapless performers are the show's two main musicians Chris Branch and Alan Pagan (Quince also plays guitar), plus a special guest as Bottom that I won't spoil but which is done very effectively.
From the moment that Ed Gaughan's Peter Quince took to the stage, the audience's annoyance at the unexplained 10-minute delay in starting the reviewed performance was soon forgotten as his self-deprecating comic patter quickly has the audience on his side. His stand-up routine mostly pokes fun at the Royal Family (ours, not the characters') before taking us into Theseus' Athenian court and the conflict over whom Hermia is to marry.
Once we enter the fairy realm, the fairies themselves are created using effects on the electronic instruments and mics, which works well up to a point but the lack of visuals means that it is easy to become interested in watching the creation of the effects and forget to listen to the words. Jonathan Broadbent's Oberon is a bespectacled, accident-prone and rather pathetic figure wearing a tacky, blue, all-in-one superhero outfit with his initial on the front, and Ferdy Roberts as Puck is his reluctant servant, played as an unhurried assistant stage manager or rock roadie.
The characters of the lovers don't have a great deal of depth, but John Lightbody as Lysander and Rebecca Scroggs as Helena do get some character and humour out of their parts, whereas Rhys Rusbatch as Demetrius and Gemma Saunders as Hermia do not live up to the Filter chaos quite so well. Poppy Miller is fine as Titania and Hippolita, but there doesn't seem to be enough of interest to the Filter style in either of these characters for her to have a big impact. There is, however, a wonderful performance from Fergus O'Donnell...
Filter's interest is in the comedy, particularly slapstick, so the human elements in court are dealt with swiftly to open the plot and we don't return to them at the end, as the mechanicals' play is only performed to the real audience and not to Theseus and Hippolita and their guests. This is fine for the mechanicals—more than fine actually as it builds beautifully on Shakespeare's text rather than distracting from it—but making Oberon, the all-powerful king of the fairy realm, into a cross between Austin Powers and Frank Spencer doesn't make any sense at all in terms of the story or character.
It doesn't all work, but when it does it does so gloriously and makes Shakespeare's intentions come to life for a modern audience and brings genuine, belly-laugh comedy back into the play. Where it doesn't work is where the comedy is gratuitous and forgets the intentions of the play at the heart of the production, but the whole piece trips along at a swift pace and is over in an hour and three quarters with no interval, so it is certainly never dull.
With music ranging from doo-wop to metal, comedy from stand-up to slapstick and a stage filled at the end with the remnants of a food fight, a camping trip and squirted blue paint used as the juice of the magic flower, this is true "rough theatre" (as defined by Peter Brook in The Empty Space) and a great fun romp to end the summer season.
Reviewer: David Chadderton