A Midsummer Night's Dream
William Shakespeare
Shakespeare's Globe
Shakespeare's Globe Theatre
–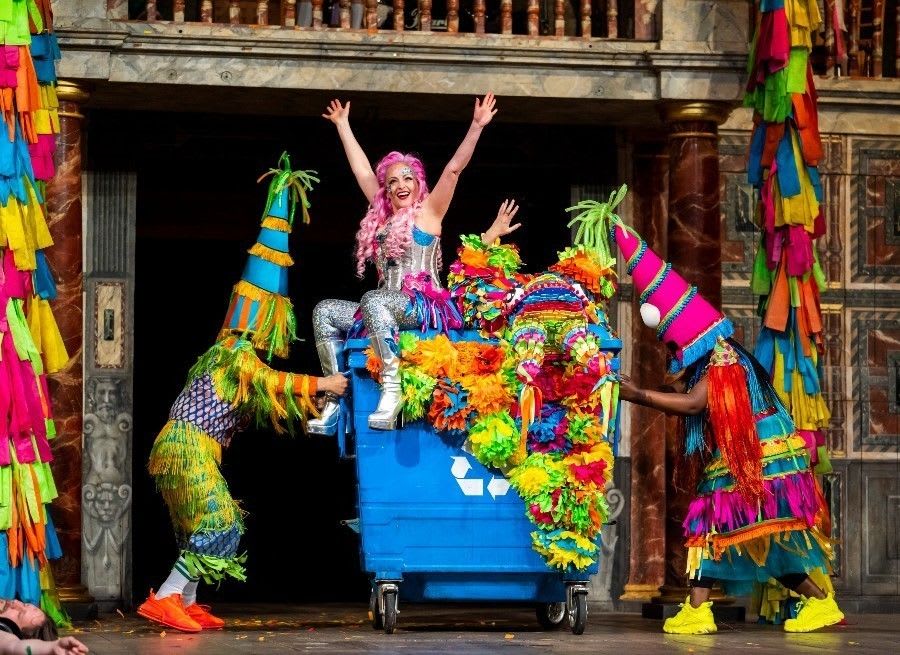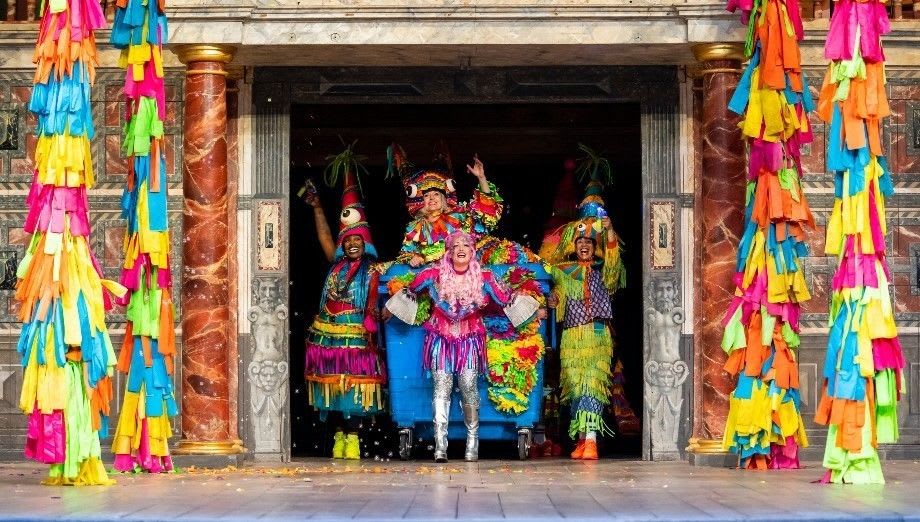 The Globe Theatre's live in-person performances are back with its 2019 production of Midsummer Night's Dream, trimmed to one hundred and twenty-eight minutes with no interval. A seated audience, suitably spaced, temporarily occupies the yard. There are hard plastic red sheets everywhere else to limit where you can sit.
Audience participation has been reduced to singing along with the performers and a single socially distanced volunteer cyclist subbing as one of the Mechanicals. Even the cast, over half of which were part of the 2019 production, are careful about contact. COVID safety measures provide Thisbe (George Fouracres) with the joke of wiping the dagger that Pyramus (Sophie Russell) used to kill himself before killing herself with it.
The uplifting sounds of the Hackney Colliery Band open the show, costumed like some bright colourful futuristic carnival. There is plenty of humour that keeps the audience laughing and they have cut out some of the earlier excesses such as Helena barking like a dog and rolling on the ground in a sexual threesome with Demetrius and Lysander.
All the cast get to don T-shirts emblazoned with the name of Puck and share in the character's antics, including blowing darts at each other that cause instant sleep. Sophie Russell gives an engaging performance as Nick Bottom the weaver.
However, despite following the conventional lines of the script, the production still has no connecting theme or serious engagement with its ideas and that can at times make it feel rather flat.
But a play whose comedy hovers so close to tragedy is a good choice to welcome back those of us starved of Globe entertainment.
Reviewer: Keith Mckenna