A Midsummer Night's Dream
William Shakespeare
Lunchbox Theatrical Productions
Shakespeare's Rose Theatre, York
–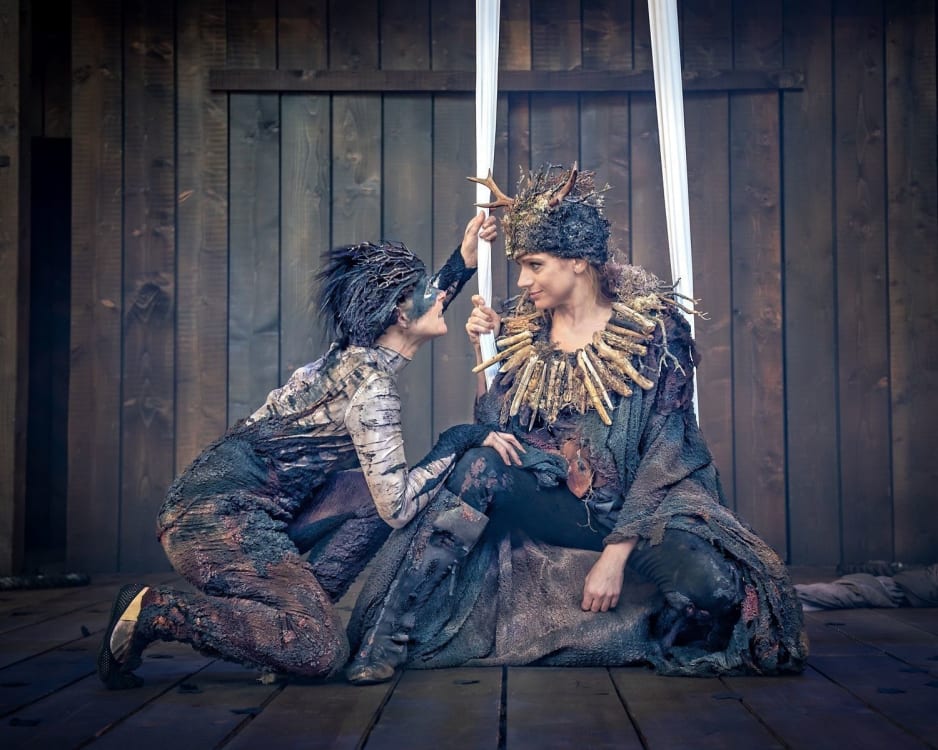 York's pop-up "Shakespeare's Rose" is a curious mix of worthy educationalism and commercialised opportunism. In programming four of the best-known (and most-taught) of Shakespeare's plays, and giving them mostly straight-down-the-line productions, this is precision-designed to attract people, as producer James Cundall puts it, to "their first experience of theatre".
The setting is pseudo-authentic; it presents itself as an "Elizabethan theatre", that Shakespeare "would recognise and feel at home in". But there is certainly no original practice purism going on here: it's very much a modern stage with entrances, scenic tricks, and tech which would look like witchcraft to even the most educated Renaissance theatre-goer. A-Level students beware.
It's impossible not to dwell on this framing of the production when settling in to watch any of the four shows on offer. For a while, Juliet Forster's Midsummer Night's Dream seems too in thrall to its unusual setting, offering poised stage pictures with only occasional bursts of movement. The squabbling between Lysander and Demetrius looks stagey and unconvincing, for instance, and the four lovers all take a while to warm into their roles.
Forster's visual imagination starts to come to the fore, though, with the transition to the fairy kingdom. The stage is transformed with ropes and acrobatic feats. Characters respond physically to the ebb and flow of the text more organically than in the Athenian scenes.
Sara Perks's design emphasises the animal characteristics of the woodland sprites, with exaggerated goat-like haunches draped in earthy brown materials. They are prone to screeching yelps which grate on the ear, but physically, these fairies are boisterous and athletic—none more so than Maria Gray, who gets numerous opportunities to display her skilful aerial work as (aptly enough) Cobweb.
In this ensemble, Puck (Clare Corbett) is somewhat undistinguished from the others: rather than a favourite of Oberon's, she's the nearest minion. All do good service—along with the versatile set trappings—in confusing and misleading the lost Athenian lovers.
Of these latter roles, Amy Lennox's Hermia is the pick. She increasingly brings out the character's whiff of spoiled haughtiness while nonetheless remaining fundamentally likeable, and she gets the most of the humour from the interchanges with the others. Olivia Onyehara as Helena makes some sense of the verse, but paints so much of the role with the same wash of hard-done-by peevishness that there's little room for manoeuvre once she feels she's been betrayed by the whole 'confederacy' of them.
The Mechanicals' rehearsal and performance scenes, on the other hand, are almost indestructible gifts to performers, and this cast and staging capitalise on the jokes in the text as well as elaborating and flourishing with sight gags aplenty. As (self-declared) lead thesp, Paul Hawkyard gives us a buffoonish, gentle giant of a Bottom.
Robin Simpson as Snout makes for a particularly obstructive Wall, and Gareth Aled as Starveling has some memorable aerial work of his own as Moon. Emilio Iannucci is on firm ground clowning as Flute (who plays Thisbe in the play-within-a-play), and his death scene is suitably, hilariously bathetic.
Forster has doubled Theseus with Titania and Hippolyta with Oberon, a not-without-precedent cross-gender pairing which carries some reward here. Antony Bunsee is somewhat one-note in both roles, but for me the jewel of this ensemble is Amanda Ryan. She is forced into a centre-stage watching brief for long sections (as she is as a key Gentlewoman in Damian Cruden's Macbeth), but when she does have text she makes it sing.
While a lot of the play goes past without any usually-unheard lines zinging out (as they do in the best productions of Shakespeare), Ryan feels like a safe pair of hands and a confident speaker of the speech. She finds the peaks and troughs of Oberon's monologuing instructions, and conjures vivid imagery through subtle inflection and powerful intonation.
For all the cast's individual strengths, and despite the fillip provided by the Mechanicals in the final furlong, the production suffers longueurs. It is a shame that I cannot recommend this wholeheartedly to families thinking of introducing young children to the magic of theatre, as the near 3-hour running time proved just too much for some younger ones on the afternoon I saw it.
PS. As also happened with Macbeth, the cast, post-bow, call for hush to implore us to spread the word, or come back for more. Given that the organisation is a commercial venture charging up to £55 for a ticket (before you get to the "VIP" packages), this came across to me as unnecessarily desperate. Let the show do the talking—and the unusual, striking venue.
Reviewer: Mark Smith