A Midsummer Night's Dream
William Shakespeare
The Royal Lyceum Theatre, Edinburgh
–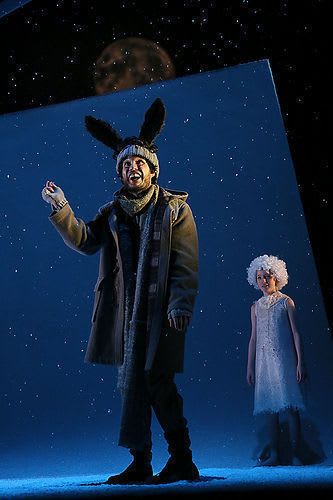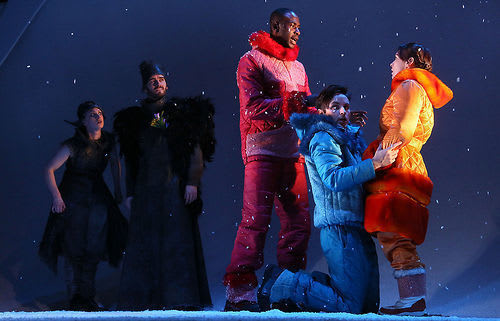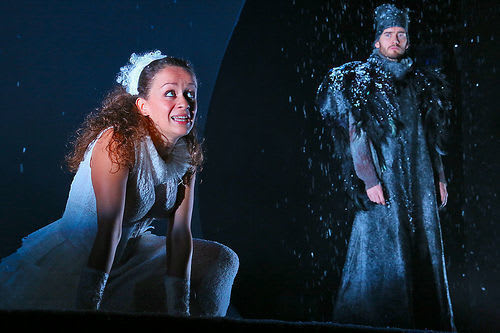 As one of the most oft-performed of Shakespeare's plays, there can be a tendency for directors to go to extreme lengths to stamp their mark on a production. Matthew Lenton certainly puts his mark on this production but not to the detriment of the story.
In fact, what begins as quite a dark surreal Dream evolves into a fairly conventional take on the play. It is a strong show thanks to some very astute cutting and a lively cast. The words feel fresh and the occasional contemporary phrase thrown in gets a well deserved laugh.
The setting in the deepest snowy winter turns the play's title on its head. The fairies, in crisp frosty outfits with white afros, scatter snow across the stage throughout most of the play, creating a veritable snow storm for the lovers and mechanicals to battle through rather than the usual leafy wood.
Bottom can sometimes be a rather arrogant, but Jordan's Young's Bottom is a very likable character who doesn't bully the other mechanicals and gets on fine with Peter Quince (Barnaby Power). The character of Bottom also gains from being given something of a backstory. Young is also very funny and finds new humour in this well-worn part.
The extreme cutting allows more time for physical performances in the whole show from bat-like Puck (Cath Whitefield), the lovers fumbling over each other in brilliant winter wear to louche Titania (Flávia Gusmão) straddling Bottom. Whitefield is a very confident comic presence on stage, bouncing off the dark, rather sinister figure of Oberon (Ifan Meredith).
The play-within-a-play works very well, with Theseus (Meredith) and Hippolyta (Gusmão) and the lovers taking over the Lyceum's lovely boxes. The mechanicals provide a suitably coarse style of acting. Grant O'Rourke is particularly delightful as Flute the bellows mender presenting a large and heavily made-up Thisbe.
The set itself seems quite low key for the Lyceum, a white snowdrift and tree bough, but it saves some tricks up its sleeve for later in the play. Much fun is had with the lovers, each with their own different vivid colour, matching winter coats and sleeping bags.
Though the snowy setting might seem at first glance the most bold change to the piece, this fits well into the idea of the magical forest. The more profound change is in the human presentation of Bottom and the other mechanicals too.
Reviewer: Seth Ewin