A Midsummer Night's Dream
William Shakespeare
Custom/Practice and TEG Productions
Yvonne Arnaud Theatre, Guildford
–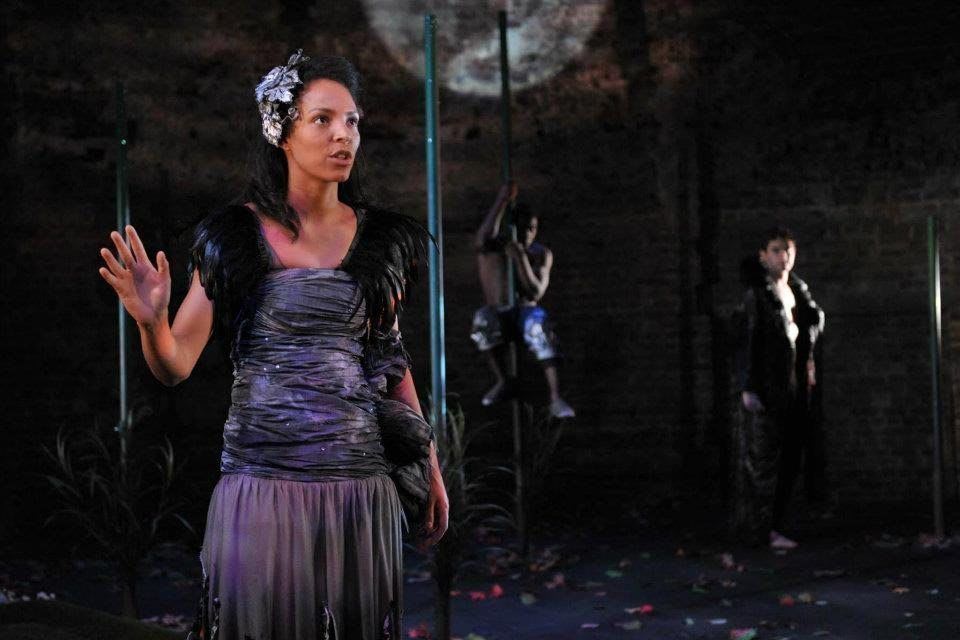 A Midsummer Night's Dream is arguably one of Shakespeare's most flexible works and Custom/Practice pique curiosity by opening the production with a cast in school uniform in a detention room.
When Mr Goodfellow arrives to explain that he'll be leading the session, his seemingly magical powers enable the mumbling teenagers to beautifully recite Shakespeare and embody the characters. This sets a bold precedent for the production but unfortunately the device is only used as a framing tool and is not referenced again until the very end of the play. What follows is a largely conventional staging of this famous comedy although the casting does feature an unusual twist.
Doubling has long been popular in A Midsummer Night's Dream, particularly for the parts of Oberon/Theseus and Titania/Hippolyta, but never have I seen a production in which the lovers double as mechanicals. Strangely it works, which is a testament to the comedic abilities of the eight strong cast.
Rebecca Loudon creates a strong and wilful Helena contrasting completely with her flighty and anxious Peter Quince, but Daniel Francis-Swaby steals the second act switching from a cheeky and passionate Lysander to a lycra-clad Flute (Thisbe) complete with heels and wig.
The emphasis in this adaptation seems to be on the storytelling itself so unnecessary gimmicks are avoided, but there is plenty of expertly-executed physical comedy throughout. A particular highlight is the often-cut bergomask, with which the mechanicals end their play. As Bottom, Lorenzo Martelli's dance solo owes more to David Brent than Shakespeare but it certainly brought the house down.
For school parties, this is an excellent introduction to the play with an energetic young cast and plenty of robust physical comedy. Whilst the production does not offer any sort of fresh examination of the text, it is at least mostly faithful to it. There are some lovely modern asides added in, but essentially this is an enjoyable version of a classic with laughs in all the right places.
Reviewer: Amy Yorston