A Murder Is Announced
Leslie Darbon, based on the novel by Agatha Christie
Middle Ground Theatre Company Ltd
York Theatre Royal
–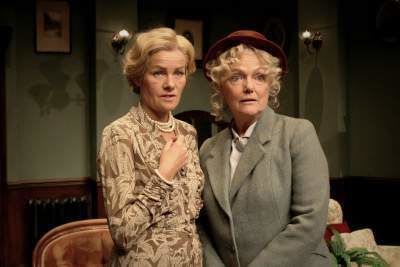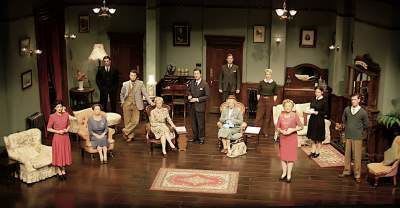 More than forty years after her death, Agatha Christie remains one of the world's most beloved authors. Not only do her books continue to sell by the truckload, but they are a constant fixture of theatre, film and television. The imminent big screen release of Murder on the Orient Express, directed by and starring Sir Kenneth Branagh, attests to her enduring popularity.
But what is the secret of Christie's appeal? Why has her name endured, while those of other "Queens of Crime", such as Margery Allingham, Dorothy L Sayers and Ngaio Marsh, have faded in the public imagination?
A significant part of it, of course, has to do with her gift for constructing ingenious murder plots—narratives filled with clues and red herrings, in which the reader is encouraged to become an amateur sleuth. A Murder Is Announced has such a plot.
One autumn day, in the picturesque village of Chipping Cleghorn, a notice appears in the local newspaper: "A murder is announced and will take place on Friday, October 29th, at Little Paddocks, at 6:30PM. Friends accept this, the only intimation."
As the allotted time approaches, the village residents congregate at Little Paddocks—the home of Letitia Blackwood (Janet Dibley)—to find out what's going on. At 6:30, the lights go out, gunshots are fired and the body of a young Swiss man is found sprawled on the drawing room floor.
Fortunately, Miss Marple (Louise Jameson) is on hand to help the local police force get to the bottom of things.
Having read the source novel at some point over the last two years, A Murder Is Announced held no mystery for me. My theatre companion, however, found herself drawn into the plot and enjoyed guessing (accurately, as it turned out) the identity of the murderer. Even if you know the novel, there's still some pleasure to be had in watching Christie's highly wrought plot unfold.
I found some of the early scenes—in which the characters sit around spouting expository dialogue—somewhat lifeless and inert. However, the pace livens up considerably once the murder is committed.
Leslie Darbon manages to condense the novel into a sprightly 140-minute show, whilst preserving its main narrative thrust. Most of the characters fail to rise beyond the two-dimensional, but this was true of the novel as well.
Michael Lunney's handsome set evokes the early 1950s and Lynette Webster's emphatic score is pleasingly over-dramatic.
The cast do a fine job overall. Louise Jameson manages to capture Marple's eccentricity and Tom Butcher is rather good as the bemused Inspector Craddock. Best of all is Sarah Thomas, who brings genuine pathos to the role of Dora Bunner, Letitia's highly-strung house guest.
A Murder Is Announced does not represent the best of Christie—it's nowhere near as much fun asWitness for the Prosecution,for example. Nevertheless, the show provides an evening of solid, old-fashioned entertainment.
Reviewer: James Ballands