A Murder is Announced - a Miss Marple Mystery
Agatha Christie, adapted for the stage by Leslie Darbon
Middle Ground Theatre Company
Yvonne Arnaud, Guildford
–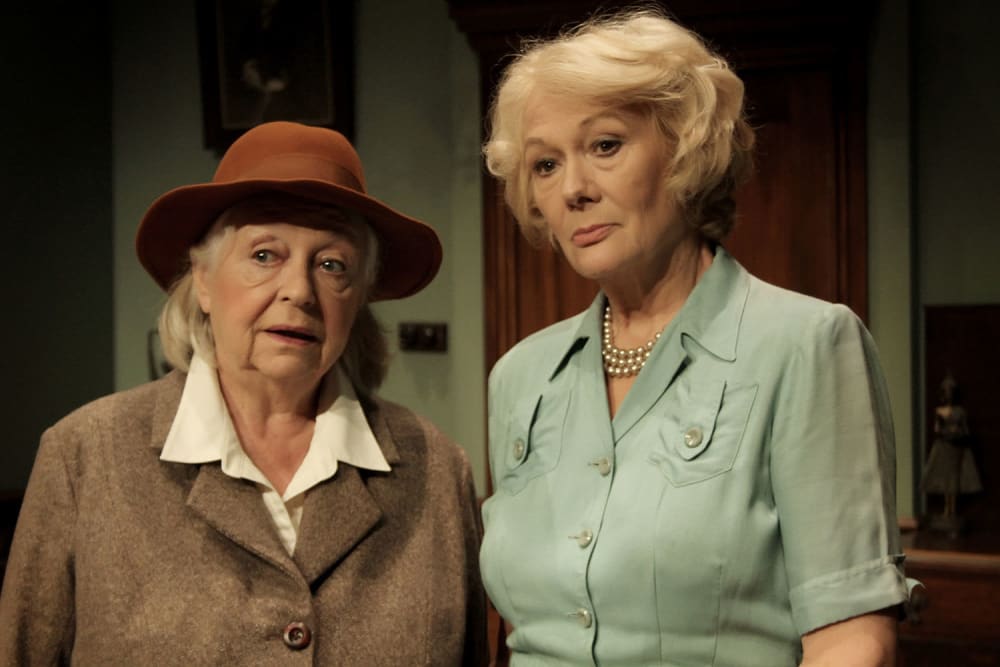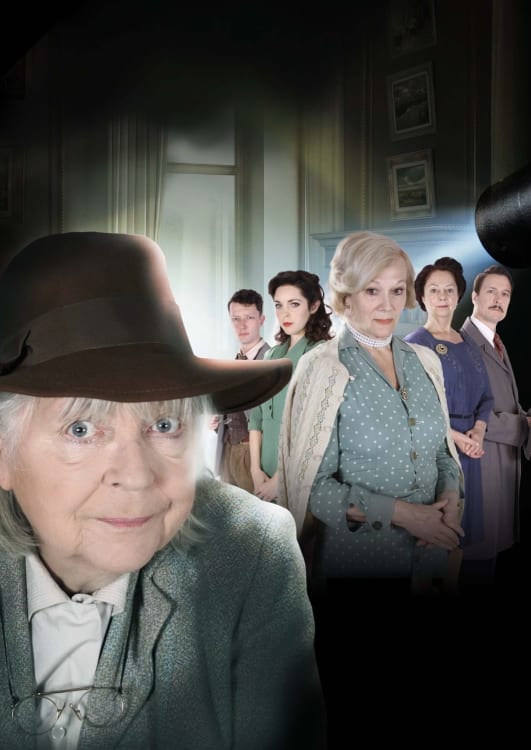 What is there to say about an Agatha Christie murder mystery which hasn't been said already?
The plot twists and turns continuously. The story will keep you guessing right to the very end. Red herrings abound and there are numerous characters to add to the confusion. Lights suddenly fail for no apparent reason followed by gun shots, a dead body and a Detective Inspector with Sergeant arrive to solve the mystery and arrest the culprit while Miss Marple is the one who has the whole thing figured out even when apparently concentrating on her knitting.
Well the formula is much the same each time, but the author has her stories so well crafted, so intricate and so intriguingly contrived that each one can be seen several times without becoming boring. In fact no matter whether or not I have seen the play previously I still can't remember who did what to whom, or even 'who dunnit', and it's hardly ever the one you suspect.
Michael Lunney's production has all the correct ingredients. Set in the 1950s in a large Victorian house, this very impressive and solid-looking set has French windows and multiple doors with one always kept locked. The place is filled with furniture and knick knacks of varying styles, and here lives the house owner, Letitia Blacklock, with so many guests and visitors that I thought at first that it might be a boarding house.
Apart from her, the residents comprise Patrick and Julia, a brother and sister whom she has never met before but who were the offspring of her dead cousin, and she has also taken in an old school friend who has fallen on hard times.
It is this old school friend Dora (known as Bunny) who provides a lot of gentle comedy, endearingly portrayed by Sarah Thomas as a slightly confused and forgetful old lady. It is she who first discovers the announcement in the newspaper "A murder is announced" giving time and place—that very evening in that very house—sending the maid into another fit of paranoia, Bunny into panic mode and Diane Fletcher's Letitia, calm and reasonable, trying to dismiss it all as a joke.
Of course all the neighbours arrive at appointed time, bursting with curiosity.
Lunney is also responsible for costume and there are some lovely frocks for Julia, some suitably smart ones for Letitia and a frumpish outfit with equally frumpish hat for Miss Marple as befits her innocuous appearance hiding a sharp and analytical mind. There is a sort of sweet innocence about her but with a wicked smile in her eyes as, sympathetically played by Judy Cornwell, she points out to the inspector (Tom Butcher) what he might have missed.
The is also an extremely volatile maid (Lydia Piechowiak) from somewhere mid-European. No one is quite sure where, which is not surprising as her accent is very strange, but in 'her country' people are often imprisoned and tortured and 'someone is out to get her', and it's all very funny when she gets herself into a 'tizz'.
As I said—a standard Agatha Christie murder mystery, but a very good production with an excellent well experienced cast and a director who keeps the whole plot on track while still keeping the mystery to the end, and well worth braving the weather for.
Reviewer: Sheila Connor