A Naughty Evening with Noël Coward
Noël Coward
Proud Haddock Productions
Old Red Lion
–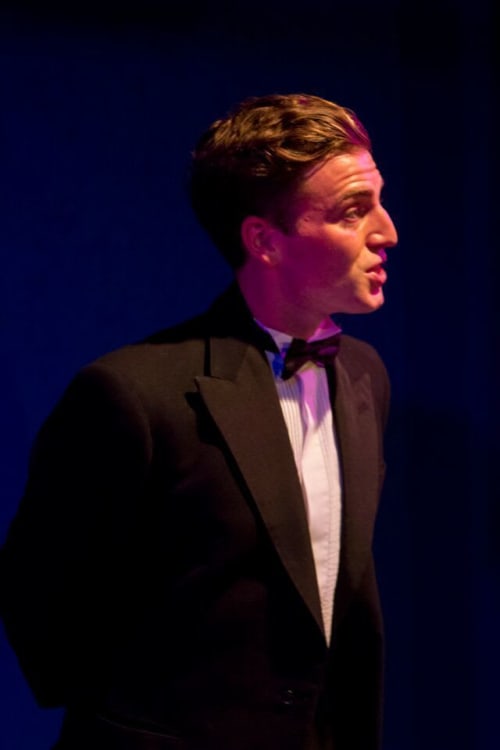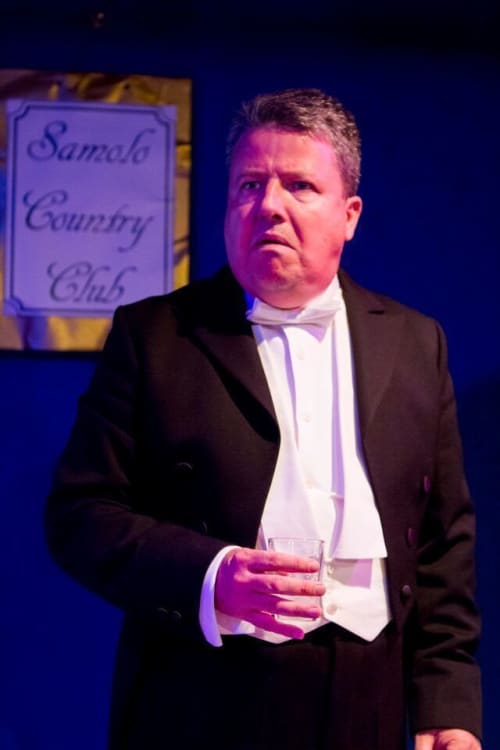 With an usher in a dinner jacket, fans supplied to cool a warm evening and a pianist in a white tuxedo, things are nicely set up for an evening of period Coward made up of two of his short plays and some of his songs as a garnish, all played without interval.
We Were Dancing is one of the 10 plays written in 1935 to be played in a changing combination as Tonight at 8.30. It first appeared on the same bill as Red Peppers but it has rarely been included in recent revivals.
It is a quirky look at the obsession with falling in love that displays typical Coward tartness and is set in the bar of some colonial outpost from which, on a clear day, you can see Sumatra.
Bored wife Louise Charteris (Lianne Harvey) has fallen in love at first sight with divorced Karl Sandys (James Sindall) and he with her. He is going to elope with her in the morning. They are discovered in a compromising situation but husband Hubert (John MacCormick) is jolly decent about it—it is his sister (Beth Eyre) who is scandalised.
These are all appropriately brittle performances offering a satire on colonial morality for 1930s West End audiences to laugh at. Will the two lovebirds still be so enamoured of each other in the morning?
Despite a spirited production, this still seems rather second-rate Coward. Some other characters are there simply to give a more social setting and because there were actors available from the other plays, though here James Loran makes the most of an opportunity to play pompous retired Major Blake knocking back stingers.
The Better Half is an earlier play first presented as part of a Grand Guignol bill at the Little Theatre in the Adelphi. It was never published and was soon forgotten until rediscovered in the Lord Chamberlain's script pile by Michael Wilson and Richard Hand. That led to some recent performances. This revival doesn't make you feel that it needs any more.
If features another wife, Alice (Tracey Pickup), bored with her marriage and her ever-compliant husband David (Stephen Fawkes). She suspects her friend Marion (Beth Eyre) is in love with David. While dressing for dinner, Alice and Marion discuss a society scandal involving a wife-beating husband. Alice seems to thinks that a little bit of beating might live things up in her case.
Marion confesses she does care for David and so Alice asks him if he knows this. Are they having an affair? To encourage him, she confesses her own infidelity (untrue) but still finds him acceptingly complaisant.
While undermining the facades of polite society, this isn't a patch on Coward's later work and Jimmy Walter's production doesn't work wonders with it. In 1922 at the Little, it would presumably have been played as farce and that might have worked better.
At the time, dramatist and critic St John Ervine commented, "when Mr Coward has learned that tea-table chitter-chatter had better remain the prerogative of women he will write more interesting plays than he now seems likely to write."
I in no way agree with Ervine's sexist sentiment and am glad that his estimate of Coward's talent later proved very wrong.
Reviewer: Howard Loxton