A Night at the Kabuki
Hideki Noda, music by Queen
NODA MAP/Sony Music Entertainment (Japan) Inc./Sony Music Publishing (Japan) Inc./Tokyo Metropolitan Theatre
Sadlers Wells Theatre
–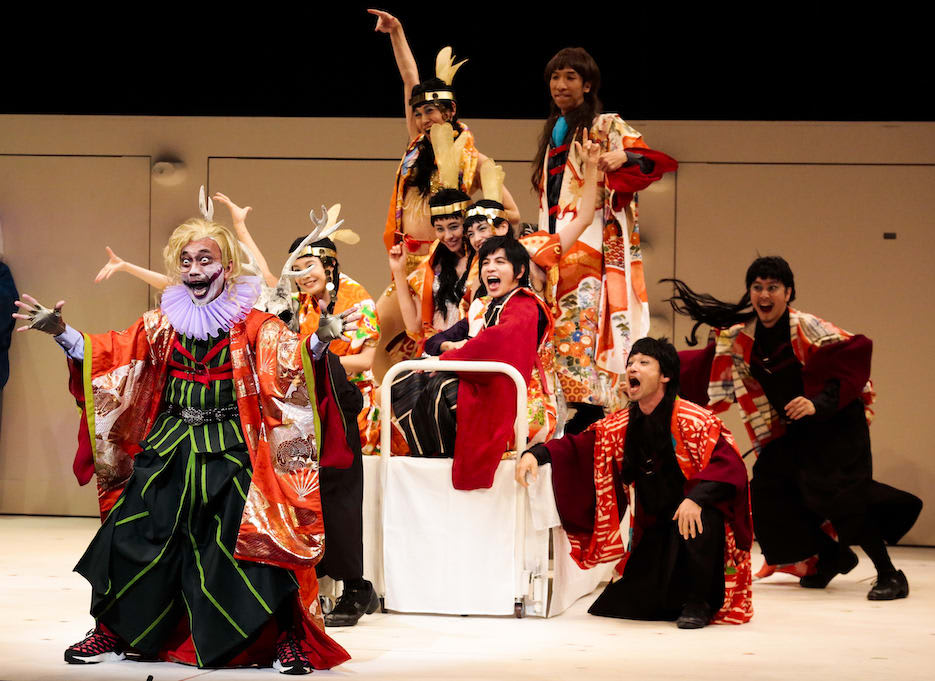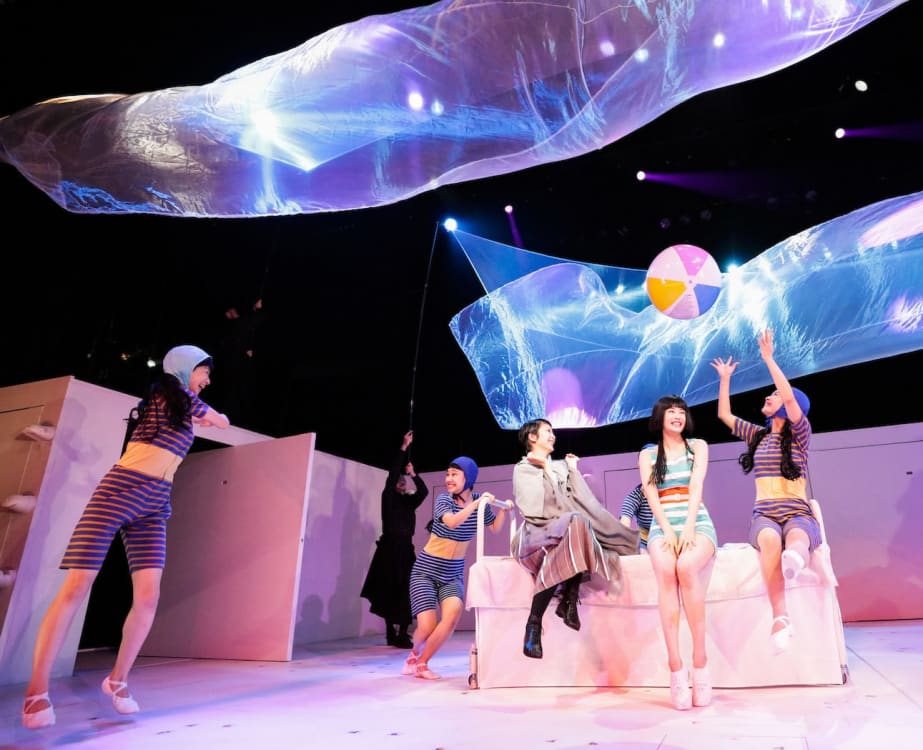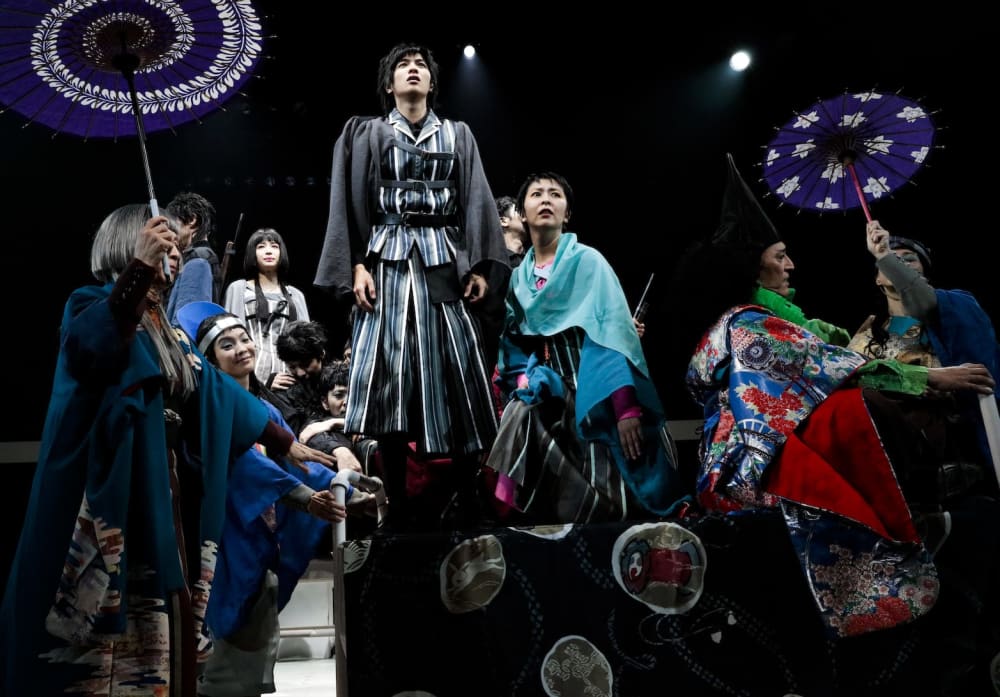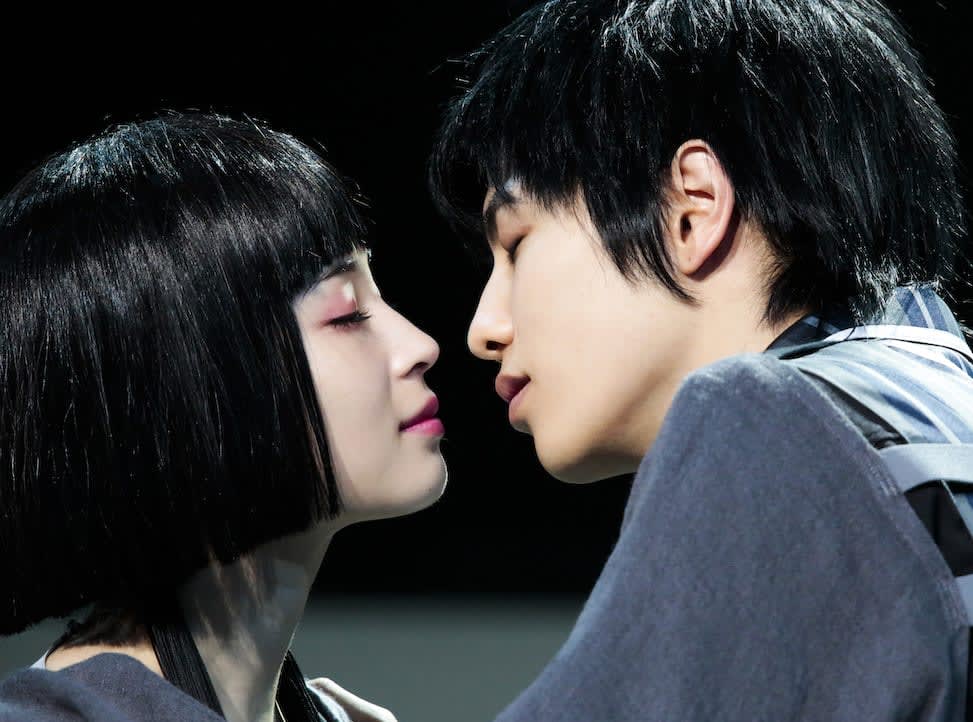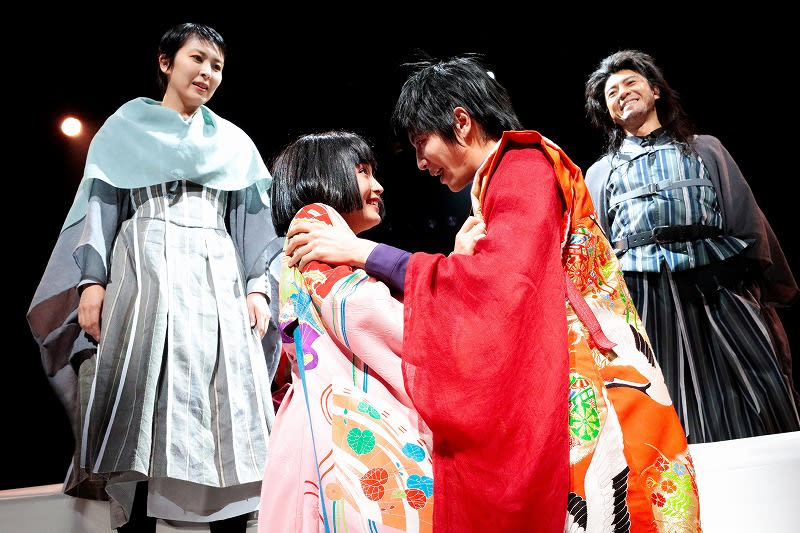 This madcap creation of Hideki Noda and his company takes its name from Queen's rock album A Night at the Opera (Kabuki being the Japanese theatrical equivalent to opera) and borrows some of its music. The story comes from both Shakespeare's Romeo and Juliet and the conflict between the Minamoto and Taira clans in the late Heian period in the twelfth century, the dawn of the age the Samurai.
Though Queen's involvement has been much promoted and Freddy Mercury loved Japan, don't get the idea that this is a juke-box musical. Though the lyrics of songs such as "Love of My Life" and "You'e My Best Friend" may fit the story, it's the sound of Queen's music that Noda uses dramatically. The narrative is told in dialogue and action, and though it is all in Japanese, its surtitles reveal occasional bard borrowings—and not just from Romeo and Juliet.
We get Romeo of Taira and Juliet of Minamoto in duplicate, two pairs of star-crossed lovers. An older pair, still seeking happiness, return to intervene in the lives of their younger selves in a bid to achieve it. The failure of Juliet to get a message to Romeo in Shakespeare's play now becomes many messages flying between them like paper airplanes. The final one, from him to her, arrives 30 years late and a blank piece of paper, but Romeo's friend Bontaro (NaotoTakenaka) has memorised its secrets.
Suzu Hirose and Jun Shison are charming as the young Romeo and Juliet, Takako Matsu and Takaya Kimakawa the older pair: all fine performances from actors well-known in Japan. Clever stagecraft often switches old into young and vice versa.
The Minamotos are deadly serious. "Suppress desire, relinquish fortune and discard name" is their mantra. The Taira are hedonistic. They cry, "build your fortune, satisfy your desires," they like to party. It's the 12th century, but on the beach they are wearing 20th-century swimsuits. This is a long way from classic kabuki, but Satoshi Hashimoto as Yoshinaka who leads the Minamoto (and then as Yoritomom Juliet's brother) brings some of its gravitas and Naoto Takonaka as Kiyomori, with his painted-on grimace, the head of the Taira clan, has a delivery that derives from it too.
Writer-director Noda himself plays Juliet's nurse with more than a touch of the pantomime dame, a reminder that kabuki has its own comic genre.
These are only echoes; Noda's fast-moving, ebullient production is contemporary not classical theatre, though its choreography of actors, multiple hospital beds, scenic elements, bedsheets and fabric that floats over the whole stage demands just as rigorous technical ability, physical skill and precise timing, all beautifully executed as the cast clamber over the set, rush through its swinging doors or suddenly appear when you least expect them.
The storytelling, at least via surtitle, has some lacunae but it is both moving and funny. The performance is totally engaging and the actors and creatives of Noda Map earn the warmth of their reception.
COVID prevented this uniquely individual show from coming to London following its Tokyo première in 2019 and now it makes only a brief visit. Be prepared for just over three hours (including the interval) but if you can get to Sadler's Wells in time, don't miss it.
Reviewer: Howard Loxton