A Number
Caryl Churchill
Lyceum Theatre Company
Lyceum, Edinburgh
–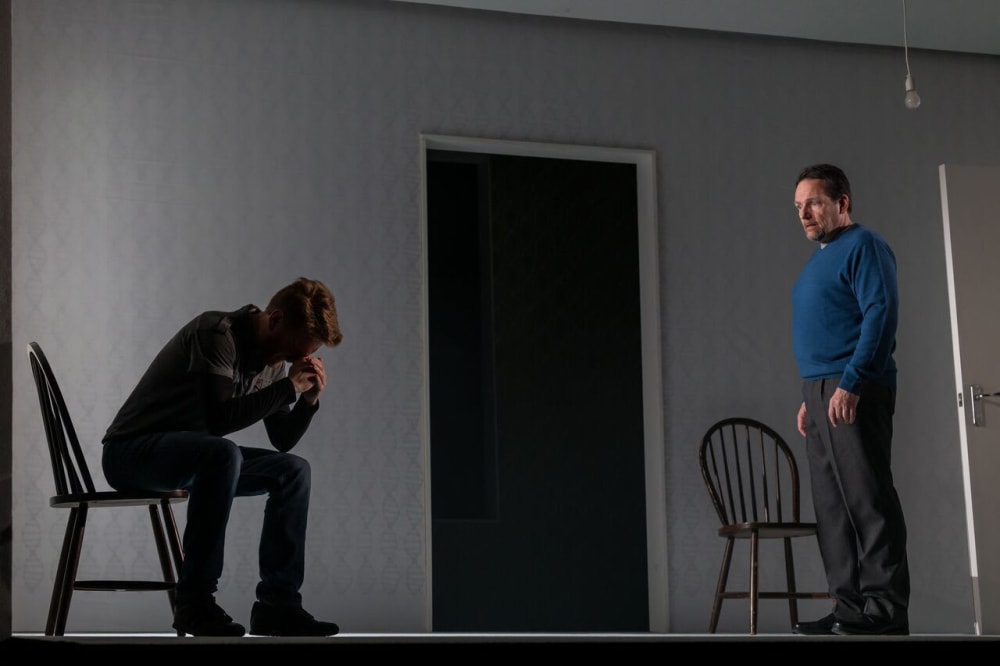 The Lyceum's season continues to reflect the world outside the theatre, this time a production in partnership with the Edinburgh International Science Festival, an ever-growing Easter event.
Churchill's play concerns a man who has been cloned, but the play makes us think about a lot more than cloning: in particular it makes you think about identity. Many of the performances are accompanied by talks beforehand and this night it is Scottish identity.
Writer James Robertson and journalist Lesley Riddoch as part of the Who Do You Think You Are? series discussed what it meant to be Scottish, focusing on language, migration, regional differences, and the referenda.
So we began with national identity, which proved very slippery ("nailing a jelly to a wall"—Riddoch) and moved on to personal identity in the play which also ended with more questions than answers.
The play has four short acts. It begins with Salter (Peter Forbes) telling Bernard 2 (Brian Ferguson) that he is a clone of, he explains, Salter's dead son. Against Salter's wishes, other clones were made, so Bernard 2 is one of a number.
Ferguson goes on to play an angry and quite assuredly not dead Bernard 1, the original son whom Salter had to put into care, and Michael Black, one of the number of clones. The switching is terrific and Bernard 1 in his silent, still rage is terrifying.
Forbes shines too, as a father who engineered a second chance for himself after failing catastrophically as a parent. Although the play's hook is cloning, its underlying themes are universal: the ethics of parenting, nature versus nurture.
The seemingly bare walls are papered with pale double-helix wallpaper and there is another similar room behind through the window. Aside from these details, it is a stark set and everyone's attention is firmly on the two actors whose often quite static monologues are thoroughly engaging.
A play with so many philosophical problems, yet also several well-drawn characters. Michael Black is light relief at the end, so nice after the menace of Bernard 1, and funny in his attempts to grapple with personal identity for Salter.
What does make you you, without referring to the outside world? It is pretty much like nailing jelly to a wall.
Reviewer: Seth Ewin