A Number
Caryl Churchill
York Theatre Royal
York Theatre Royal Studio
–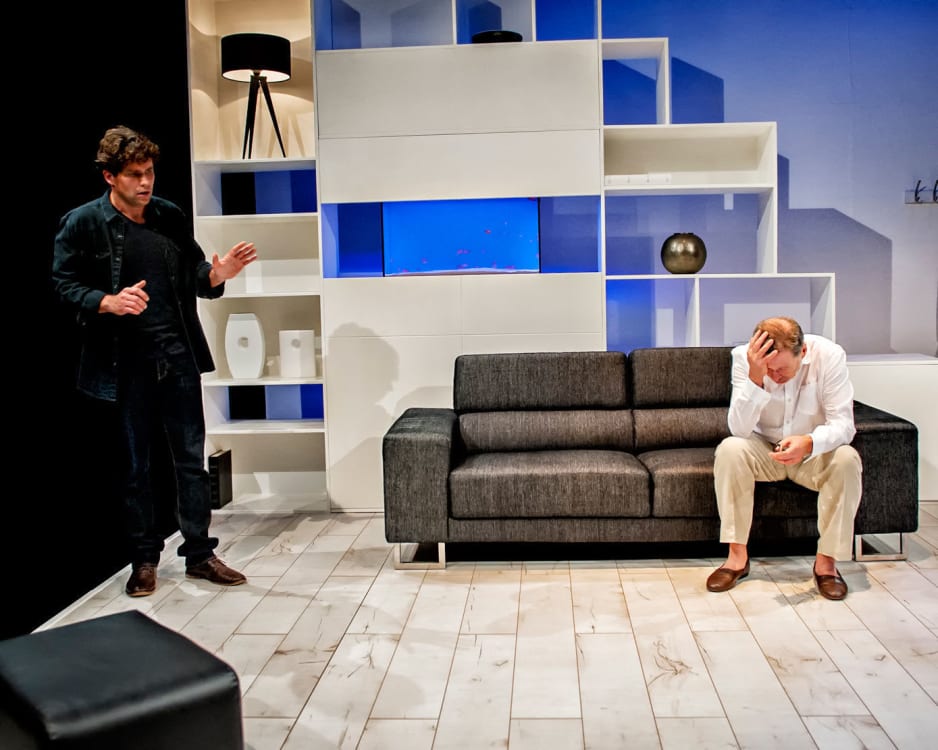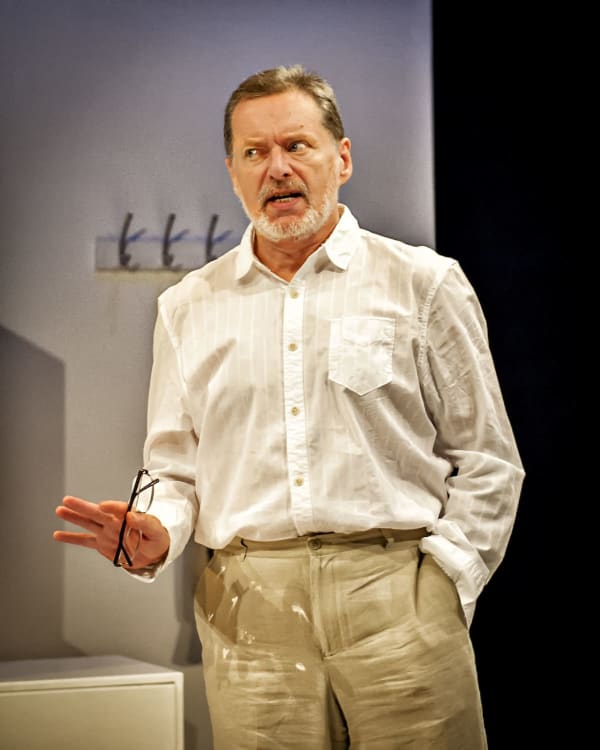 Caryl Churchill's award-winning play, premièred at the Royal Court in 2002, is about cloning. But it's also about much more, and investigates a plausible near-future scenario through very human interaction and dialogue.
Churchill's mastery of the rhythms of speech and of the drip-feed of information is in full force here. It is a short play (around one hour), but a masterclass in keeping suspense, interest and debate going grippingly throughout.
It uses the science fiction premise of a son discovering he is only one of a number of clones created by the father, for reasons which are at first only dimly hinted at. Through this, Churchill crafts a memorable human drama.
Strangely, the opening scene in Juliet Forster's production is slightly wrong-footing. Real-life father and son George and Niall Costigan attack Churchill's elliptical, interruption-filled dialogue in these first moments in a rather arch manner verging on the abstract. It soon becomes clear that this is at least in part a deliberate stylistic choice, however, as later scenes flow with the much more naturalistic ebb and thrust surely intended by the playwright.
Son Niall moderates his accent and (particularly) physicality to good and subtle effect. His hand gestures move from distinct and purposeful to swooping, fluttering, wringing movements, suggesting but not overstating the differences between the varied situations his character(s) are in with relation to the father. It is he, though, that seems more often to misphrase Churchill's admittedly challenging text, with some wayward emphases which occasionally jar.
Costigan senior is at times a study in inscrutability. Though, unlike the son, his character ostensibly remains the same individual throughout, he seems to shift just as much, a choice which adds much to the intrigue and texture of the production. He masters the rhythms of the speech more naturally, showing an ear every bit as sensitive as when he performed in the—in some ways similar—Blackbird.
When both actors get into their stride, as in the impressive monologue by 'Bernard 2', with the father interjecting ineffectually, the atmosphere is beautifully tense, the next twist always unpredictable but justified.
The design, by Gem Greaves, consists mostly of futurist shelving, Ikea-white, which houses a gloriously lit aquarium full of tiny, shimmering fish which chase and duck as the lighting shifts. It's a striking visual backdrop, and an apt image for the play.
Zanna Woodgate's lighting is overall clean and effective without imposing itself, and combines well with Michael Lynch's video projections, though these themselves are not particularly striking, serving rather as brief punctuations of the action during scene breaks.
This play does not need embellishment, however. Juliet Forster as ever manipulates the theatrical space well and she has again chosen a dense, challenging text full of ambiguities, surprises, and beautiful, subtly repeating phrases which catch the ear.
The audience is kept guessing until the very last line. There is a surprisingly light final scene, with cast and director doing much to encourage this humour, while still raising some of the deepest questions of the evening. Overall, this is a tightly-wrought, thought-provoking piece about—more than genetics—happiness, parenting, love, and some deep betrayals of trust.
Reviewer: Mark Smith