A Passage to India
Based on the novel by E M Forster, adapted by Simon Dormandy
A Royal and Derngate Northampton and Simple8 co-production
Royal and Derngate, Northampton
–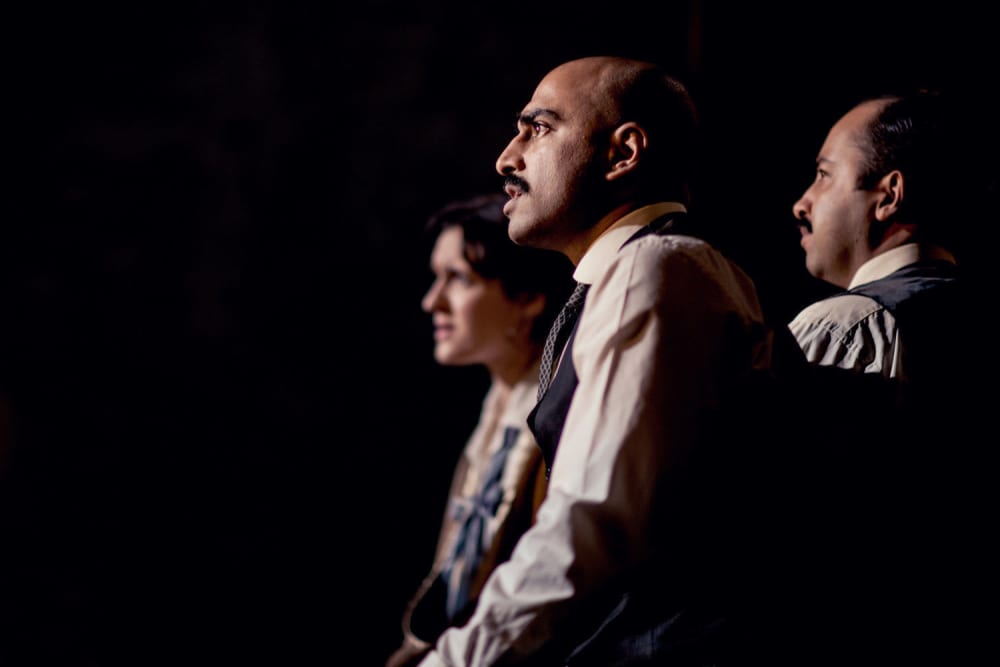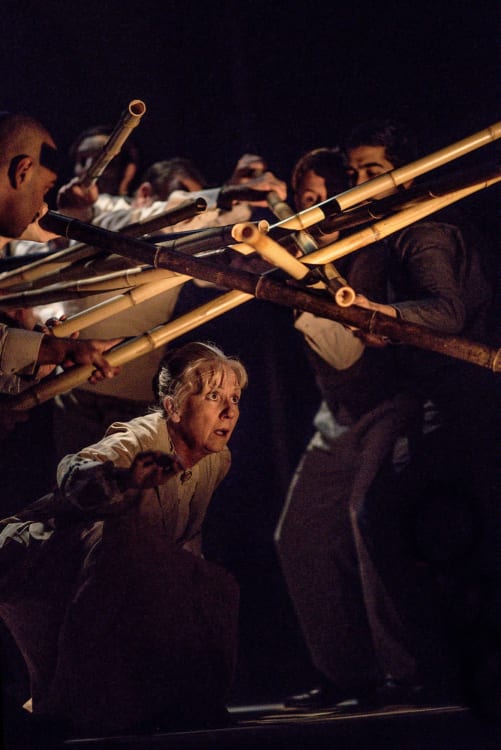 Simon Dormandy's adaptation of E M Forster's classic novel A Passage to India is imaginatively brought to the stage in this Royal and Derngate and Simple8 co-production, and the latest in the venue's Made in Northampton series.
Having two directors on a production often rings alarm bells. Here, however, the co-directorship of Dormandy and Sebastian Armesto successfully steers us at a compelling gallop through the oppressive heat and expectations of colonial rule, love and religion in Forster's fictional Chandrapore, Northern India. A strong ensemble cast creates striking scenes, particularly the sequences in the menacing Marabar Caves—the physicality of bodies and bamboo poles is mesmerising.
Dormandy's programme notes advise that a minimalist approach has been taken with design style, to focus on "character and relationships, not period and milieu". Set in the novel's original timeframe straddling 1910 and 1912, simple period costume, tea boxes and cloth are greatly enhanced with the on-stage presence of composer and musician Kuljit Bhamra and musician Meera Raja. They add a beautifully atmospheric soundscape, and eerily combine with the cast's chants and echoes in the dark Marabar Caves.
Asif Khan as proud but ultimately disillusioned Dr Aziz and Richard Goulding as the honourable Fielding skillfully portray the nuances in their relationship. Their characters form the heart of the play, and there's a nice counterbalance between Aziz's enthusiasm, humour—and anger—and Fielding's repressed frustration.
Great support from all the cast, with strong performances by Liz Crowther as the redoubtable Mrs Moore and Phoebe Pryce's earnest, well-meaning Miss Quested.
With Dr Aziz's unsuccessful run-in with the colonial powers of pre-WWI India, and the clash of cultures—Indian and English, as well as religious—it is right to ask what's changed in 100 years? Set at a time when England looked out to her Empire, there are certainly apposite and topical messages here. Unfortunately, the pace of this play did not allow full development, leaving rather binary "good" or "bad" characterisation, and some themes unexplored.
We are warned at the start by Aziz's lawyer friend Mahmoud Ali "One cannot be friends with the English", and after a dangerous brush with English rule, Aziz escapes to the independent state of Mau—and its warm backdrop of bright colours and light.
Despite the cast's chants of "no, not yet", and "no, not now", Aziz and Fielding's final, emotional scenes of reconciliation inspire joy and optimism. An imaginative and absorbing production.
Reviewer: Sally Jack