A Passionate Woman
Kay Mellor
Everyman Theatre, Cheltenham
Everyman Theatre, Cheltenham
–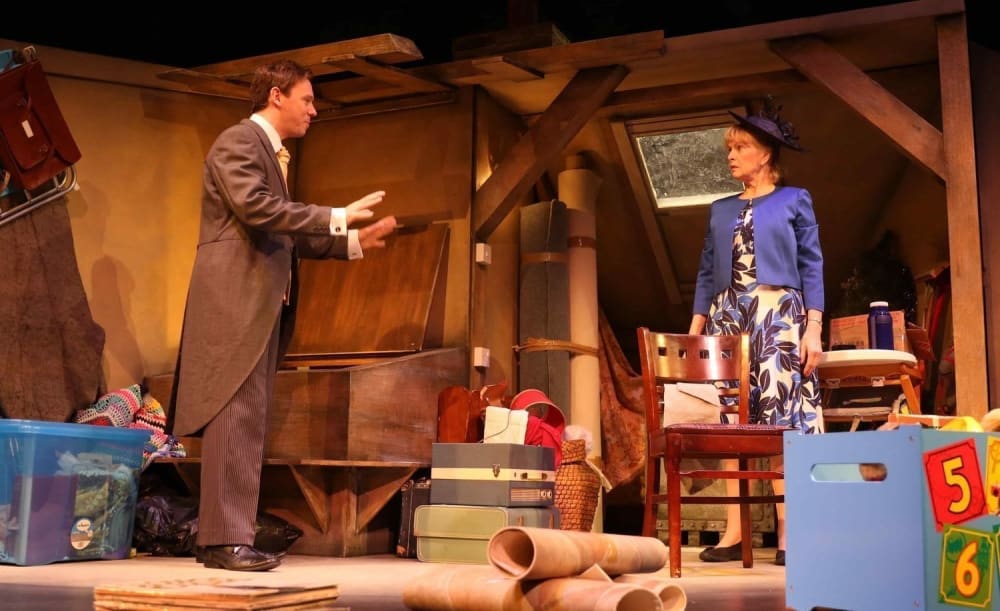 A trapdoor opens. Into the attic climbs Betty, all dressed-up for son Mark's wedding day, a day that will take away the apple of her eye, the only joy in a 40-year marriage of disappointment.
Behind her is the everyday drudgery—feeding the fish, cleaning the cat litter—where the most exciting experience is the cheese counter at the new Asda. Freed from preparations below, she spills words like confetti, fast-talking to herself to fill the hollows.
The attic is haunted with memories, quite literally it turns out, and with her words and those of a sentimental old Bobby Vinton hit flow thoughts of what was, and might have been.
Writer Kay Mellor based her 1992 play on her own mother's confession of an extra-marital affair, but the joy of the piece is in its glorious, Yorkshire, Ayckbournesque, downbeat observations on life in general.
So recalling Mark's birth 37 years before, she tells him of the fat midwife who dropped the afterbirth that "went everywhere. And your Dad had just decorated." What a line, what a woman.
Liza Goddard as Betty and the excellent Russell Dixon as husband Donald are Ayckbourn regulars, with that knack of delivering both the involuntarily self-revealing one-liners with deadpan seriousness, to the farcical extremes when hell breaks loose.
"Marriage is about hanging in there when you know you're not wanted," Donald says in his confessional half of the play. It's a touching moment that sweetens the wry humour. So is the detail that after learning of his wife's affair, he ensured they moved to a house "two bus-rides away."
That passionate affair was with Hasan Dixon's appropriately named Craze. Now dead, he turns up in Sgt Pepper uniform with a sex storeful of real or imagined chat-up lines. One recalls a birthmark on Betty's thigh that looked like a strawberry. "Now more like a map of South America," she sighs.
Mark, who logically must observe the action from Mellor's own perspective, is played adroitly in every sense by Antony Eden.
The surprise not-to-be-revealed ending is a fanciful rather than entirely satisfactory outcome. But we are talking about a fancy-full woman.
The Everyman production, directed by Paul Milton, tours to Sheffield, Northampton, Guildford, Exeter, Malvern and Leeds until 8 April 2017.
Reviewer: Colin Davison