A Passionate Woman
Kay Mellor
Everyman Theatre, Cheltenham
Yvonne Arnaud Theatre, Guildford
–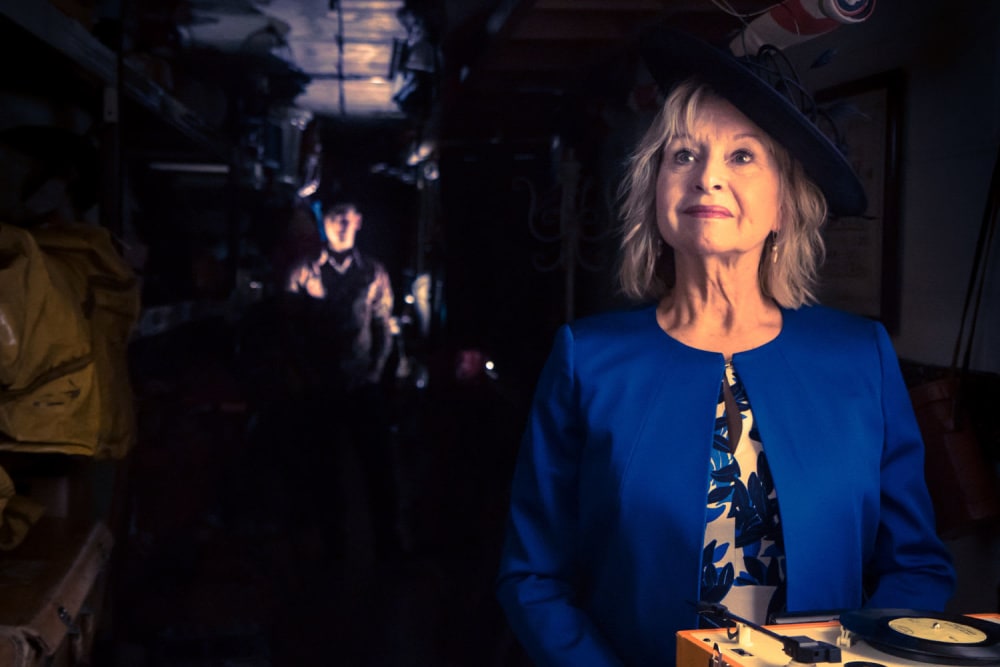 "I've been to the new Asda," Lisa Goddard's Betty confides in the audience conversationally, unusually for her in a broad Yorkshire accent, and she proceeds to gossip to us at great length and high speed about all the random subjects which cross her mind.
Dressed up to the nines, she is up in the attic ostensibly tidying and not wanting any interference in her task, so when a voice from below bellows "Betty" her response is to barricade the trap door and refuse to answer.
All bodes well for a straight-talking, Yorkshire-style domestic comedy with some pertinent witty badinage between husband and wife thrown in and we settle back to enjoy the fun. Her beloved son Mark is at last about to be married, dressed for the occasion and due at the church, but of course he wants his mother to be there. With no thought for others, and just being difficult, she refuses to come downstairs and go to the wedding even when Mark climbs up to plead with her. With him gone, she can see the emptiness of her life stretching out before her and is not a happy bunny.
Left alone again, she finds and plays an old romantic record, a touch of nostalgia from her past, and from the shadows a tall, good-looking young man appears (don't you just hate it when that happens?) an old flame from way back. Well we're quite happy with that—it's obviously all in her imagination, especially as he has been dead for some years, but from here on it gets sillier.
There's only so much "suspension of disbelief" one can cope with, although amazingly it's still quite funny and there is also a mystery. Why has this man appeared and could he possibly be Mark's father? Hopes are still high for a satisfactory conclusion and an explanation.
Instead, she whinges a lot about what is lacking in her life with the son gone, husband Donald when we finally see him whinges about the fact that he comes last in her life, the son Mark understandably gets more and more frantic trying to get his mother down to the wedding—and a good time is had by all!
Next thing (and a quick revolve of the very realistic attic) we find Betty up on the roof waving happily to the neighbours and giving a running commentary of who is arriving at the church. A little more of the revolve and we see more of the roof with the son climbing up there too. I felt for him when he fell down to the gutter and had to balance there upside down for some time.
Michael Holt's sets are very good, very realistic and well built, although I could take issue with the hot-air balloon.
Surprisingly, performances are excellent. Goddard copes with vast amounts of dialogue and if her Yorkshire accent slips a little occasionally it's not enough to matter. Husband Donald (Russell Dixon) is as rough and gruff and pompous as he originally sounds, but resentful of Betty's love for her son, which doesn't extend to him, and Antony Eden's Mark is as frantically at the end of his tether as you would expect with such a mother on such an occasion. Even the bride makes an appearance—through the roof light, probably wondering what on earth is going on.
A very unsatisfactory conclusion to a comedy which begins full of promise.
Reviewer: Sheila Connor