A Reason To Talk
Sachli Gholamalizad
Kunstz, KVS, and Richard Jordan Productions with Theatre Royal Plymouth in association with Big in Belgium and Summerhall
The Drum, Theatre Royal Plymouth
–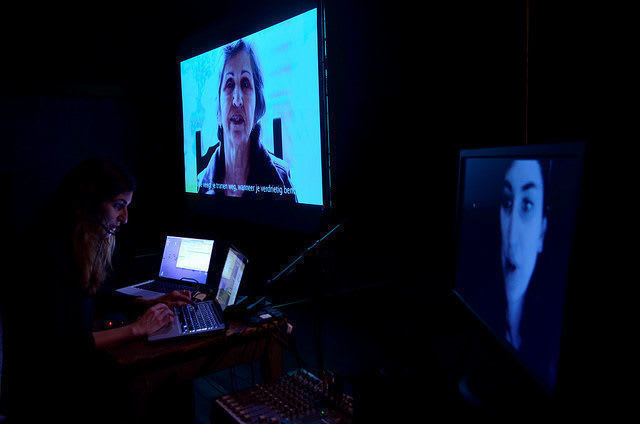 Hmmm.
Sachli Gholamalizad's one-man and multi-media A Reason To Talk triggers a need to do exactly that.
Smuggled from Iran via Turkey (with Canada in mind) to escape the 1979 revolution, five-year-old Gholamalizad, her mother and two brothers settled in Belgium to await the arrival of dad whose visa took a couple of years to materialise. Says mum.
The mother-daughter dynamic is put under the camera's unrelenting eye and dissected. The docu-performance takes place via several screens: the monitor webcam image in which we see Gholamalizad's languid reactions to the unfolding story, the projected screen upon which photos, typed comments and outpourings appear and the large screen on which the filmed interrogation of her mother is played.
Whether this is a perennial mother-daughter biopic or a clash of cultures, there is a deeper uneasiness at play.
Mr and Mrs Gholamalizad chose to leave their family, friends, comfortable lifestyle and loved home to ensure safety and freedom for their children. Mrs Gholamalizad, somewhat against the culture in which she was raised, had to provide for her family and adapt in a foreign country with no Flemish and suffer the children's homesickness and bedwetting alone while her husband was unable to leave the volatile country. And even once he arrived, dreams of Canada evaporated leaving the daily grind of survival which is clearly ongoing.
The rebellious adolescent Gholamalizad did pretty much what all teenagers do—rebelled, experimented with drugs and sex and left home—but condemns mum for putting on a brave face and not sharing the hardships suffered while the siblings grew up. In Gholamalizad's book, that is betrayal and she will never be a mother herself to avoid the risk of doing the same.
This piece, she says, is her attempt at understanding and reconciliation.
But where is dad's culpability? Why is grandma's input only several fondly recorded stabs at a remembered childhood song? Did mum know the film would be presented like this? Has she or Gholamalizad been betrayed? Was mum at fault, brave, wrong or altruistic? Is Gholamalizad damaged, petulant and/or disingenuous?
Interesting undoubtedly and typical of Olivier- and TONY Award-winning Richard Jordan Productions' affiliation with Big in Belgium—think the infuriating but brilliant Ontroerend Goed—where regardless of enjoyment or irritation, the memory remains etched in the psyche.
Smacking somewhat of self-indulgence, the multi-media delivery removes any engagement with Gholamalizad. With her back to the audience throughout, it is easy to lack sympathy for a clearly successful woman seemingly looking now to exploit the deeply personal ravages of what might just be a selfless parental act, the price for which is still being paid.
Reactions will depend on personal history but, any which way, the slightly over-long and brooding piece certainly provides a reason to talk and will provoke discussion. And, as the first part of a trilogy, what is yet to come may just answer those burning questions.
Reviewer: Karen Bussell