A Russian Play
John Thompson
The Red & Grey Theatre Company
Lion and Unicorn Theatre
–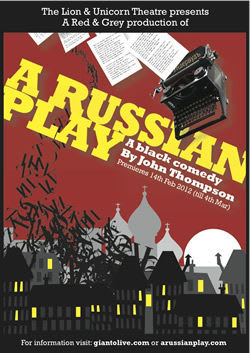 Freezing cold and starving hungry, Fyodor is trying to write a novel but can't get past the first sentence. He's not even quite sure of that. Is it the falling temperature or the lack of talent that's giving him writer's block? He's holed up in an attic flat in Petrograd (recently renamed because St Petersburg sounded too German). It's 1916, the war is not going well and it won't be long before the Revolution. If he weren't blind as a bat without his glasses, Fyodor would be in the army. His roommate, old friend Alexei who is out trying to find some firewood, was sent back from the front with a perforated eardrum.
Alexei comes back empty handed, has he been drinking with his Bolshevik mates? He thinks Fyodor smells of cheese, what has he been hiding? They are in arrears with the rent. Alexei wants the biggest of their tiny potatoes that is their only supper but Fyodor claims he carefully found two exactly the same size. This is a friendship near breaking point, stressed by their privations and the strain of their situation.
It looks good, both staging and potential. Designer Olivia Du Monceau's set is very real, heavy with props, including real candle lanterns, and she has given the actors multilayered costumes to aid in their efforts to warm (though even Alexei would surely have sewn up the slashed knees of his trousers, it would have let the cold in).
With Alexei's political ideas ranging to abolishing the adjective as a bourgeois affectation while Fyodor still has an icon over his bed head to match his comrade's picture of Lenin, there is no attempt to establish the basis of this friendship, other than schooldays, and the play seems to be going nowhere until Alexei has a plan for raising cash: they'll sleep together and sub-let one of their beds. Now things get zany with his ideas for making the attic space look bigger, but it does look as though something might happen.
There are strong performances from Tom Kanji as the impish consumptive writer, convincingly cold and fragile, and Dan Percival as his bullying chum, who soon brings back to their artificially "larger" room a fresh-faced lad who has just arrived in Moscow. Will Rodell makes a good contrast as the increasingly wary youngster but as the script tips into black farce Thompson's Dostoyevskian ideas need rethinking to make the action work convincingly or directed differently to make it funny. With the entrance of Harry Saks as an officer of the Okhrana, the Tsarist Secret Police, the play moves into Grand Guignol territory but ends up low on laughs. A touching farewell from Alexei to Fyodor throws in another element but misfires.
With some rethinking this play might work but at the moment the script, despite some clever ideas, does not match up to the set.
Reviewer: Howard Loxton