A Skull in Connemara
Martin McDonagh
Oldham Coliseum Theatre
Oldham Coliseum Theatre
–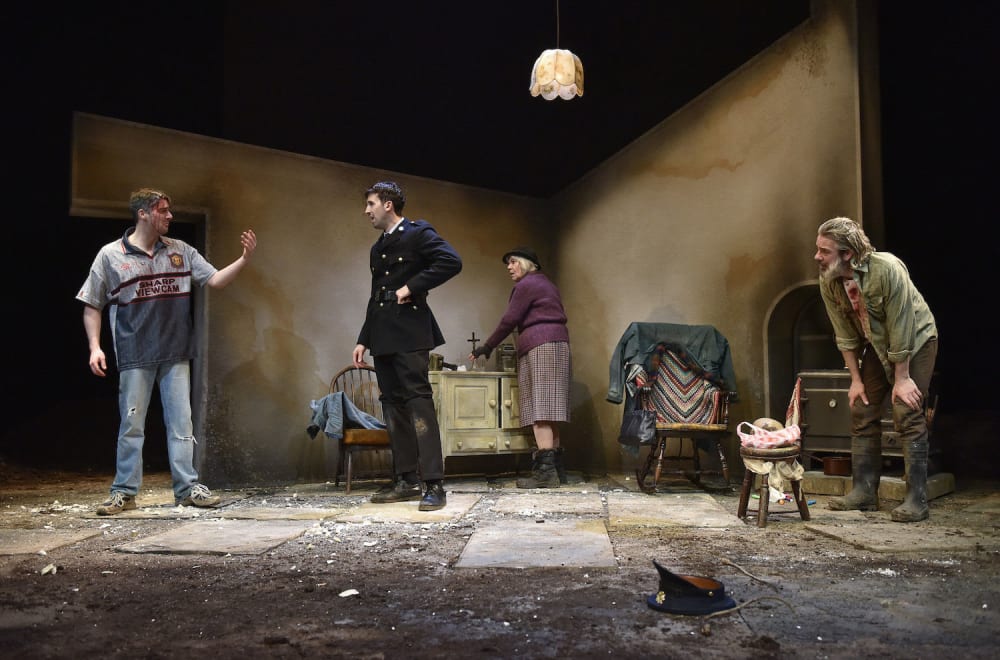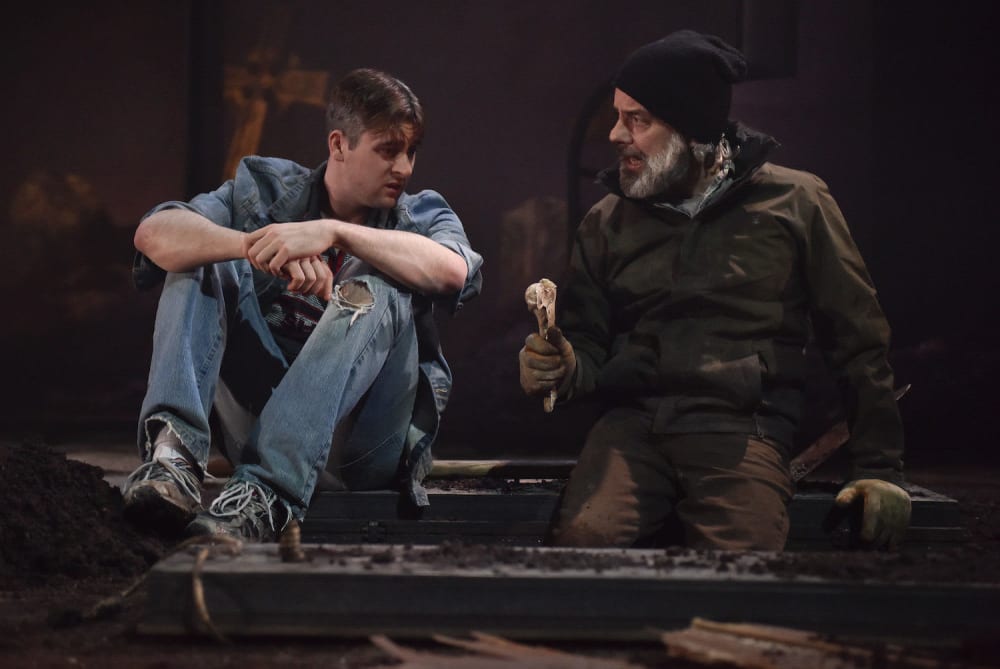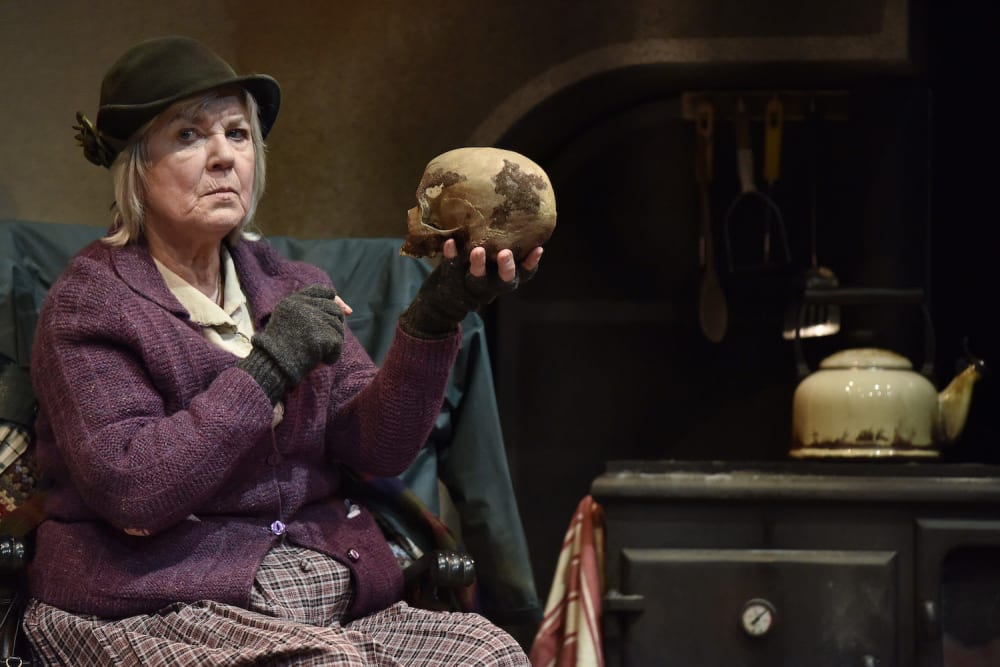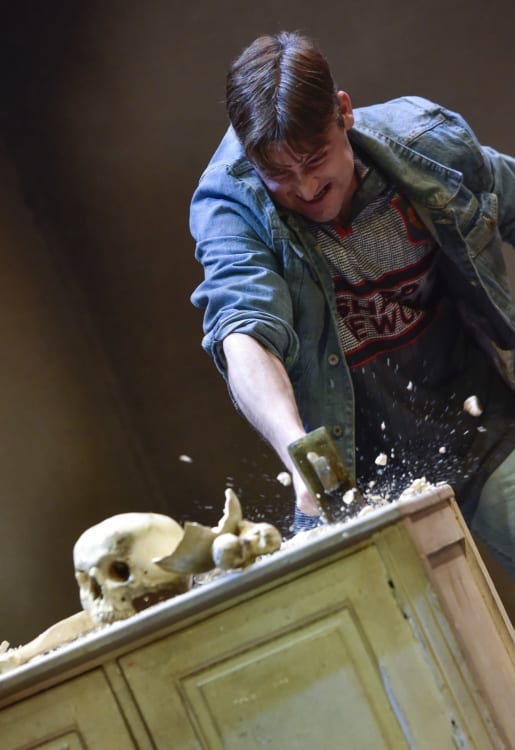 If there is anything that can be said to epitomise the humour of Martin McDonagh, it could be two small-town Irish men smashing human bones with wooden mallets accompanied by a tape playing Dana's "All Kinds of Everything".
This is a key scene in the second half of this typically darkly hilarious McDonagh script which is peppered with references to death and violence to man and beast (well, a cat—or maybe a hamster) but is mostly delivered at a slow, gentle pace—the typical reaction to a terrible insult is for the recipient to repeat the affront in an outraged tone followed by the words, "is it?".
Mick Dowd (John O'Dowd) is tasked every autumn with the gruesome job of digging up old graves in the churchyard to make way for fresh bodies, as they ran out of space a long time ago. This year, the bodies are just seven years in the ground and include Mick's wife, Oona, who died in a car crash when Mick was drunk-driving. It is both suggested and denied that there were rumours that Mick murdered her, even that she was dead before the crash, which Mick has always denied. This year, young Mairtin Hanlon (Liam Heslin), an unstable and non-too-bright young man, has been appointed to help him and ambitious but hopeless policeman Thomas Hanlon (Griffin Stevens) watches over the exhumations in view of the family connection.
By the end, nothing is certain as no one is to be trusted to tell the truth: did Mick kill his wife—or Mairtin? Does he smash up the bones of the dead or lay them respectfully in the lake? What do they see in the grave? Does Maryjohnny Rafferty (Jenny Lee), who comes to see Mick mainly to feed him gossip and drink his poitín, steal extra cards at the church bingo? Was it a cat that Mairtin may or may not have cooked at school or a hamster?
This is, I believe, Chris Lawson's first production as both director and as Acting Artistic Director of the Coliseum and there are already some welcome changes—including allowing the cast a few performances before press night and not making one of the actors embarrassedly thank people for coming and announce the next production during the curtain calls.
There is nothing flashy about Lawson's direction of this play, but then McDonagh's brilliantly rendered dialogue works best when left to speak for itself. There were a few issues with audibility on press night in the quieter scenes in Mick's house as they are set a long way upstage behind the proscenium arch and piles of earth—the latter partially blocking the view from some stalls seats—with some noisy background sound effects in the foreground through the front of house speakers. The grave digging scenes are impressive, Katie Scott's set giving them a lot of real earth to dig, so the sweat from the toil is genuine.
The four-strong cast produce some brilliantly alive characters. O'Dowd's Mick suffers most from the acoustic problems as he is the cool, quietly spoken lynchpin but this is only an issue occasionally. Heslin's Mairtin and Stevens's Thomas are both pathetic in different ways and Lee's Maryjohnny is both morally indignant and slyly mischievous.
McDonagh is always worth seeing, and here a good cast delivers his blackest of black humour well in an efficient and unfussy production, so it's definitely worth a visit.
Reviewer: David Chadderton