A Small Place
Jamaica Kincaid, adapted by Anna Himali Howard and Season Butler
Gate Theatre
–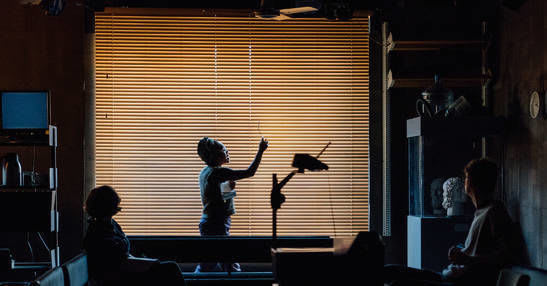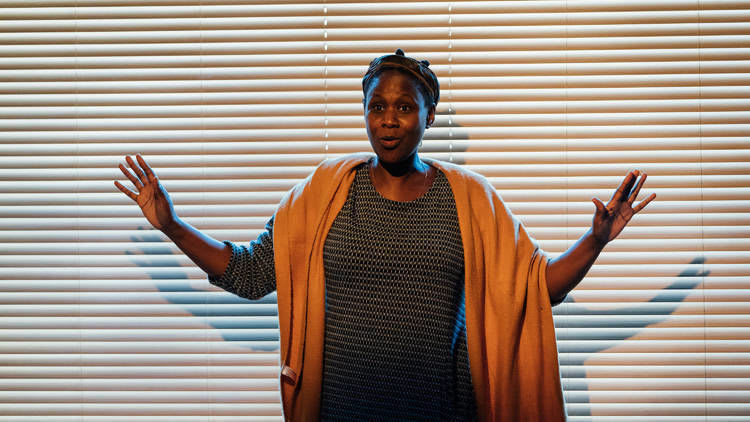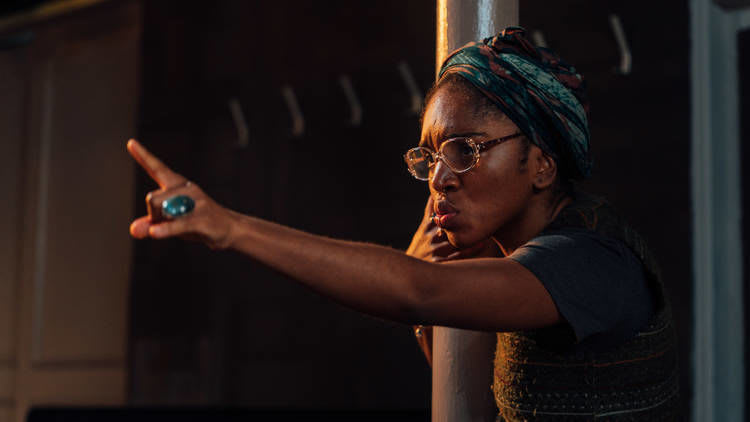 A Small Place was first published in 1988. Jamaica Kincaid wrote it after returning to her birthplace, Antigua, for the first time since leaving more than twenty years earlier when as a teenager she went to work as a nanny in New York.
The essay is a picture of the island she returned to. It presents the visitor, the tourist on holiday, American or European and almost certainly white, with Antigua as seen through her eyes. It is already direct address: to you, the reader. In this adaptation there has been no attempt to turn it into dialogue for it is already a dialogue between author and audience, though one side of this conversation stays quiet.
The text has been edited, compacted a little, there maybe some sentences made shorter and more sayable. I haven't compared the two versions but these are Kincaid's words. They are full of her anger, though expressed politely, an indictment of colonialism and corruption that describes a post independence situation that continues inequalities and injustice.
Kincaid's words are delivered by two voices, two actresses, who begin by reading from the book, its pages the only thing lit in the darkness, then move between and around an audience which is seated in two adjoining rectangles as though in some airport waiting room.
Director Anna Himali Howard and her designer Camilla Clarke emphasise audience proximity. The use of an overhead projector and delivering some of the material from a desk on a high rostrum acknowledge its intention of educating the tourist who knows no history and sees no further than the image of the paradise island on the poster.
Cherelle Skeete and Nicola Alexis share and sometimes overlap in the narration. Both present it fluently, their intimate sharing rising to well-warranted anger. They make us see the sights they are looking at even when there are only blank blinds. There are also some projected images and, partly visible between other audience members, an animated fairy tale video running on television, but it is what you are told that is much more important. The shelves of books, postcard carousel, a pile of children's toys and everything used to dress the space has been chosen to a purpose, especially a glass box containing the stone head of a classical philosopher. It disappears when the performance reaches a savage crescendo to be replaced by a new exhibit.
Live performance adds extra immediacy to this stern indictment of the colonial past and local political corruption. Though addressed to the US and American who sees only blue sky, warm sea and silver sand, it also points a finger of blame at the people who re-elect politicians who serve themselves, not the people.
A Small Place was written 30 years ago. Kinkaid now lives in the US and in her introduction to its 2018 edition she says, "I could not write about the rot in A Small Place today because I live in 'A Big Place', where the rot makes my tongue, my fingers, my brain become still." She asks, "what is the difference between the American President and the Prime Minister of Antigua? The Prime Minister of Antigua is a very intelligent man, but that is as much of a problem for the citizens of Antigua as the ignorance and dishonesty of the President of the United States of America is for its citizens." Her 1988 text speaks with the same kind of clarity.
Reviewer: Howard Loxton