A Song at Twilight
Noël Coward
Theatre Royal Bath
Yvonne Arnaud Theatre, Guildford
–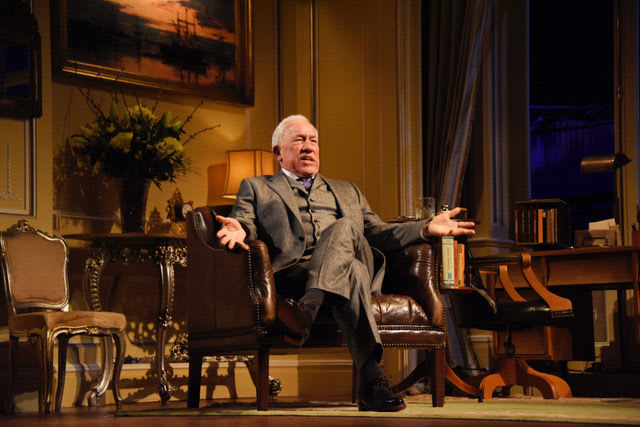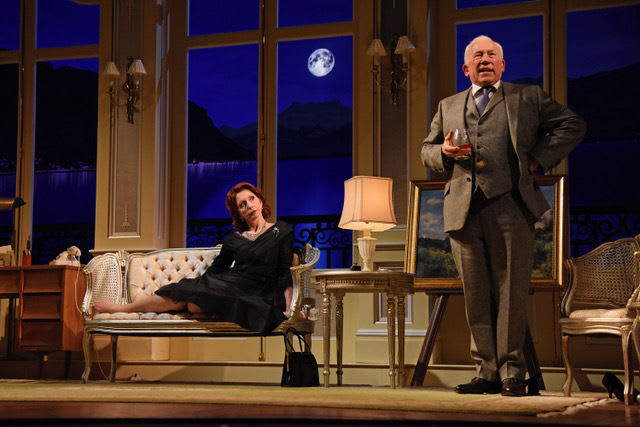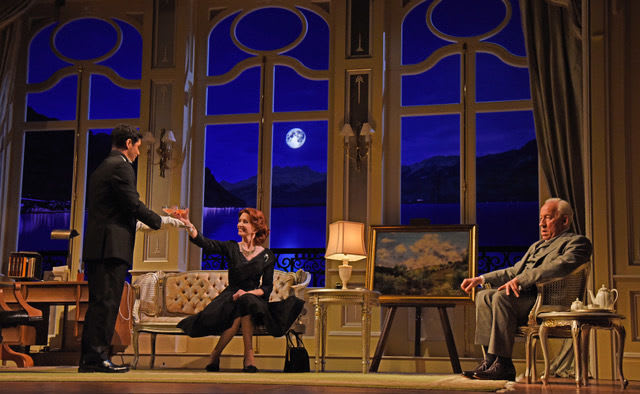 Coward described Song at Twilight as a comedy and there is plenty of laughter throughout as this master of the barbed witticism has his characters flinging insults at each other like ping pong balls—yet, behind the laughter, the play left me with a feeling of sadness, sympathy and thoughtfulness pondering over the many aspects of the dialogue and wondering if this really was semi-autographical. Written towards the end of his life, was he considering whether his many taunts and comments over the years had been less than kind? Was there something in his life which he had been covering up for years?
The action takes place in a luxury hotel in Switzerland where Simon HIglett's meticulously designed set provides an elegantly furnished drawing room. Vast windows overlook a beautiful blue lake and a desk and office chair indicate that this is a business as well as a home. Here we meet ageing world famous author Sir Hugo Latymer and his wife Hilde, formerly his secretary and still carrying on with his business affairs while being berated constantly by this rude, curmudgeonly, arrogant man, something she seems to take in her stride. He is nervously waiting for the arrival of Carlotta, an old flame from forty years ago who is anxious to see him again. Might she be looking for revenge after he had painted an unkind picture of her in his recent autobiography?
The first act is amusing if rather long-drawn-out as Jane Asher's Carlotta arrives looking much younger than expected and freely admitting to cosmetic surgery. She might have been a discarded lover once but, three husbands later, this is a very confident woman who is about to write her memoirs and would like to include the love letters Sir Hugo once wrote to her, even though she found no real loving feeling within them. Simon Callow's Sir Hugo becomes visibly outraged yet discomforted at the very thought of exposing his love affair to public gaze, his every expression and gesture tells a story, but he's even more frantically upset when she gives a pre-interval bombshell that other letters are also in her possession—ones written with real love.
The play addresses many questions. Surely we are entitled to privacy in our lives, yet is it wise to cover up who we really are? There are little hints of Sir Hugo's sexual preferences when he admires the broad shoulders of the handsome young waiter (a perfectly judged discreet performance from Ash Rizi) but Coward wrote this play just before homosexuality was legalised. Covering up any suggestion of 'immorality' at that time was a necessity, yet Hilde goes off to meet her lesbian friend but asserts (rightly) that is no concern of hers and she is merely a very good friend. Was it less immoral for women then?
Stephen Unwin has created a faultless production with every actor fitting their character to perfection, but my favourite has to be Jessica Turner's Hilde who had been called a camel, a dromedary and an ass but, she says, "I am not an ostrich". She is well aware of what is happening and delightfully asserts herself in the final scenes, finally leaving Sir Hugo to consider his letters and reflect on the 'value of kindness'.
This play might not be the seemingly light-hearted ostentatious humour we expect from Coward, but it's a very interesting and engaging production, still with many comic highlights, and highly recommended.
Reviewer: Sheila Connor