A Splinter of Ice
Ben Brown
Original Theatre Company
Festival Theatre, Malvern
–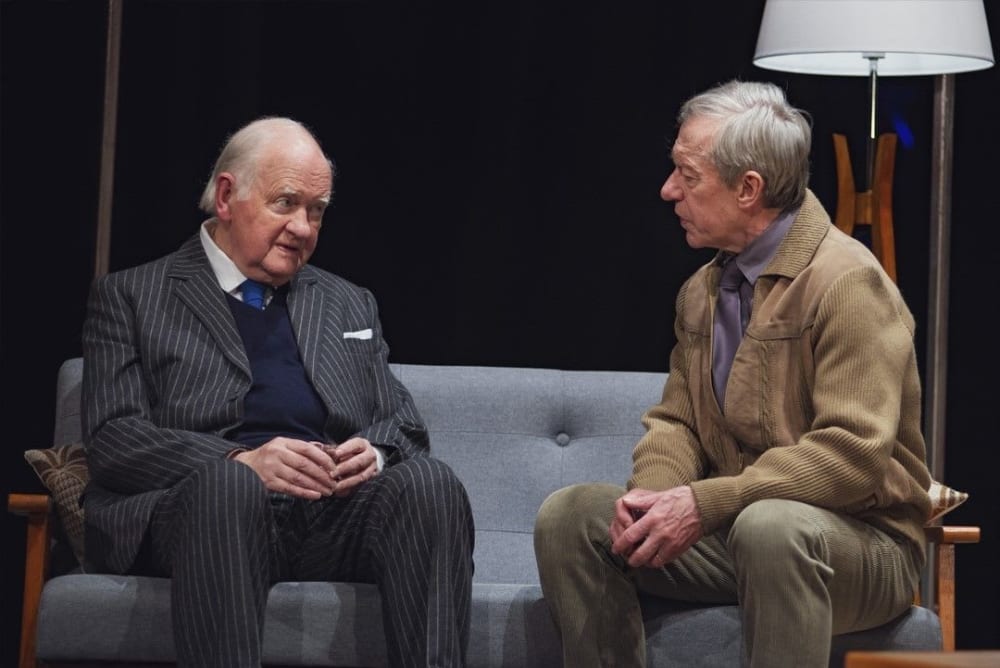 It's Moscow, a cold war day in February 1987, and Britain's greatest novelist, Graham Greene, has come to visit Britain's greatest traitor, Kim Philby, his friend and former boss in MI6.
The curtain rises to the music of The Third Man, written by Greene a few years before Philby was accused of being just that in the Cambridge spy ring, but which made Philby believe his friend already suspected him. That appropriately enough turns out to be a red herring.
The meeting did actually take place between the two men who had not met for 35 years. Greene, a Catholic lefty, was attending a conference and in Ben Brown's play claims an author's curiosity to see how his old chum is getting on. That too proves to be only a half-truth, but Oliver Ford Davies as Greene is masterful in understatement as he takes in details of the dingy flat. "Is the Hotel Cosmos as good as they say?" asks Stephen Boxer's Philby. "Full of cockroaches," replies Greene.
"Just don't ask any questions," Philby says. He is in fact dying and, if not drinking himself to death, is doing so with a will until it comes along. So much vodka, Georgian red and whisky later, he talks about his career.
It's a gripping account, enlivened by episodes of staggering incompetence by those sent to catch him—the taped confession inaudible because an interrogator left a window open to heavy traffic noise, and the arresting officer who stopped off for a four-day skiing holiday on the way to Beirut, allowing the spy to get his own skates on, so to speak.
But for those who know the story already, and that would certainly have included his listener, the first half of the play amounts to little more than a padded version of Wikipedia.
It is only in the second half that one gets to explore the man behind the mask. Is he happy in Moscow? Green asks immediately before the interval. The happiest time of his life, Boxer replies with an insouciance that suggests otherwise.
Things start to get more interesting when Greene is alone with Kim's wife Rufa, played with a lovely Russian accent by Karen Ascoe, who explains that she too was forced by 'the firm' (the KGB) to give up her friends when she married. Their only acquaintances were fellow spy George Blake and his family with whom they have now fallen out. (Audiences may puzzle at the reference to his being sentenced to 42 years imprisonment, but living in Moscow. The answer, not I think explained in the play, is that he escaped.)
Philby starts to open up, firstly on an ex-pat's nostalgia for reminders of home, mustard, Marmite and the like, and then in response to his more probing questions.
Greene compares their situations. The novelist, he says, invents, creates plots, tells elaborate lies, kills characters off—if necessary. "There is a splinter of ice in the heart of a writer," he says, but nothing to compare with that within a man who really causes people to die.
Greene is a man of divided loyalties, between Catholicism and socialism, to friends before country, but not, he says, at any price.
Philby however betrays no such uncertainty. He is unrepentant, justifying sending—among many others—two young Georgian recruits, "good men," to their certain deaths. But he still has the habits of a spy, and, as one learns, has not been entirely truthful about the circumstances of his life.
Neither Philby nor Greene ever revealed the content of their conversation, so a final twist to the play, when the novelist reveals the real the purpose of his visit, must be speculation.
Nevertheless, it gives rise to the best line of thought in the play. Greene had previously risked his reputation by praising Philby for having the courage to fight for what he believed in. Now—just for a moment—he speculates that the man might have been a triple agent, really working for MI6 all along. Not true, of course, but had it been, Greene would have felt "betrayed."
A Splinter of Ice tours to Guildford, Mold, Bath, York, Edinburgh, Cambridge and Southampton and is also available online, both to 31 July.
Reviewer: Colin Davison