A Splinter of Ice
Ben Brown
Original Theatre Company
York Theatre Royal
–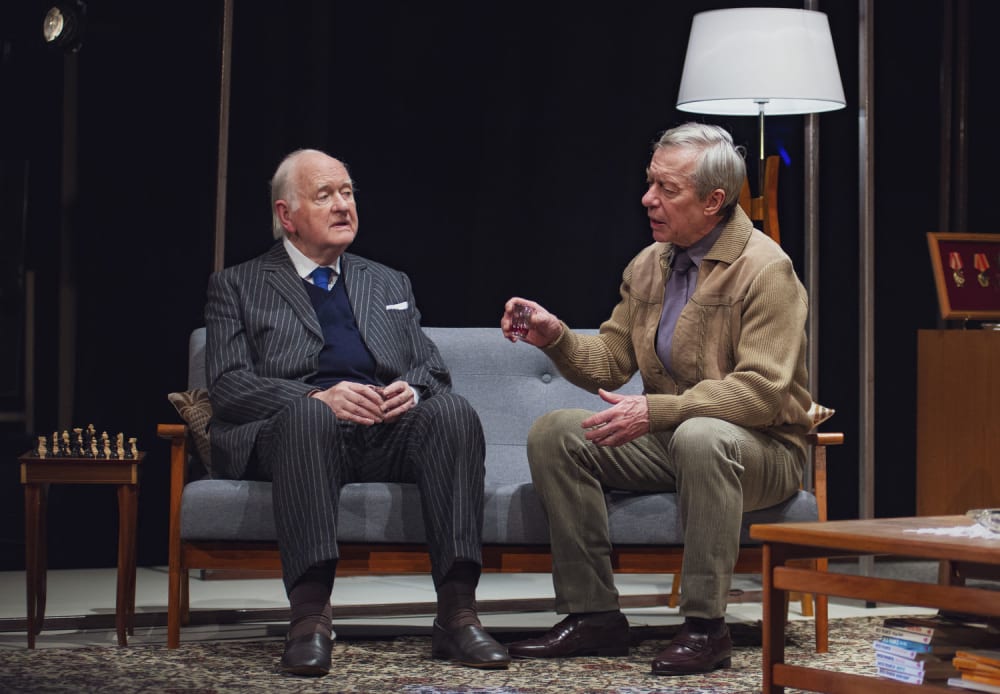 Most of Graham Greene's novels can be divided into two separate categories. On the one hand, there are his explorations of Catholic guilt, such as Brighton Rock (1938) and The End of the Affair (1951), in which characters wrestle with the concepts of sin and damnation. On the other hand, there are his literary thrillers (or "entertainments" as he termed them), such as The Confidential Agent (1939) and Our Man in Havana (1958), which explore the murky world of espionage, albeit in an often light-hearted vein.
Before watching A Splinter of Ice, I was unfamiliar with Greene's past as an MI6 agent—although it makes perfect sense given the recurring themes of his fiction—so it was intriguing to learn about this aspect of the writer's life. Ben Brown's play focuses on the relationship between Greene and former spy Kim Philby, one of the infamous Cambridge Five, who fed military intelligence to the Russians whilst working for MI6. Intriguingly, Greene worked under Philby during the Second World War and staunchly defended him after the latter was exposed as a double agent in 1963.
Over the course of 90 minutes, Brown imagines what happened on the evening of February 15, 1987, when Greene (Oliver Ford Davies) visited Philby (Stephen Boxer) in his Moscow flat. By this point, the two men had not seen each other in over 30 years, so there is much ground to be covered—not least what drove Philby to betray his own country for another. Also in attendance is Philby's adoring wife, Rufa (Karen Ascoe), but the play mostly concentrates on the two male friends.
Confined to a single location, the play functions as a lengthy conversation between Greene and Philby, with the former cast in the role of interviewer. Their conversation is peppered with amusing lines and fascinating bits of trivia, such as the theory that Greene based Harry Lime—the cherub-faced villain of The Third Man (1949), played by Orson Welles—on his former MI6 boss, but occasionally the dialogue feels weighted down with exposition.
If you are particularly interested in the lives and careers of these two men then I'm sure you will find enough material to engage you, but for more impartial audiences there is little dramatic excitement on offer here. The play's lack of tension, combined with a reluctance to explore the darker recesses of Philby's mind, means that it never truly ignites.
Whilst watching A Splinter of Ice, I was reminded of Alan Bennett's play An Englishman Abroad, which also portrays the life of a former double agent in exile (in this case, Guy Burgess). That play, however, was enriched by the contradictions of its male protagonist. Philby may have a constrained existence—he has few friends and is forced to rely on his wife—but his commitment to communism and the Soviet Union are presented as relatively straightforward.
The production is elevated, however, by excellent performances. Oliver Ford Davies lends his natural authority to the role of Greene, radiating a palpable sense of world-weariness. Stephen Boxer captures Philby's charisma and vanity, and Karen Ascoe shines in an underwritten role.
Reviewer: James Ballands