A Spoonful of Sherman
Written by Robert J Sherman, music and lyrics by Richard M Sherman and Robert B Sherman, Al Sherman and Robert J Sherman
James Yeoburn of United Theatrical and Robert J Sherman
Darlington Hippodrome
–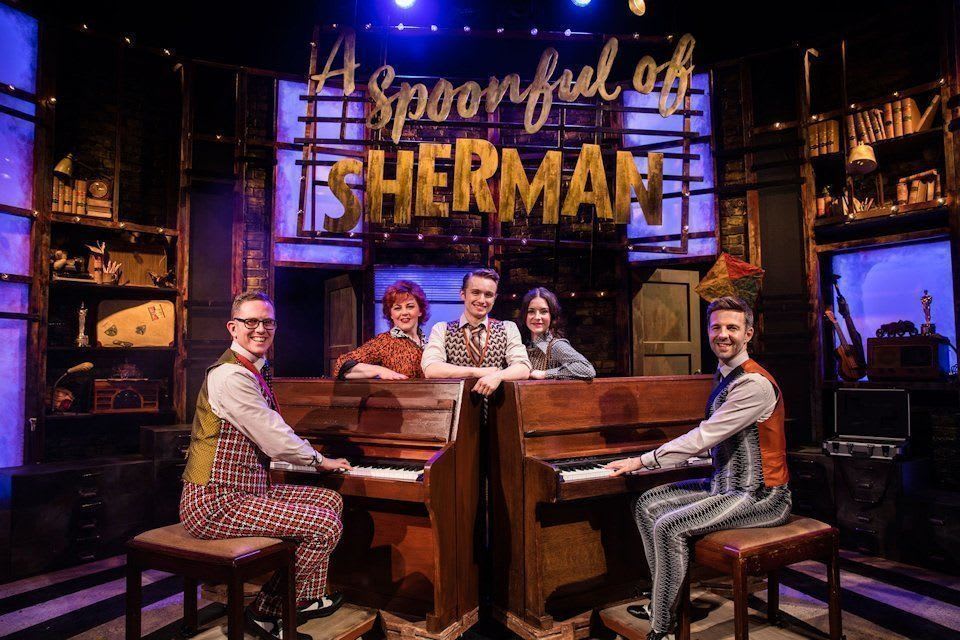 In the theatre of war, there's the Sherman Tank and in the battle of songwriters there's the Sherman family. No relation of course, but it's interesting that both breeds of Sherman conquered the fight for supremacy in their own field.
Who could imagine that in 1870, a poor Ukranian peasant called Otto Sherman who insisted that his son, Samuel, learn to play the violin, was creating a musical dynasty. It's the story of struggle, success and songs; songs that crept into our childhoods, songs that we know all the words to, no matter our age or background.
The nine year old girl in front of me certainly knew every word of "Heffalumps and Woozles" and two pony-tailed girls next to them were dancing in their seats to "Chitty Chitty Bang Bang". Who doesn't know the words to probably the most ridiculously titled song of all time, "Supercalifragilisticexpialidocious", even though it's almost impossible to spell?
A Spoonful of Sherman is a revue that gallops through 31 Sherman songs in the first half of the show and 24 after the interval. It's warm, comforting music that makes you feel like you're catching up with an old friend. Three generations of delightful Shermanic back-to-back music is produced by just five expert musicians and two pianos, in ensemble style. Sophie-Louise Dann, Glen Facey, Jenna Innes, Mark Read and Ben Stock are all amazingly accomplished and their harmonies are especially good particularly, on the very last song, a superb arrangement of "Let's Go Fly a Kite".
I'd mention the names of the two choreographed upright pianos if they had names—I am rather perplexed that they needed to be moved so many times. Intriguing to find in the credits for Musicworld (UK) Ltd, The Office Parrot, named as Balthazar MacAW—no explanation is given unless it refers to the Robert J Sherman's crazy song "Crunchie Crackers" which does indeed mention a parrot.
The Sherman story is simply narrated and squashed between the songs. Personally, I like a little more theatre with my musicals so I'd have liked a bit more history, even if it meant that a few songs were sacrificed.
I've already mentioned Otto, an accomplished clarinet player, and his violin playing son Samuel who was born in 1871 in a small fishing village near Kiev. Samuel ended up becoming the court composer and conductor for the Emperor Franz Joseph II of Austria. After fleeing Stepinetz, near Kiev, to escape conscription into Czar Nicholas II's army, Samuel and his wife Lena emigrated once again, this time from Prague, and in 1909 they arrived in America.
Their son, Al, taught himself piano and built a reputation as a mood music pianist for the silent movies and eventually moved on to songwriting. Al marries Rose and Robert and Richard, forever known as The Sherman Brothers, are born and now we are at the beginning of the show. Phew! Intriguing story, far too fascinating to be squashed in a sandwich of songs. Bob and Dick would go on to write more motion-picture musical scores than any other songwriters in the history of Hollywood. The array of artists who recorded Al's songs, include Al Jolson, Ella Fitzgerald, Bing Crosby, Maurice Chevalier, Frank Sinatra and Duke Ellington's Cotton Club Orchestra.
I loved the little story about Walt Disney wanting to cut "The Ugly Bug Ball" because he didn't like the word Ugly. Walt was a bit of a curmudgeon but The Sherman Brothers worked their magic and the combination of Disney and Sherman produced such brilliant shows as Mary Poppins, The Jungle Book, The Aristocats, Charlotte's Web, Huckleberry Finn… the list could go on for the rest of the page, as could the list of Oscars, Golden Globes, Grammys and other awards received by the brothers.
I'm struggling with the utter brilliance of musicianship, and the way the story is presented. The set has that stylised sunburst, reminiscent of the 1920s, painted on the floor, strangely out of place in a busy, drab industrial building with windows that light up with the strong colours of stained glass windows. The ecclesiastical styled lighting does indeed brighten things up, but it just doesn't resonate with the lively, bright silliness of songs. The costumes are equally drab; maybe the world was drab at the time. After all, we do remember stuff in black and white, at least I do.
However, nothing can spoil the experience of listening to these five enthusiastic songbirds; their energy is exhausting and their talent enviable. The Sherman Brothers have "Fed the Birds", for twopence a bag and explained "The Wonderful Thing about Tiggers" and produced a storybook of our childhoods, and much, much more.
Al Sherman once said to his boys that a song needs three things: to be singable, sellable and sincere. A Sherman mantra for success—no sugar required!
Reviewer: Helen Brown