A Steady Rain
Keith Huff
East Riding Theatre
East Riding Theatre
–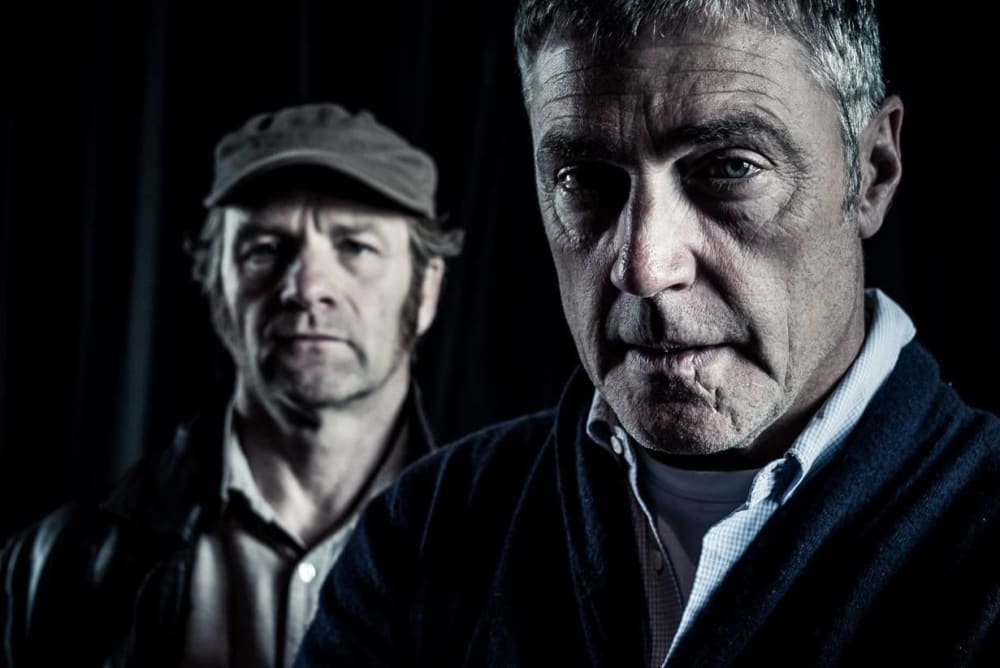 East Riding Theatre is almost a year old. The determination of local people to have their own space has prevailed and, for the opening night of Keith Huff's A Steady Rain, they attended in their numbers.
Apparently the production, featuring the theatre's founder Artistic Director, Vincent Regan, is a virtual sell-out. Given the prolonged standing ovation which greeted opening night, I suspect the remaining tickets will be snapped up sharpish.
Chicago Cops Joey (Adrian Rawlins) and Denny (Regan) are childhood friends. They look out for each other, have been through everything together and enjoy an enduring partnership.
Denny 'protects' the local prostitutes, making himself the scourge of the pimps; Joey, a recovering alcoholic, is in love with Denny's wife but leads a lonely existence. An attack on Denny's house, injuring his baby son, sets the two cops on a quest that leads to disaster, misjudgement and ultimately tragedy.
A Steady Rain breaks all the rules. As a novice playwright, I was always told: "have your action onstage, don't do the Greek Theatre thing and indulge in too much reported action". Oh really? I strongly suggest that purists of the "don't use narration" school, get themselves down to the ERT, they may just arrive at the conclusion that the Greeks knew a thing or two. The two characters narrate all of the action—and it is simply stunning.
Huff's script—poetic, graphic, romantic and tragic—provides enough stimulation and graphic exploration to move and thrill an audience although the setting never moves beyond the police office.
As they tell their story—a story of intense urban violence and obsession—the room becomes their world; patrol car, apartment, back alley, waste ground etc. The rich and lengthy dialogue is shaped into action through director Andrew Pearson's skilful and highly imaginative staging—assisted by a remarkably effective, eerie and brooding design by Ed Ullyart.
As Joey, Adrian Rawlins gives a meticulously agonised interpretation—torn apart by his love for his friend and his friends wife. The pain as he watches his friend spiral into self destruction is a masterclass in understated agony.
As Denny, the doomed anti-hero, Regan is breathtaking. His ability to convey a drug-addled, violent, unfaithful wife-beater as a character for whom we feel a degree of sympathy is a measure not only of the character's depth but Regan's ability to unearth it, indicative of an actor at the height of his considerable powers. In fact both men provide a contrasting partnership that is almost perfect unity.
Perhaps the most remarkable aspect of this production is that a UK production of a Broadway smash hit, realised through a career best from the director, featuring two actors with national and international profiles, has been staged in a new theatre in the little market town of Beverley.
Last month Michael Billington, the legendary Guardian critic, branded regional theatre as "increasingly bland"—something of a vicarious judgement given how much we've seen of him in this part of the world. Michael—get an oxygen mask, a map and a train ticket and get up here. In the words of my spiritual hero, Jim Royle, "bland my arse".
Reviewer: Richard Vergette