A Story of Tom Jones The Musical
Mike James
Theatr Na Nog
Sheffield Lyceum
–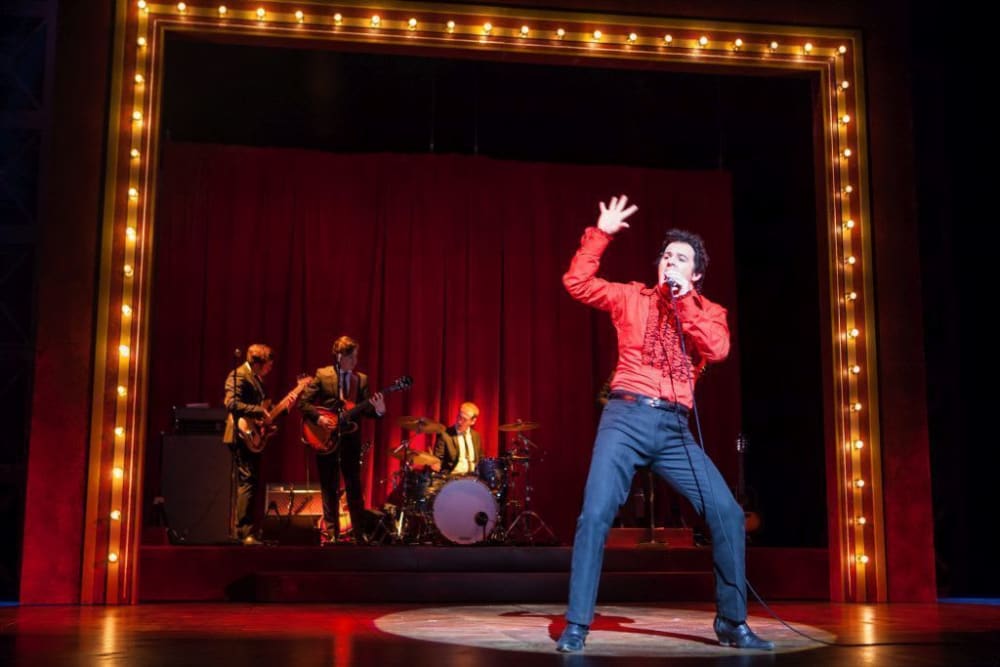 A Story of Tom Jones The Musical is presented by Theatr Na Nog, a Welsh theatre company based in Neath. The company's name translated means 'theatre of eternal youth', a fitting name to be associated with the dynamic, charismatic, sex-charged singer who came to fame in the mid '60s and is still entertaining audiences today.
The 'story' deals with the early part of Tom's life, his marriage to Linda, his struggle for recognition, frustrations and disappointments and eventual success in 1965 with his 'breakthrough' hit "It's Not Unusual".
Writer Mike James provides a clear structure for the re-telling of this personal history, which introduces and characterises the key figures in the story. The narrative line moves swiftly with the help of Phylip Harries's comic interventions as narrator enhanced by evocative photographic back projections of back-to-back terraces, a factory and Ladbroke Grove. Domestic and club scenes are quickly established through furniture changes and lighting effects.
Kit Orton is commanding as the young Tom. The first half starts quietly with him singing unaccompanied, but gradually, with the addition of a backing group and then full orchestral support, he successfully reproduces the rich tones of Jones's singing voice, his characteristic intonation and emphasis and, most entertainingly, his highly dynamic stage style and hypnotically suggestive hip gyration.
As one would expect from a Welsh Theatre Company, the quality of the singing and musicianship is excellent throughout. Harmonised choruses have a resonant tone, Tom's backing group The Senators sets up foot-tapping rhythms and the thrill of a larger orchestra is enhanced by Nicola Bryan's splendid trumpet playing.
Geinor Styles's direction is discrete and sympathetic. The relationship between Tom and Linda emphasises the enduring quality their love, despite long periods of separation and probable infidelity. Elin Phillips is a strong and passionate wife, who believes in Tom's ability to get to the top and keeps him focused when he is on the point of giving up.
The small cast of actor-musicians people the stage with a variety of characters. Richard Corgon gives a notable performance as Tom's London-based manager Gordon Mills. In two late scenes, he reveals how much he personally has sacrificed to advance Tom's career and, in a splendid head-to-head with Tom, two stubborn men lock horns over a crucial artistic decision.
There is strong support from actors in more minor roles: Mali Jones provides comic relief as Linda's outspoken but caring mother, Deborah Thomas is a strong and important presence as Gordon's pregnant wife and The Senators' group (John McLarnon, Tom Connor, Daniel Lloyd, Kieran Bailey) bring credibility to life on the road and shared bed-sits as well as providing the all-important musical backing.
Lighting and special effects are important throughout and Kevin McCurdy should be complimented on choreographing an exciting and wholly convincing street brawl.
The narrative of the play ends fairly abruptly before the end of the second half and we are treated to a medley of old and familiar favourites for a singalong. This is a happy and thoroughly enjoyable production, a must for Tom Jones fans young and old. On tour until 3 May.
Reviewer: Velda Harris