A Tale of Two Cities
Music by David Pomeranz, book and Lyrics by Steve David Horvich, book by David Soames
Charing Cross Theatre
–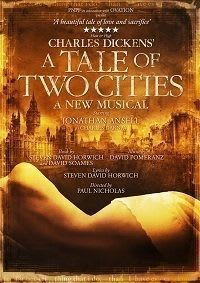 "It was the best of times, it was the worst of times…." Charles Dickens—whose bicentenary we are celebrating this year—loved theatre and one of the reasons his novels adapted so well to the stage was because they were so melodramatic. Melodrama was the most popular form of entertainment in Victorian theatre and Sidney Carton, the love-sick, dissipated wastrel who finds redemption in the Place de la Concorde in Paris, remains the most celebrated self-sacrifice in 19th century literature.
Dickens was also a keen amateur actor. When you think of all the novels he wrote (and indeed all the letters he wrote daily) you wonder when he ever found time to learn his lines. He died at the early age of 58 in 1870, exhausted and ill from the dramatic readings he gave of his novels. His histrionic and horrifying account of the deaths of Nancy and Sikes hastened his death.
A Tale of Two Cities, the novel, has never been popular with the critics; but it has always been hugely popular with the general reader ever since its weekly serialization throughout 1859. In January 1860 the story was on the stage, adapted by Tom Taylor, with Dickens acting as consultant.
The most successful stage adaptation was written by two clergymen, Frederick Longbridge and Freeman Wills, and acted by John Martin-Harvey in 1899. Sydney Carton was his most famous role and he would go on saying "It is a far, far better thing that I do than I have ever done; it is a far, far better rest that I go to than I have ever known" for the next 40 years until he was 67.
In 1935 Terence Rattigan and John Gielgud wrote their own adaptation; but it was never produced. There have been numerous films. The most well-known are the 1935 American version with Ronald Colman and the 1958 British version with Dirk Bogarde. There have also been numerous TV adaptations.
Paul Nicholas commissioned David Pomeranz and Steve David Horvich to write a musical version and it played at the Alexandria in Birmingham in 1999 with Nicholas as Sidney Carton. In 2008 Nicholas directed a revival at Upstairs at the Gate House and now he's directing the present production underneath the arches of Charing Cross Station with Michael Howe as Carton, Jonathan Ansell as Charles Darnay and Jennifer Hepburn as Lucie Manette. The musical really needs three young, romantic and sexy leads and two actors of the same age who really do have an uncanny resemblance to each other.
What we are shown is still a work in process. Pomeranz and Horvich have taken their inspiration (as did the American musical version by Jill Santoriello on Broadway in 2008) from Les Misérables. The melodramatic bravado and the French Revolution cry out for a big theatre, an epic production and a full orchestra.
At the moment it is a loud chamber piece with just two grand pianos and a cast of 18 on a tiny stage and some chairs. The book needs working on, especially the opening which has Carton just hanging around. There is very little humour in the novel; but to play Charles Darnay's trial for treason as if it were a scene out of Gilbert and Sullivan is ill-advised and Dickens's Lucie Manette would never have shot the crazed Madame Defarge (a manic performance by Jemma Alexander).
Reviewer: Robert Tanitch