A Tale of Two Cities
Charles Dickens, adapted by Mike Poulton
Touring Consortium Theatre Company & Royal & Derngate, Northampton
Grand Theatre, Blackpool
–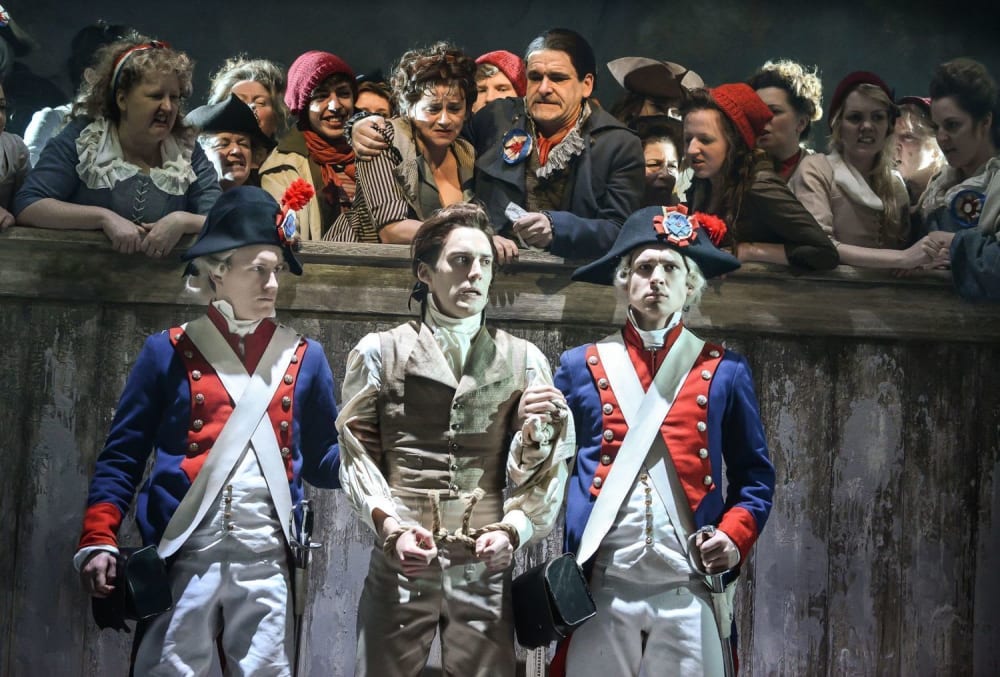 Turmoil over Europe, currency in free fall, and paranoia around foreigners... sounds familiar?
Charles Dickens's Tale of Two Cities might just resonate with our own times, but this freewheeling and fast-moving stage adaptation of his French Revolution novel stands in its own right as an intricate combination of intimate drama and epic theatre.
Mike Poulton's stage adaptation extracts the heart of the story, apparently the author's favourite, and director James Dacre turns it into a constantly eye-catching production. He's helped considerably by Paul Keogan's dramatic lighting of Mike Britton's beautifully-crafted stage design. Adrienne Quartly's sound design adds its own note of quality. Just occasionally you can discern a 'Les Mis' effect about the staging.
You also have to deal with all of Dickens's usual contrivances and coincidences, and since Poulton concentrates on the main ingredients it helps if you've refreshed your memory of the 'recipe' beforehand. With a love story, political drama and spy thriller combined, there's a lot to get your teeth into.
You'll still have to wonder why central character Sydney Carton suffers such confidence issues in the first place, but Joseph Timms conveys all the character's inner turmoil. Jacob Ifan seems in a rush to deliver his Charles Darnay, but then the production overall has a lot to say for itself in two and a half hours. One or two other characters struggle to project their voices, even in such intimate a theatre as the Grand.
It's a Touring Consortium Theatre production, made up of seven regional venues that might not normally enjoy such high-quality performances. It's also canny enough to include a community cast of a dozen locally-recruited extras to beef up the crowd scenes and populate the setpiece moments which acquire the look of paintings from the period. That also helps attract friends and relatives along for what is a richly-rewarding night at the theatre whether you're on stage or off.
Reviewer: David Upton