A Taste of Honey
Shelagh Delaney
National Theatre
Curve Theatre, Leicester
–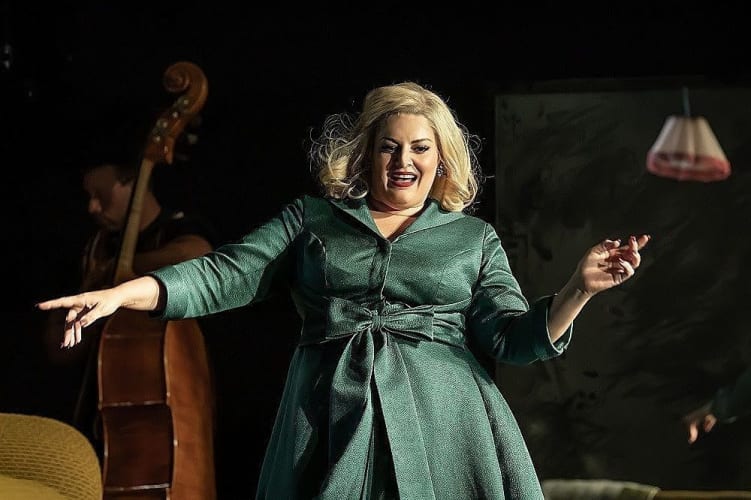 In 1958, Shelagh Delaney's debut play A Taste of Honey opened at The Theatre Royal, Stratford and, with the National Theatre's revival now on a UK tour, you can still sense the ripples it must have caused at the time.
There is a fresh feel to this play though, mainly due to the superbly catty, sometimes wincingly cruel exchanges between vampish Helen (Jodie Prenger) and her teenage daughter Jo (Gemma Dobson). The dialogue between these two is realistic, entertaining, but heartbreaking—if only they could find some other way of communicating rather than slings, arrows and put-downs.
Arriving at yet another crummy rented property in Salford—this one backing onto a slaughterhouse—Helen gets stuck into another bottle and arguments with her daughter; it is Jo who often appears the responsible adult in the relationship. One of Helen's old flames, Peter (Tom Varey), turns up, flashes the cash and Helen is soon preparing for life as Peter's wife, and escape, happy to leave her daughter to fend for herself.
Jo's romance with a Nigerian sailor, Jimmie (Durone Stokes), displays her naivety despite the perception and insight she shows with her mother's relationships. Pregnant and abandoned as her sailor returns to the sea, Jo's life appears to stabilise when her gay friend Geoffrey (an impressive debut by Stuart Thompson) effectively takes on the mothering role she needs. However, one character's return to the fray brings a painful showdown.
Hildegard Bechtler's set and costume design gives a good sense of place and period. Graffitied pillars, filthy kitchen and a drab curtain on a rail around the only bed show the shabby grime of their surroundings, although this is spread over the whole vast stage—the arguing and frustrations and need to escape suggest the need for a more condensed, claustrophobic set.
The on-stage three-piece band led by David O'Brien stays true to the original production and cool jazz underscores and punctuates the dialogue as well as accompanying characters' occasional moments of song.
Delaney's play is remarkable for many reasons: she as a working class young writer, emerging on the cusp of the massive social changes which will follow in the 1960s, trying to find her way in a theatrical world dominated by well-educated men. The programme includes a reproduction of Delaney's letter to Joan Littlewood to whom she first sent her play. It is a charming, hopeful and self-deprecating approach to another woman, and a woman who recognised Delaney's talent and helped bring her work to the stage. Given when this was written, Delaney's unselfconscious and matter-of-fact depiction of abusive relationships, prejudice and homosexuality is ahead of its time.
The troubled relationship between Helen and Jo is at the core of this piece. Direction by Bijan Sheibani and the performances by Prenger and Dobson are spot on, allowing us to see through their cynicism and bickering to their fears and frailties without resorting to melodrama.
A Taste of Honey is a still-pertinent study of life, particularly the mother-daughter dynamic; Helen and Jo prowl around each other like two cats in an alley when you feel all they really need to do is sit down together and have a hug.
Reviewer: Sally Jack