A Taste Of Honey
Shelagh Delaney
National Theatre
Trafalgar Studios
–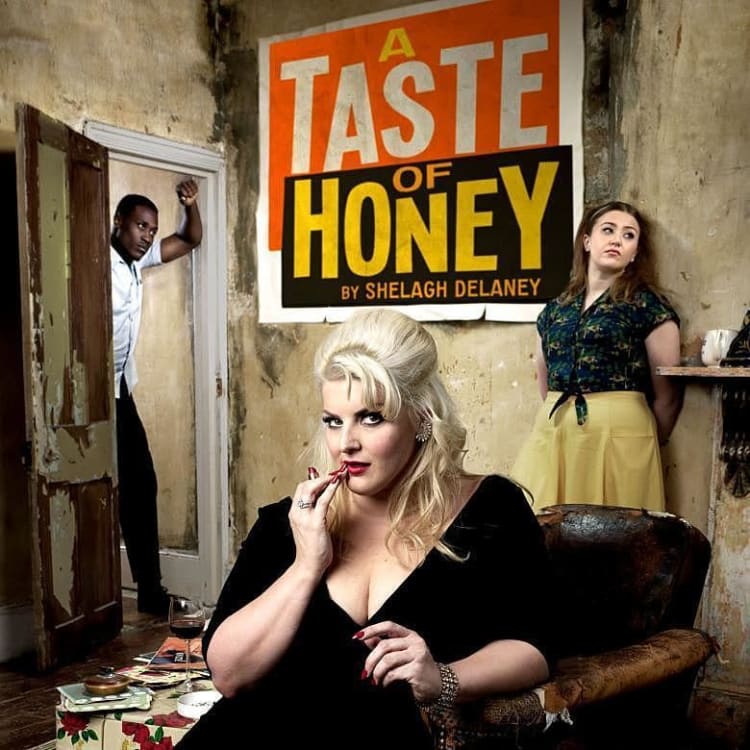 On first glance, A Taste of Honey is about a mother's defective love for her daughter. But it's really about the society that creates such a woman, whose own survival necessitates her complete selfishness. Besides supplying a literal roof over her head, Helen (Jodie Prenger) fails completely in providing any kind of shelter for her daughter Jo (Gemma Dobson) from the world's vicious apathy, abandoning her every Christmas and taking off with a different beau; forgetting that she owes anything to her daughter at all, until, that is, she's been kicked to the curb and needs some unconditional love herself.
The two women complement each other's performances perfectly. Both are bold and brutal, betraying their vulnerability through screaming matches and cutting jibes rather than any kind of softness or break in strength. In the 1961 film adaptation, Rita Tushingham's Jo spends so much time looking like a hurt bunny. Dobson, however, is a force, choosing tenacity over victimhood.
Before director Bijan Sheibani envisioned this production, I can only assume he had first found Prenger, she so faultlessly embodies both the gritty misfortune of a working-class woman living in Salford in the '50s, as well as the palpable sexuality of a nightclub blues singer, a combination that on paper sounds impossible, but appears on this stage as a perfect marriage.
Scenes between Jo and boyfriend Jimmie, as played by Durone Stokes, are a little over-studied. It's hard to know if this is the script's failing or the performers', but even if it is the latter, all becomes clear when Stokes sings; heart-breaking and smooth as honey, he might've been cast for that alone. Stuart Thompson, playing Jo's friend and flatmate Geoffrey, is similarly vocally gifted. He also brings an impressive complexity to his character, a young, talented gay man in the '50s, expressing his frustration in spats of frenzy and fury, though without dispelling his obvious good nature. Tom Varey, playing Helen's thuggish boyfriend, at first seems completely miscast, with a sweet open face visible even under his eyepatch and halfway back in the stalls. But he quickly dismisses this initial impression, comfortably fulfilling all the villainous criteria in no time.
The bare bones of the plot might be mistaken for a standard kitchen sink drama. But writer Shelagh Delaney's stabbing quick wit combines with Sheibani's absolute refusal to lean too conclusively on miserable realism, creating something almost entirely indefinable. A three-piece blues band remains on stage throughout, surrounding the action, piano to the left, drums to the right, and double bass up-stage. Tens of stage hands act as a soundless chorus, dressed in period costume and, instead of trying to be as invisible as possible, almost dance across the stage, quietly flirting and interacting with the cast as they go. The set itself (as designed by Hildegard Bechtler), a dingy, cold floor flat, is fairly realistic with time-specific shafts of daylight coming through the windows (lighting designed by Paul Anderson). But this only emphasises the unreality of having a band in the living room. The effect is of both levity and drama, giving some shine to what is, in truth, a very bleak story.
A Taste of Honey refuses categorisation. It's a hilarious tragedy-cum-musical with something of the soap opera about it. And, fifty years after it was first written, it is still painfully relevant.
Reviewer: Miriam Sallon